This Pressure Cooker Mexican Beef Taco Bowl recipe is packed with flavour from the spice combination of garlic, salt, chilli and smoked paprika and is bursting with crunch and goodness from all the salads!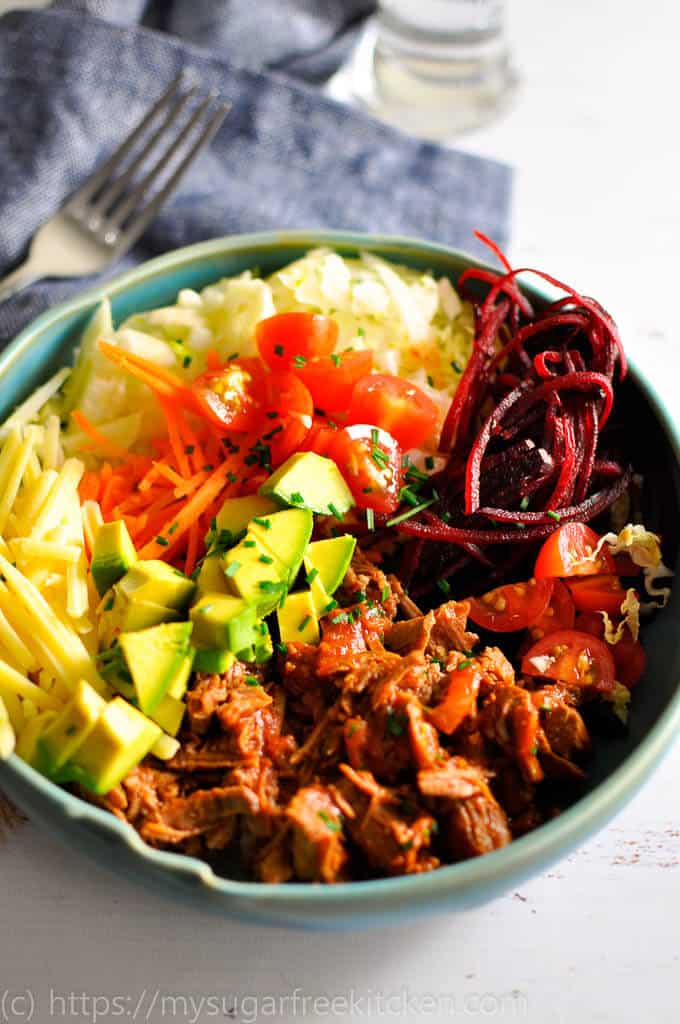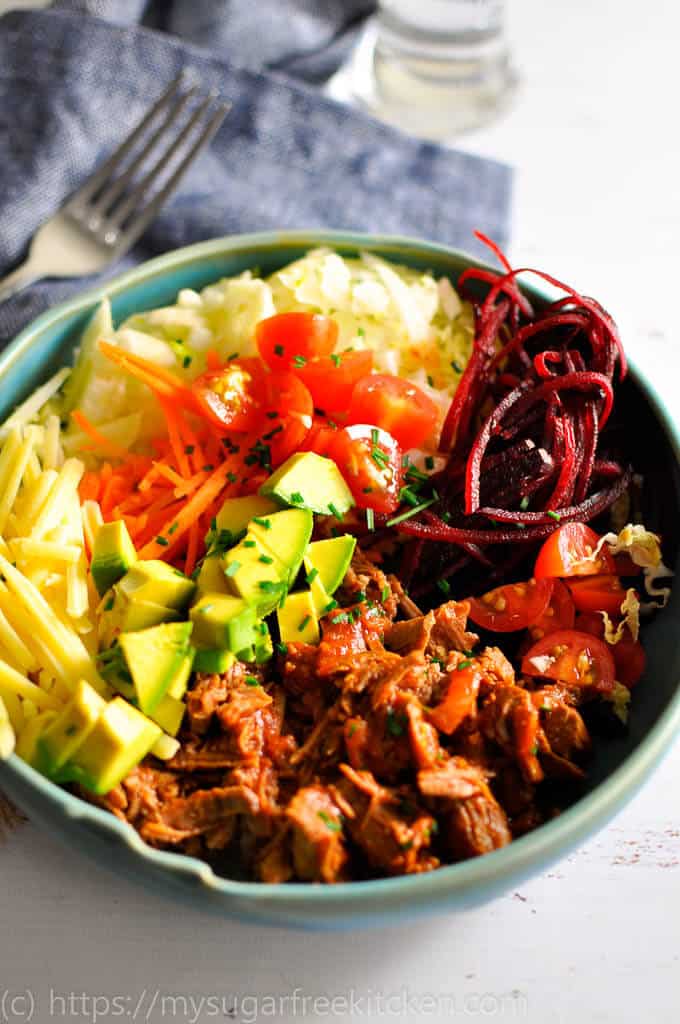 I've racked up a lot of tacos in my time and the instant pot/pressure cooker mexican beef has got to be one of the best and easiest ways to make the succulent shredded beef.
Why I love Pressure Cooker Mexican Beef
Mum used to buy the taco kits from the supermarket and she'd cook a nice standard taco mince and crisp the shells in the oven and we'd add 3 simple ingredients:  lettuce, tomato and cheese and that was it.  And they were yummy!
My smoky mexican pulled beef taco is a different take on the classic using smoked paprika and a hint of chilli and lots of crunch from the wombok and fennel.
Not familiar with wombok and fennel?  Wombok is a type of asian cabbage but softer and finer, however it is about the same size as a regular cabbage and they are normally stored together on the shelves in the supermarkets.
Fennel on the other hand is a small round vegetable with a green hairy top - kind of looks a bit like overgrown dill.  Fennel has a slight aniseed flavour and cane either be eaten raw or cooked.  it is used widely in salads, and in asian slaws, often with pulled pork sliders.
Other recipes to try if you love paprika:  Baked Smokey Paprkia Chicken, Healthy Salt and Chilli Chicken, and my Sugar Free Sweet and Sour Sauce with Chicken Meatballs has Paprika in it.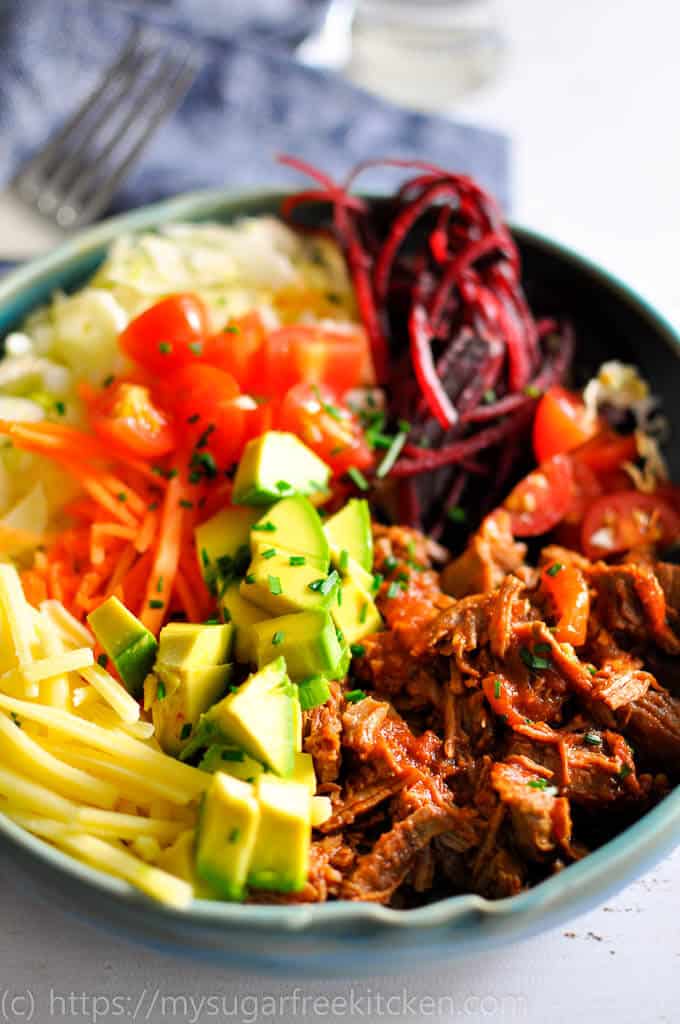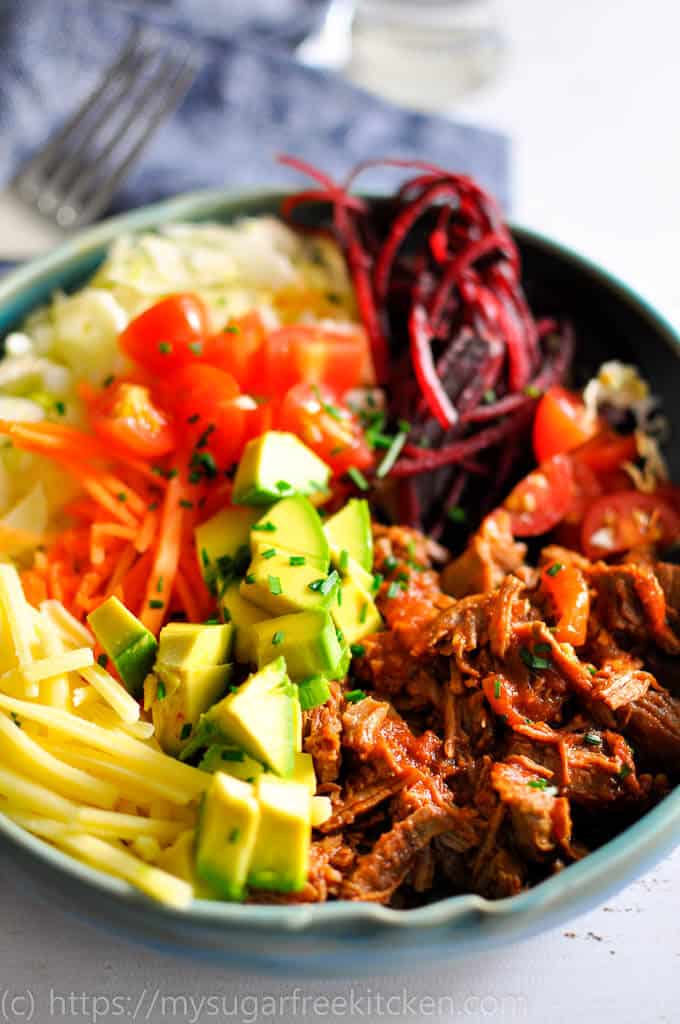 Even now, my husband and I have tacos on our dinner menu at least fortnightly and it is rare that they are ever the same, but this time I pushed the envelope a little further with more spice and crunch of a different kind, but with some of the usual suspects like juicy tomatoes and grated cheese!
This recipe, with the spices used to flavour the meat give it such as rich and robust punch that works perfectly with the all natural salad ingredients.
How To Use A  Pressure Cooker For  Cooking Meat
Tight Lid - Make sure the lid is on properly so it can pressurize properly
Quality Meat - Remove the fat from the meat before you cook it.  More fat does not make it better (unlike in some slow cooker recipes)
Steam - Release the steam valve before opening the lid.  This is a safety thing as you don;t want all the steam going off in your face
Timing - to get that uber soft, flakeable meat, I usually leave it cook for slightly longer than normal
Liquid - as you are essentially steaming the meat in liquids, you need to make sure there is enough liquid to cover the meat.
Shredding  - this must be done whilst the meat is still hot.  I do it with two forks generally and store the leftovers in an air tight container in the fridge.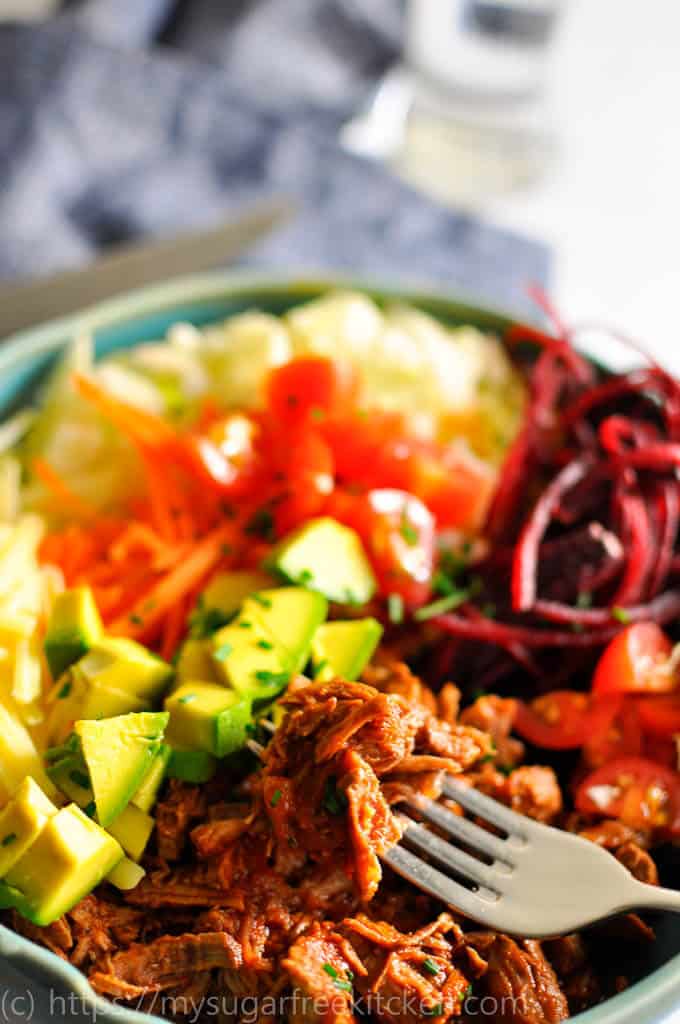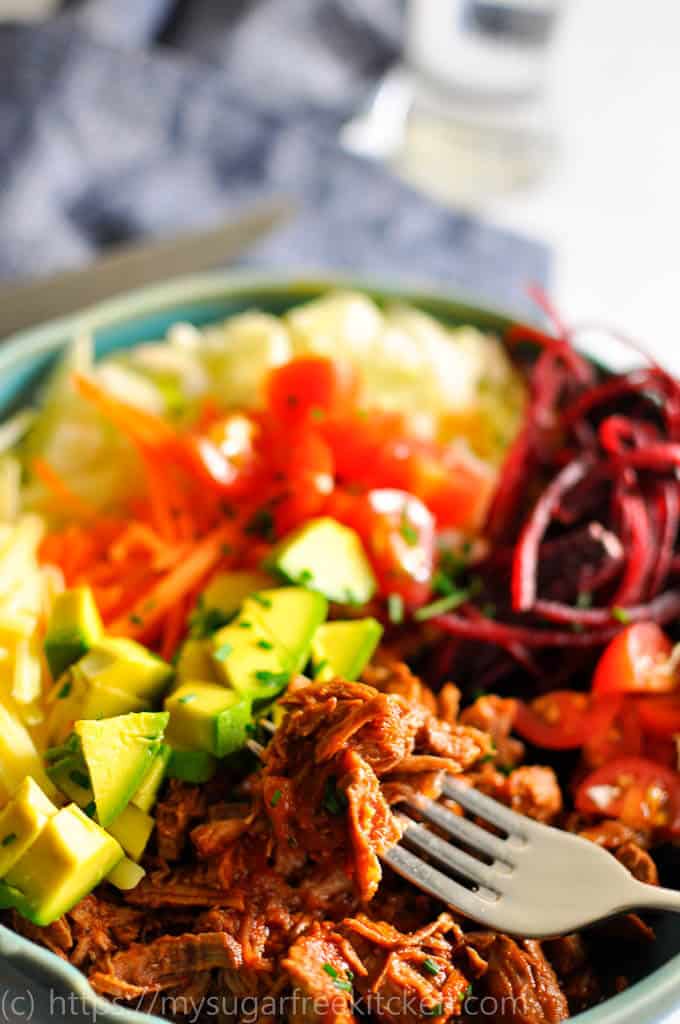 Shredded beef in under an hour?
Yep.  It's easy to do if you have a pressure cooker or an instant pot.  I love being able to come home from work or the gym on a weeknight and be able to cook something in under 45 minutes that normally would have taken me all day to make before I had a pressure cooker.
If you don't have a pressure cooker to cook the meat in, never fear, it works just as beautifully on the stove top, cooked on low for about two and a half hours.  This is how I did it before I got my trusty pressure cooker last year.
Although I must confess, now I have my pressure cooker, it is how I always cooked my pulled pork and beef dishes because it is just so convenient.
Do yourself a favour and put these pressure cooker mexican beef taco bowls on your menu for this weeks dinner.  You won't be disappointed.
Like what you see? Follow me on Facebook or Pinterest! Did you try a recipe? Tag me on Instagram: @mysugarfreekitchen, and leave a comment & star rating!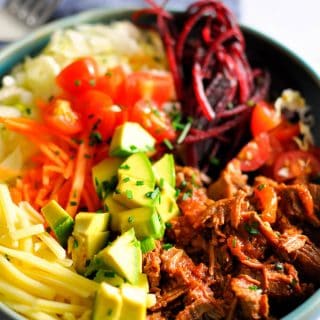 Pressure Cooker Mexican Beef Taco Bowls
These taco bowls are healthy and crunchy! just 40 minutes in the pressure cooker for the beef and you have deliciously rich pulled beef that you can use for leftovers, if there is any left after your taco bowls that is! Stove top directions in recipe notes
Ingredients
700

grams

/ 1.5 lb. Boneless beef shoulder

(note 1)

2

tablespoons

crushed garlic

I red onion

1

teaspoon

Garlic Salt

I teaspoon Chilli flakes

2

teaspoons

Sweet smoked paprika

1

tablespoon

granulated stevia, that measures like sugar

(note 3)

1

cup

tomato puree

½

cup

chredded fennel

1

cup

shredded wombok cabbage

¼

cup

grated carrot

¼

cup

grated beetroot

1

tomato, diced

½

cup

grated cheese

Chives

1

avocado, diced
Instructions
Brown beef in pressure cooker and brown both sides. Once browned off, remove and place to the side

Place all other ingredients into pressure cooker to heat, then place the meat back in ensuring sauce is covering the meat

Set pressure cooker timer for 45 minutes

Remove meat from pressure cooker and place into separate bowl (casserole dish is ideal). Using 2 forks, shred the meat and add some sauce.

Reserve the additional sauce as you can use this to drizzle over the bowl before serving!

To make the bowl – mix the fennel, wombok, carrot and beetroot together and place on one side of the bowl. Place shredded beef on the other side. On top place some of the diced tomato, avocado and cheese. Garnish with chives.
Notes
I cut my piece of beed into 3 pieces to make it fit in my pressure cooker.  You may want to do this if your pressure cooker is on the small side.
If you don't have a pressure cooker, you can cook it on the stove top by brown the beef first (med to high heat) and then cooking on low heat for two and a half hours to three hours.
The granulated sweetener I use is Natvia Stevia Sweetener.  Natvia Stevia Sweetener is a 100% natural sweetener and has 97% fewer calories than sugar.  Its fructose free, low carb and isn't going to rot your teeth!   I wrote a post about it here.
Nutrition
Calories:
427
kcal
Carbohydrates:
19
g
Protein:
52
g
Fat:
17
g
Saturated Fat:
9
g
Fiber:
4
g
Sugar:
11
g
Tried this recipe?
Let us know how it was by leaving a comment below!
★ Did you make this recipe? Don't forget to give it a star rating below!