This sugar free toasted muesli is super easy to make. Not to mention its a much healthier option than store bought breakfast cereals and making your own will save you money too.
I've always been a cereal for breakfast kind of girl. Any cereal really, it didn't matter, although I did have my preferred ones, usually the low fat, hi fibre, low sugar, rich in protein kind of ones, you know, you get my drift. But this sugar free toasted muesli takes the ah um, cake?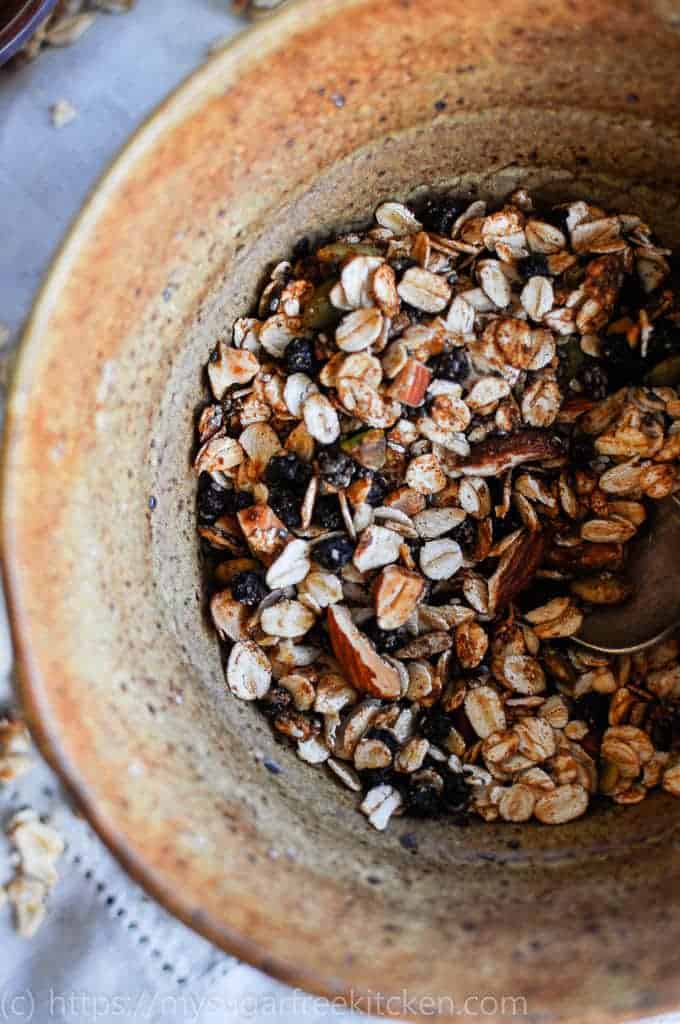 Actually, I love eating cereal for breakfast because it keeps me full for a good couple of hours and keeps those hunger pangs at bay whilst I work through my morning to do lists! But, Muesli can be expensive, and it is sometimes not as healthy as you think, particularly in the sugar department.
That is, some store bought toasted muesli can have over 2 teaspoons of sugar per serve. Consuming that amount of sugar before I've even really started the day, is not what I want, so I have been tossing up with idea of making my own toasted muesli for a while now.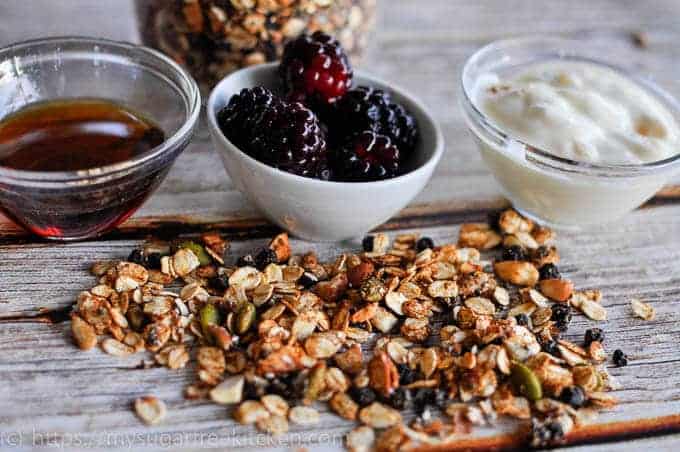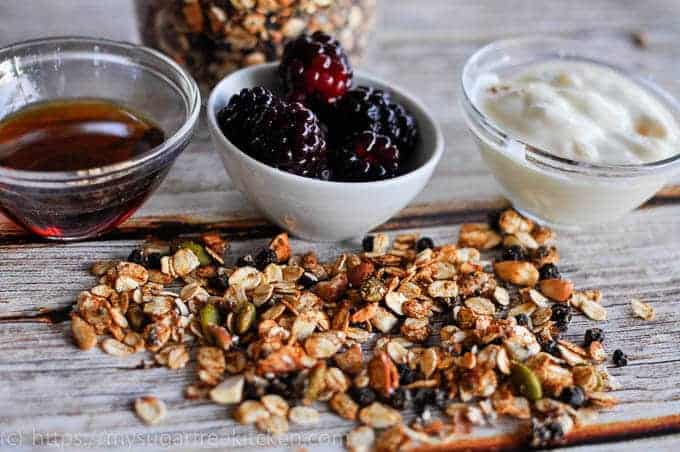 I want my toasted muesli sugar free, and crunchy!
I thought why not give it a go. I was surprised at how simple it is, and once you have the ingredients in the pantry, you will have everything you need to keep making lush, crunchy, sugar free toasted muesli for many months.
Once you have made it, it is important to store it in an air tight container so it retains it nice crunch and making 2 cups at a time is enough for 2 breakfasts for me. If you're making it for a family, you might want to triple up this recipe and make 6 cups so you have it ready on hand to grab out of the cupboard during those busy weekday mornings when everyone is in the kitchen!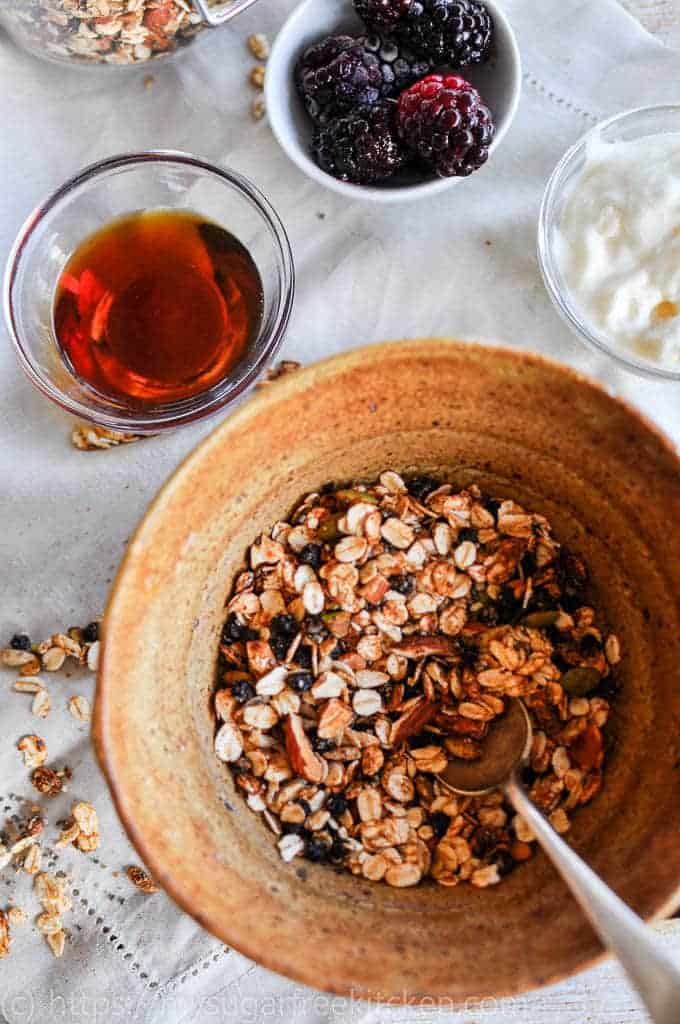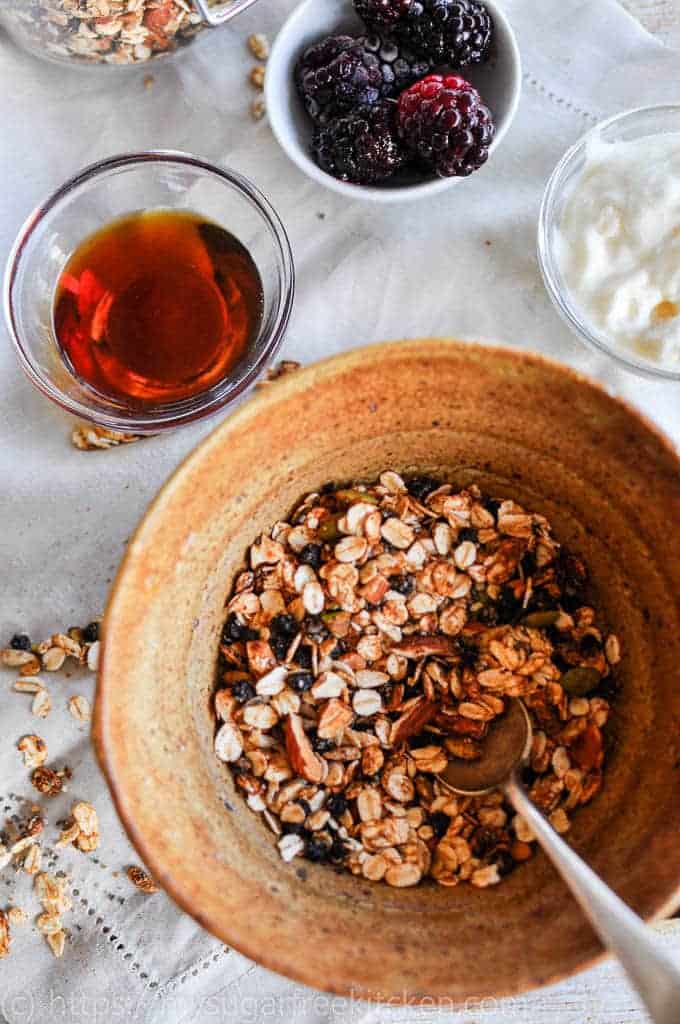 Crunchy nutty Toasted Muesli is my favourite, with a hint of dried fruit for sweetness and seeds for protein. And I like to eat mine with sugar free greek yoghurt, some chopped strawberries. Its crunchy, silky smooth, sweet and tangy all at once!
Making this muesli was fun and I can honestly say that I don't think I will ever by store bought muesli again because this was just so easy to make!   If you're looking  for something fore substantial because it's Sunday morning and you want get cooking in the kitchen, then try my flavour bursting, insanely easy corn fritter recipe.  This is the only corn fritter recipe you will ever need.
Or, perhaps you don't have time for a quick bowl of muesli or corn fritters, and you just need a protein ball instead to get you through the morning.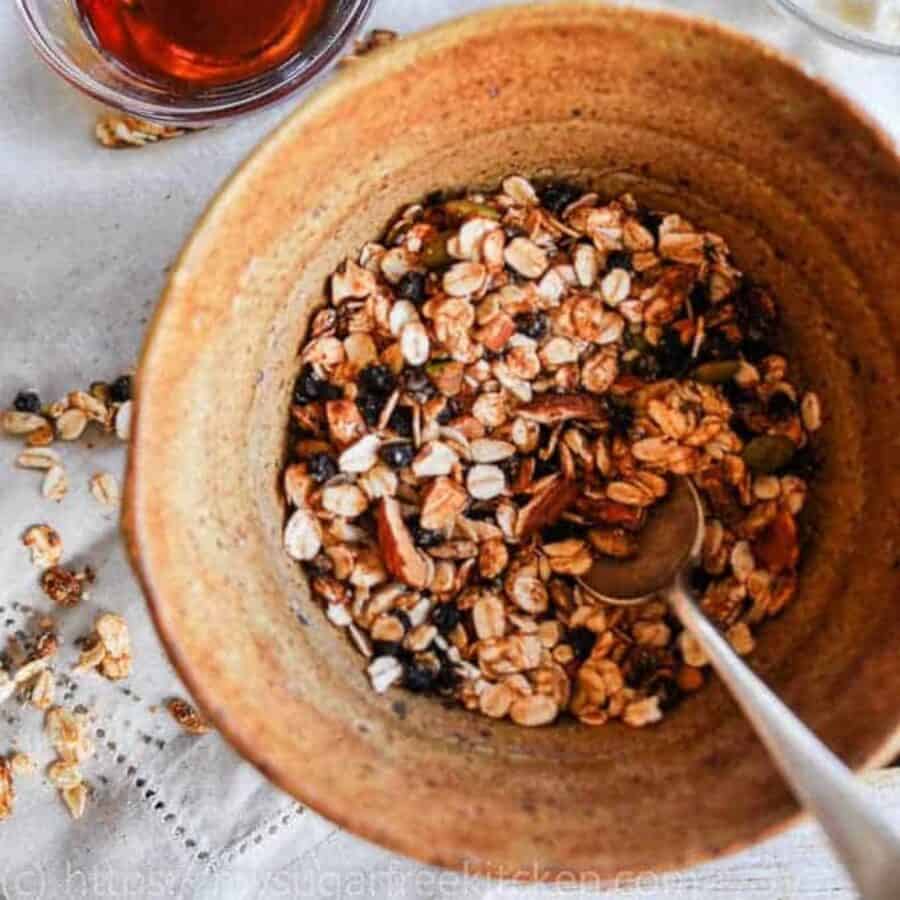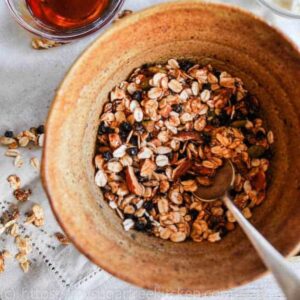 Sugar Free Almond Toasted Muesli
This sugar free almond muesli so easy to make, is high in protein, contains healthy good for you nuts and seeds, with a hint of blueberries for sweetness. Say goodbye to sugar laden, over prices store bought muesli once you know how easy it is to make your own!
Ingredients
1

cup

Rolled oats

2

tablespoons

Chia seeds

¼

cup

Chopped almonds

1

tablespoon

Sunflower seeds

1

tablespoon

Pumpkin seeds

¼

cup

Organic dried blueberries

2

tablespoons

LSA

1

teaspoon

Ground cinnamon

1

teaspoon

Coconut oil, melted

¼

teaspoon

Vanilla bean paste
Instructions
Preheat oven to 180 degrees C.

On a large baking tray place all the dry ingredients

Add the coconut oil and vanilla bean paste and use your hands to mix in thoroughly

Bake muesli in oven for 10 minutes at 180 degrees C (fan forced.

Once muesli has cooled, store in an airtight container for upto a week.

Bake in oven for 10 mins at 180 degrees C
Nutrition
Calories:
237
kcal
Protein:
10
g
Fat:
11
g
Saturated Fat:
2
g
Fiber:
6
g
Sugar:
6
g
Note: Sugars contained in this recipe are from naturally occurring sugars in fruits, vegetables or other natural sweeteners.
Looking To Cut Out Sugar? Get the FREE Healthy Food Swaps Checklist Pack!
Get your FREE Healthy Food Swaps Checklists with over 65 Healthy Food Alternatives to Help you Ditch The Sugar Without Feeling Deprived.
★ Did you make this recipe? Don't forget to give it a star rating below!