These Healthy Mini Raw Lemon Tarts are easy to make, refined sugar free and have a fresh, zesty and creamy centre with moist nutty base. It's a simple raw dessert perfect for making ahead for a dinner party or special occasion, much like this easy Date Sweetened Raw Caramel Slice.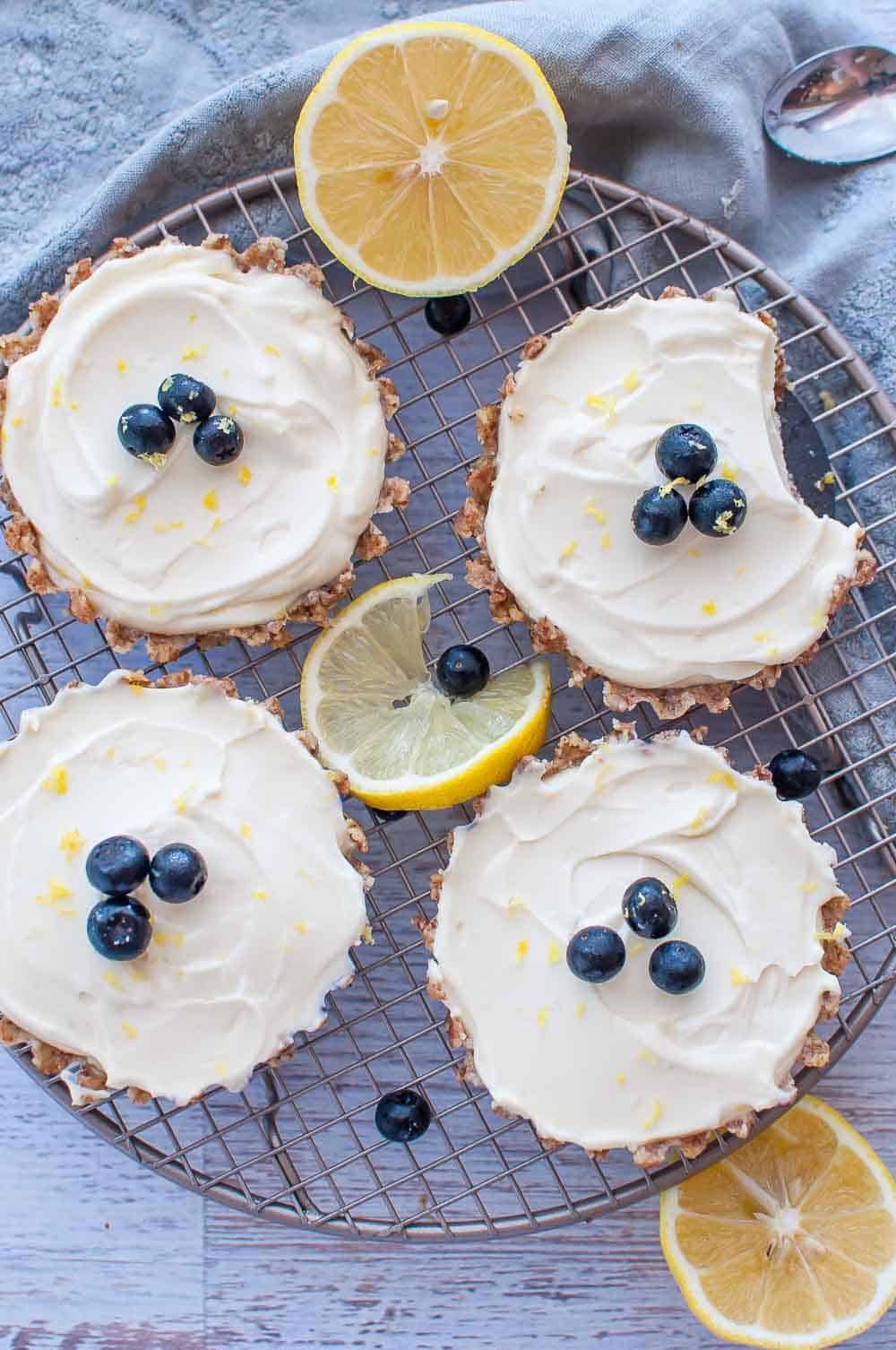 This recipe makes 4 mini lemon tarts which are a generous serving and I absolutely recommend serving this dessert with blueberries. The tangy blueberries bursting in your mouth against the soft creaminess of the lemon centre are a great match.
Whilst this is a generous single serving lemon dessert, for a tiny bite sized lemon dessert, try these Mini Lemon Cheesecake Bites.
Recipe Tips
Get the right mini tart tin: I love the mini metal tart tin with a pop out bottom. They are a no fail piece of equipment that I use a lot, especially with raw desserts.
Use a food processor/high speed blender: For perfectly smooth, luscious and creamy lemon filling, this makes it so much easier and quicker.
Use medjool dates over regular dates: medjool dates are sweeter than regular dates, and have a softer skin. I also find the texture of medjool dates to be better for raw desserts.
Use full fat cream cheese instead of reduced fat: Full fat cream cheese thickens up better than reduced fat, which helps your tarts to set in the fridge. If you use reduced fat, they will be a little softer, but still very nice.
(Note: If you're in Australia, you can also get the mini tart tins from spotlight. That's where I got mine from)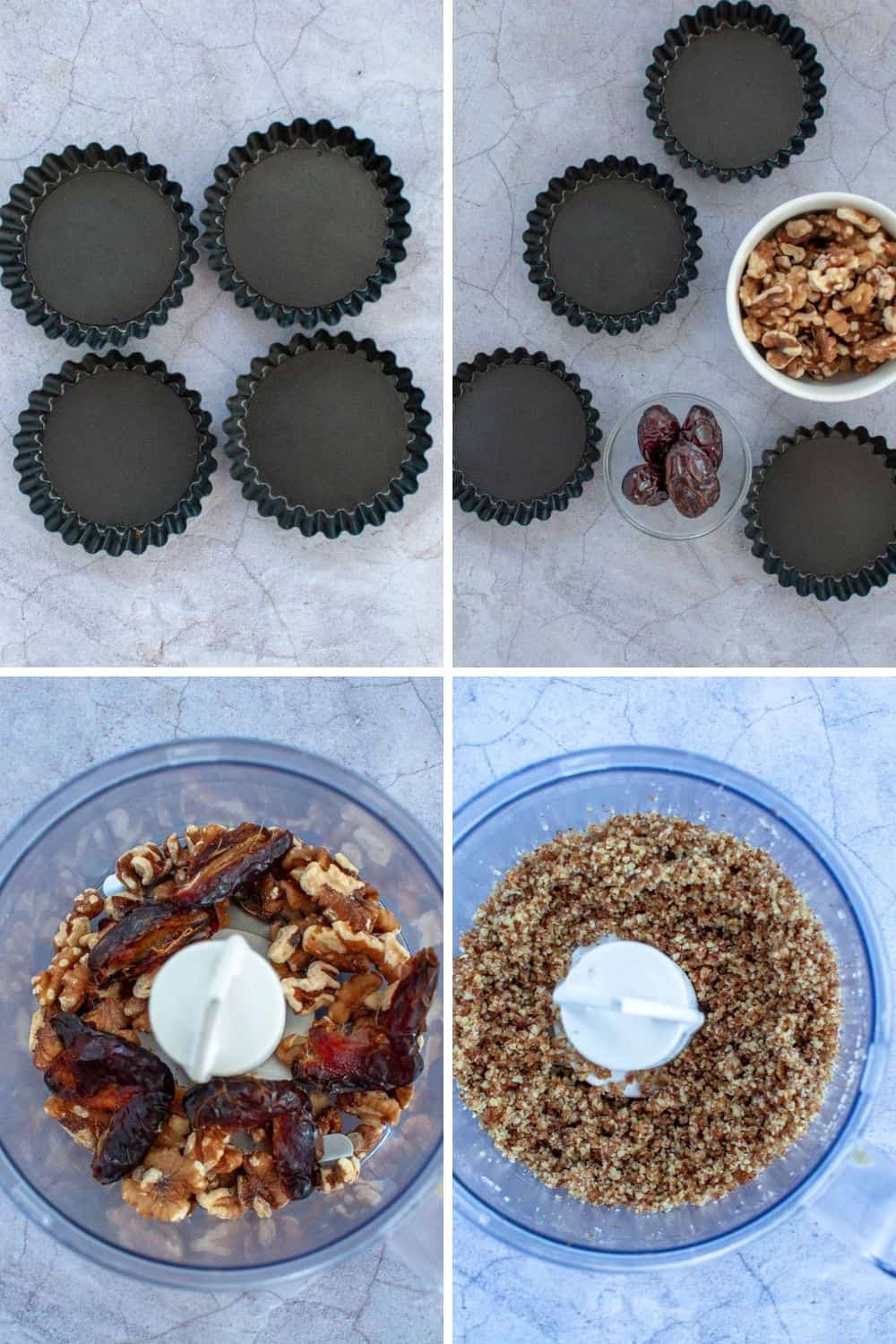 What is A Raw Lemon Tart?
Raw lemon tart is a tart that does not need to be baked. Its made with ingredients that set in the fridge. I particularly love making raw desserts when I can't be bothered using the oven, or when it's hot.
The great thing about making this raw lemon tart, is that it comes together very quickly. You can make this thing in under 15 minutes, pop it into the fridge and forget about it. I sometimes even make a double batch when I'm having people over because they're just so easy to put together, and they look impressive.
More Raw Dessert Recipes: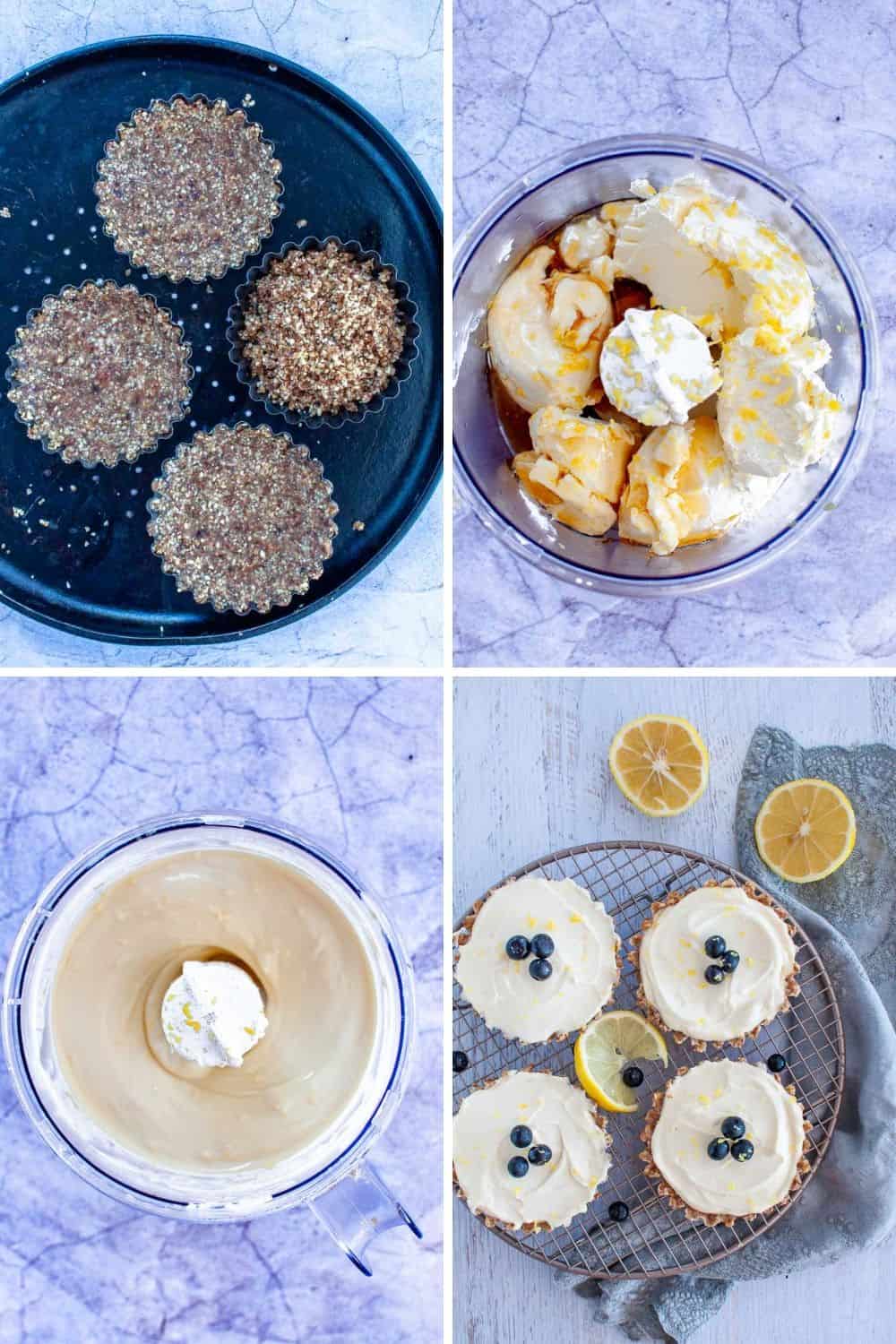 I used to shy away from raw desserts as I didn't really know how to make them, and I thought they were just for vegans. But, I have made quite a few raw and no bake desserts, and I am a fan! Basically, they are really hard to get wrong. You don't need to be overly precise with ingredients, and there is no risk of over or under baking.
How Long Does Lemon Tart Keep?
The raw lemon tarts will keep in the fridge in an air tight container for up to 5 days.
What is Lemon Tart Filling Made Of?
This lemon tart filling is made of six ingredients. Full fat cream cheese, lemon juice, lemon zest, raw honey, vanilla essence and sea salt. These ingredients are whizzed together in a food processor or high speed blender for the ultimate sugar free lemon tart.
Can you Freeze Raw Lemon Tarts?
I wouldn't recommend freezing these mini lemon tarts. I haven't done it, but I think the lemon filling would not be as nice as it was when made fresh. These are so quick to make, it's easy to make them ahead, even a couple of days ahead.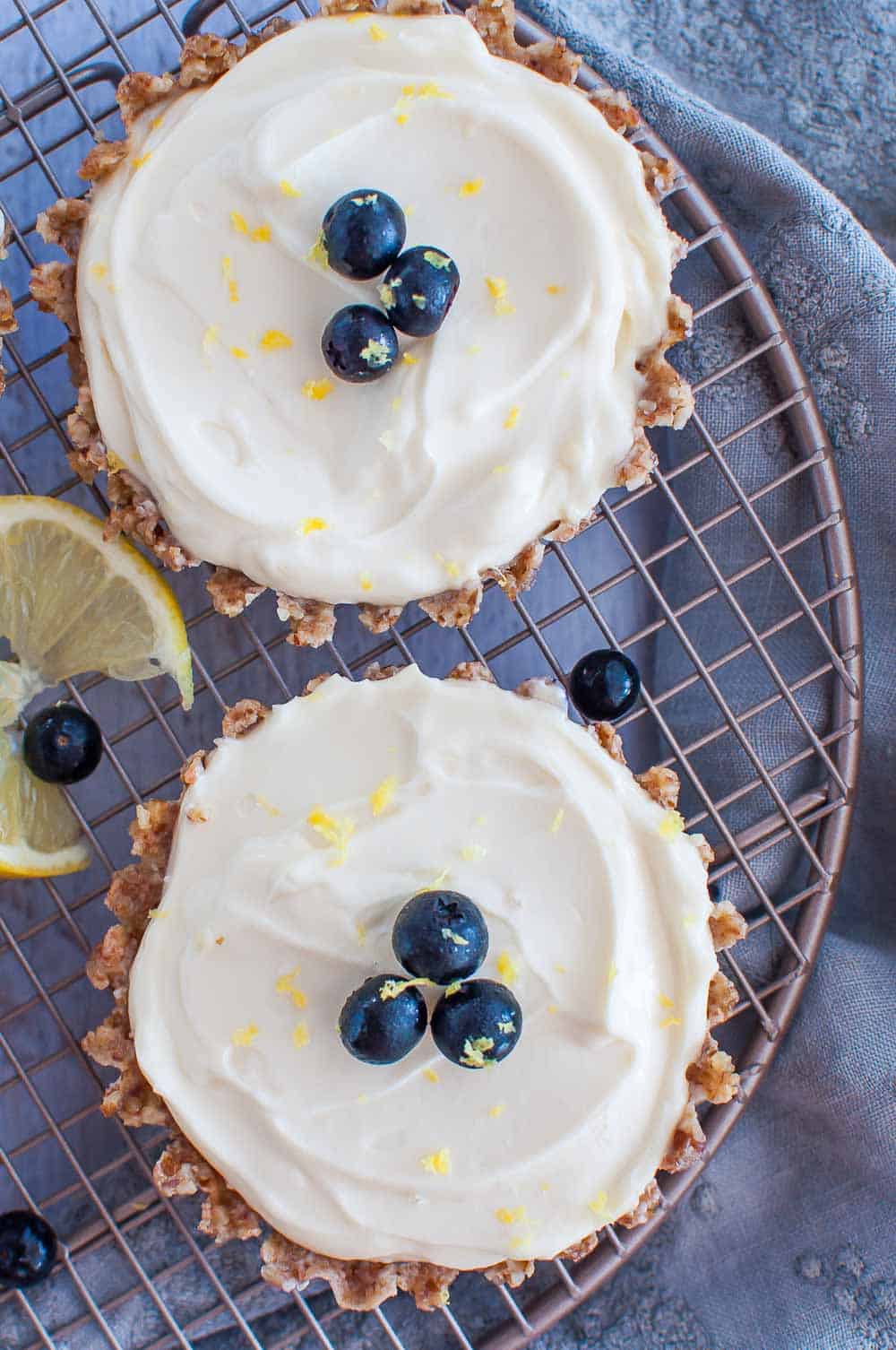 Fridge Time
At a minimum, 4 to 6 hours, but I would leave it overnight for best results. The longer you can leave it to firm up in the fridge before diving in the better.
Serving Options
Blueberries (my favourite)
Strawberries, finely diced
Peaches (either freshedly diced, or drained and diced tinned peaches)
Passionfruit, drizzled over
Kiwi Fruit, finely diced
This is a great dessert to make for special occasions, family BBQ's, date night, or when having friends over. You can make it upto 2 – 3 days ahead, and it only takes 15 minutes to put together and then it sets in the fridge.
The are only 2 ingredients to the base (walnuts and medjool dates) and its sweetened with raw honey.
This is a raw dessert perfectly balanced with sweet, sour, tang and textured nuttiness. It's a healthy twist on a classic lemon tart.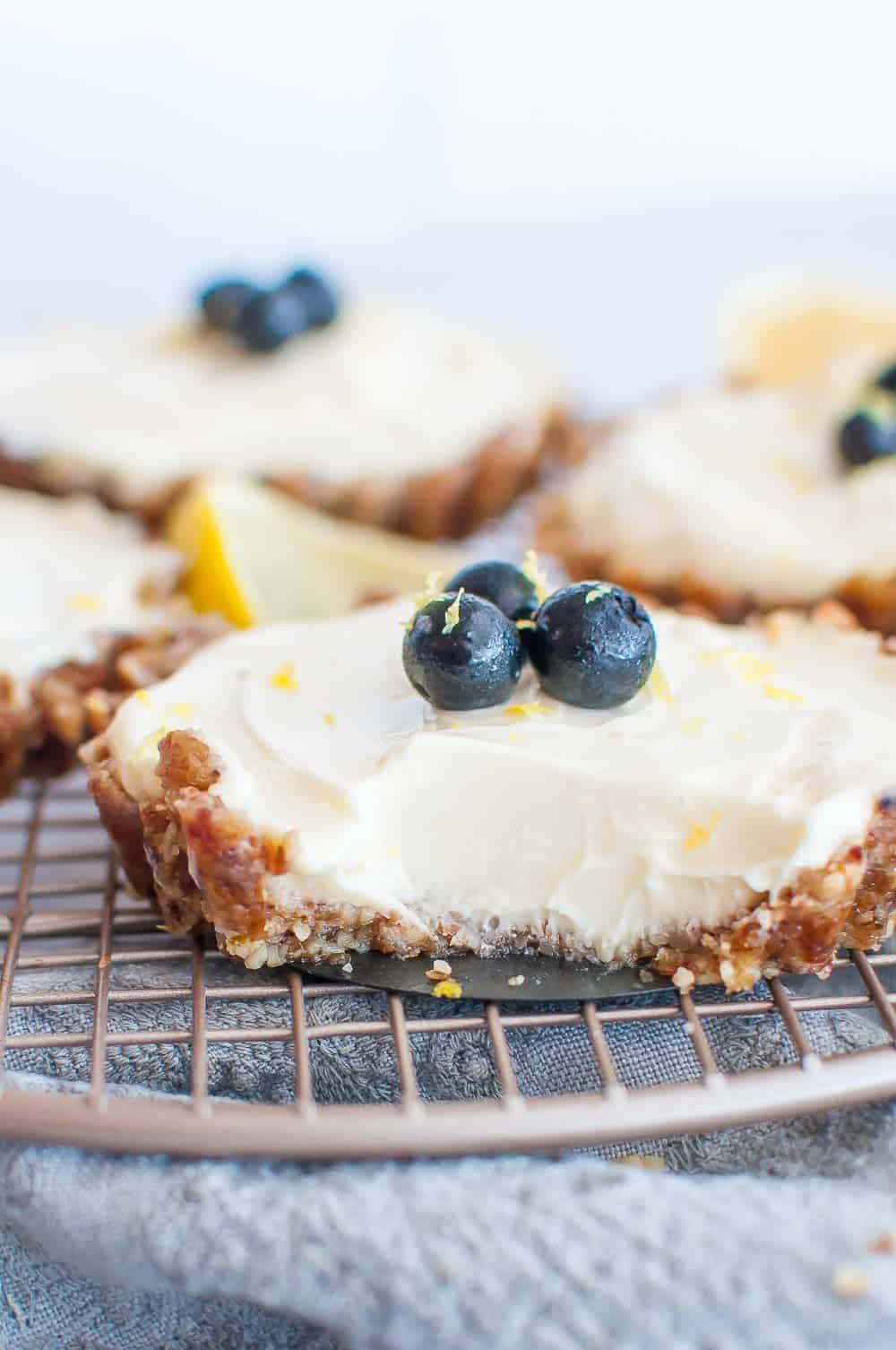 If you've never made a raw dessert before, this is a super easy one to get started with and I'm sure this no bake lemon tart will soon become one of your favourites.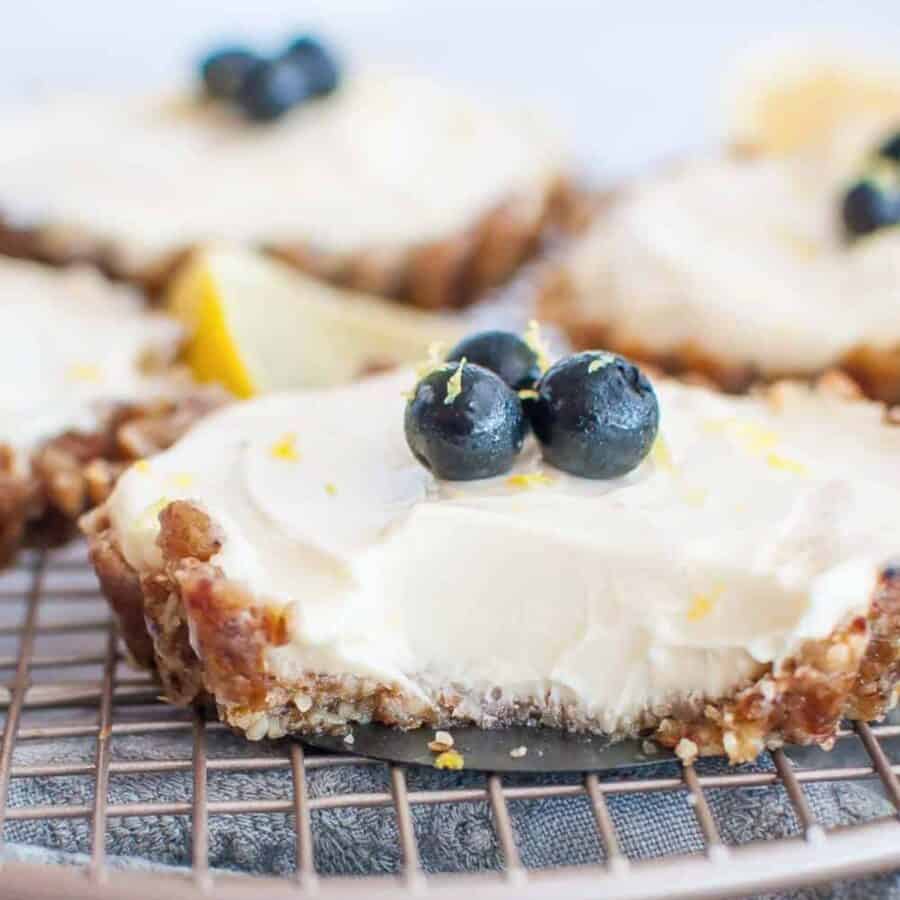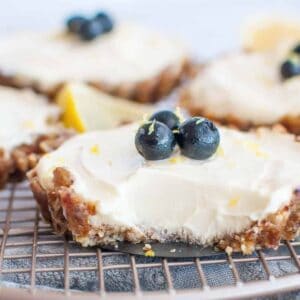 Mini Lemon Tarts
These Raw No Bake Mini Lemon Tarts are easy to make,sweetened with raw honey and have a fresh, zesty and creamy centre with a walnut and date base.
Ingredients
Base
1

cup

Walnuts

4

Medjool dates

-

seeds removed
Instructions
BASE: Blitz all the ingredients for the base in a food processor of high speed blender until a crumb is formed.

Use a mini metal tart tin with a pop out bottom as this will make it easier to get out. Press crumbs into the base of the tart tine and up the sides. Put into the fridge for 1 hour to set. (If it's stick to your fingers to much, dampen your hands and press in.

Wash the food processor/blender.

FILLING: place all the ingredients for the filling into a food processor and blitz for about 1 to 2 minutes until smooth and creamy. Scrape down the sides and make sure everything is blended in. Be sure to taste the filling. If you want it sweeter, add a teaspoon more honey.

Pour the filling into the tart shell that has been chilling in the fridge. Smooth filling over with the back of a smooth until smooth.

Set in the fridge overnight.

To Serve, remove tarts from cases by popping u the bottom and removing the sides of the case. Serve with fresh blueberries.
Notes
The mini tart tins have a non-stick coating to help tarts easily slide out of their cases once set. The loose bases help with easy release and make these non-stick tartlet tins easy to pop in the dishwasher and clean. Just the right size for single servings.
You can get the mini tart tins from amazon here, or from spotlight if in Australia.
Nutrition
Calories:
488
kcal
Carbohydrates:
45
g
Protein:
13
g
Fat:
33
g
Saturated Fat:
9
g
Sugar:
25
g
Note: Sugars contained in this recipe are from naturally occurring sugars in fruits, vegetables or other natural sweeteners.
Looking To Cut Out Sugar? Get the FREE Healthy Food Swaps Checklist Pack!
Get your FREE Healthy Food Swaps Checklists with over 65 Healthy Food Alternatives to Help you Ditch The Sugar Without Feeling Deprived.
★ Did you make this recipe? Don't forget to give it a star rating below!