This Low Carb Chicken Schnitzel is keto friendly and an easy and healthy weeknight dinner with golden crispy goodness and just 4% carbs overall.  Pair it with a lentil salad, steamed Asian greens, or even parsnip mash for and uber delicious low carb guilt free feast.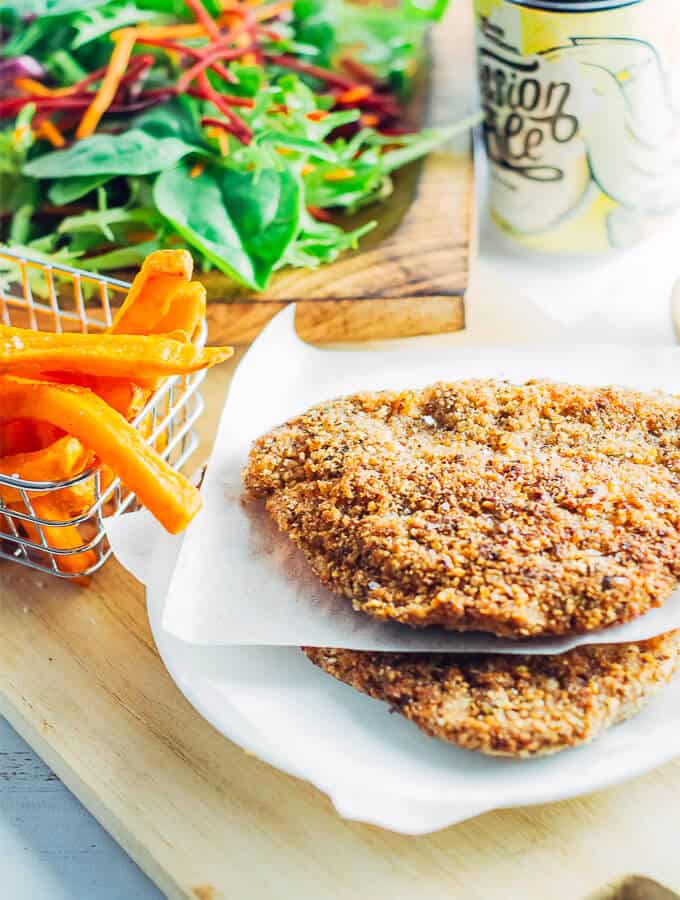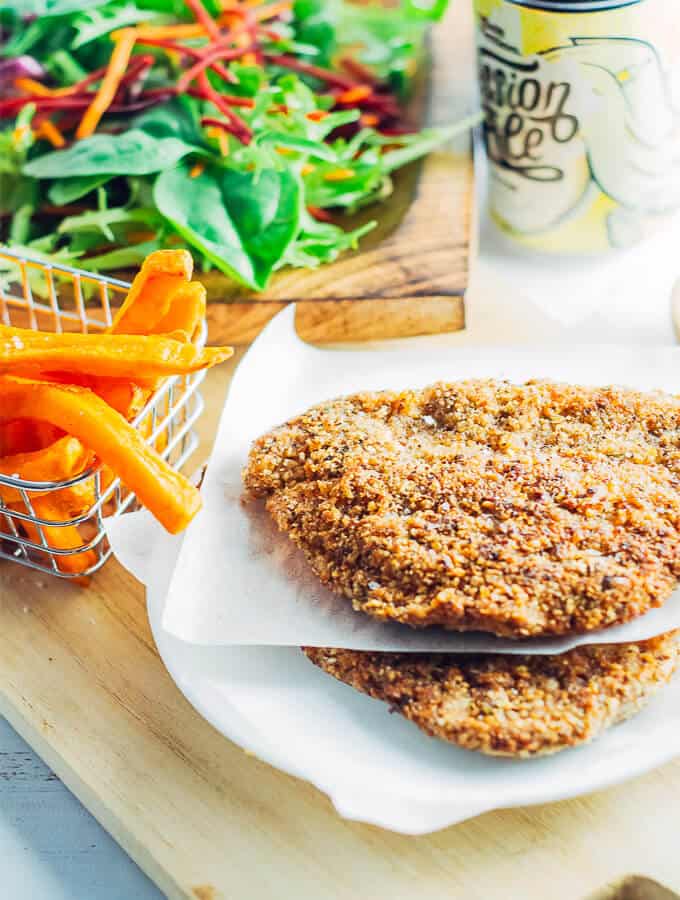 The Ultimate Low Carb Schnitzel
This low carb chicken schnitzel coats easily and it stays on without falling off.  Because it's made with hazelnut meal, as well as being low carb its also a Keto Chicken Schnitzel.  Its perfect if you're watching your carb intake or if you've had too much bread recently and you just want some good old comfort food with a healthy twist.  Oh, and of course it's completely sugar free.
Ingredients
½ cup Hazelnut meal
½ teaspoon Garlic Salt
1 teaspoon dried parsley
1 teaspoon dried oregano
1 tablespoon Parmesan
Plus a couple eggs and some milk to make an egg wash so that the crumb coating sticks.' I love the addition of the herbs and the parmesan as they really create the flavour.  In fact you could use whatever herbs you have on hand, either dried or fresh.
This is where you could get a bit creative and create your own herb combinations.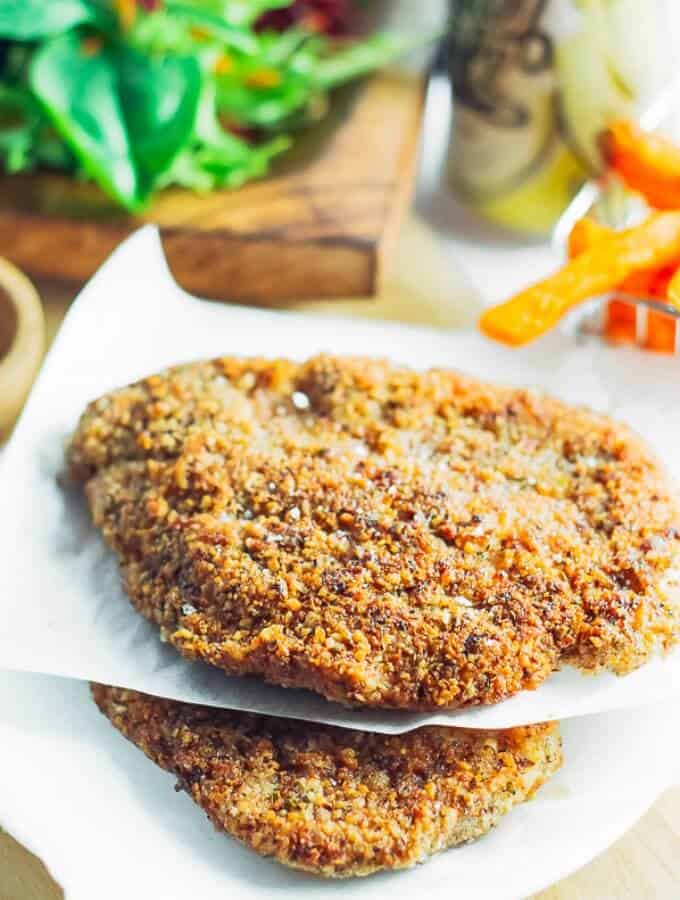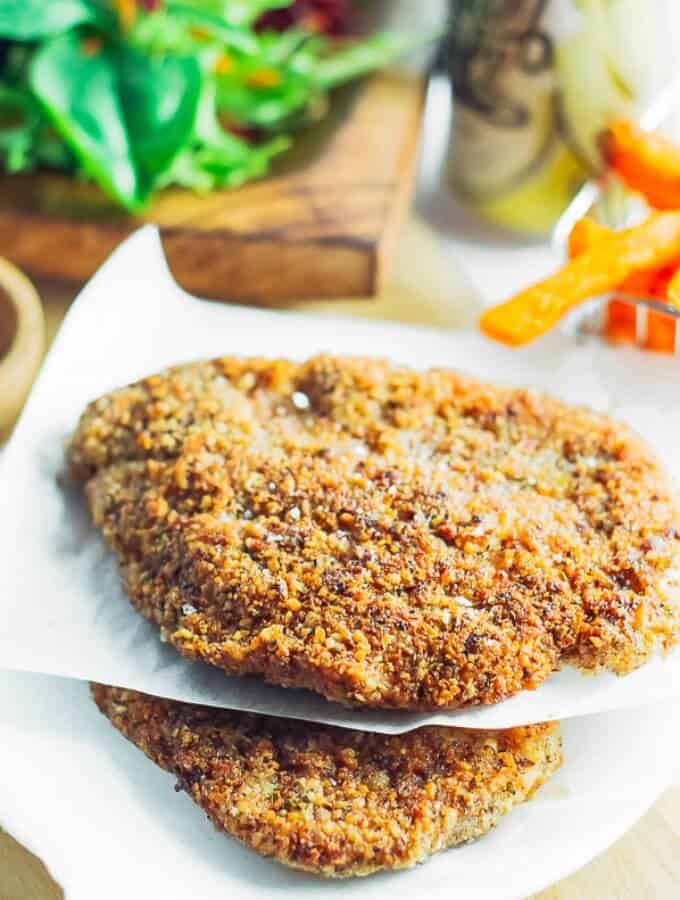 Any leftover chicken schnitzel (not that there'll be any) would be great for leftovers the next day too, like in your lunchbox with some salad, maybe some lentils and a few of those green leafy things.
If you love the idea of low carb schnitzel, then you must try my healthy Baked Crunchy Paprika Chicken, its better then KFC, or hows about this Popcorn Chicken Salad, or perhaps I could persuade you to try these low carb lovelies – Sugar Free Flourless Chocolate Cupcakes with Strawberry Frosting.
How To Cook Low Carb Chicken Schnitzel
DO
My favourite way to cook chicken schnitzel is on a medium high heat with canola oil (don't use olive oil as it won't crisp up).
I tend not to turn it too much and leave it for a good 5 to 7 minutes on one side before turning so I get the nice crisp golden crunch.  Then I'll turn it over to the other side.
DON'T
Definitely don't cook it in a dry pan with no oil whatsoever.  That is a recipe for black and burnt on the outside, and uncooked on the inside.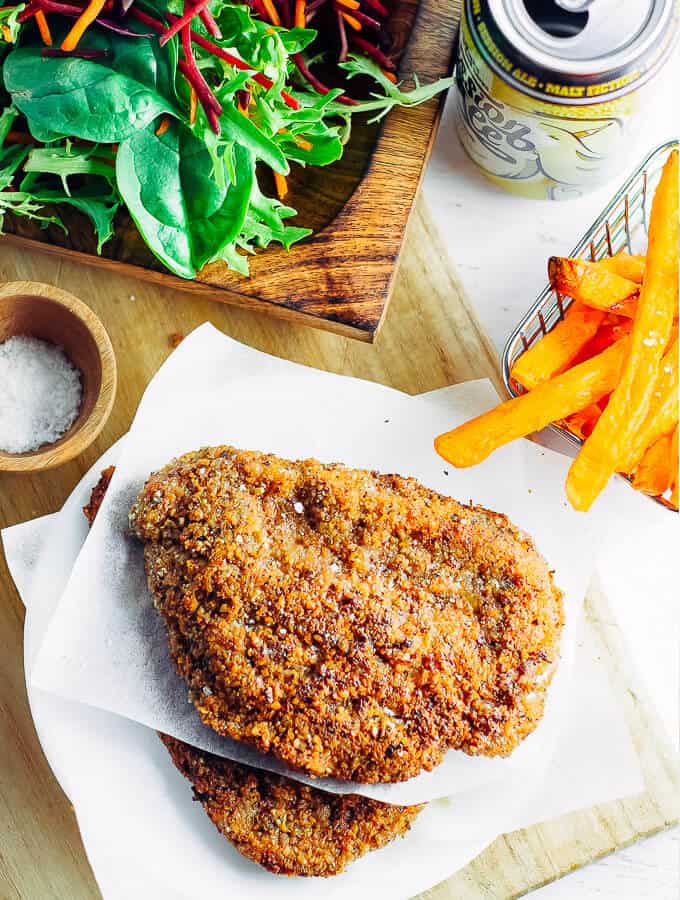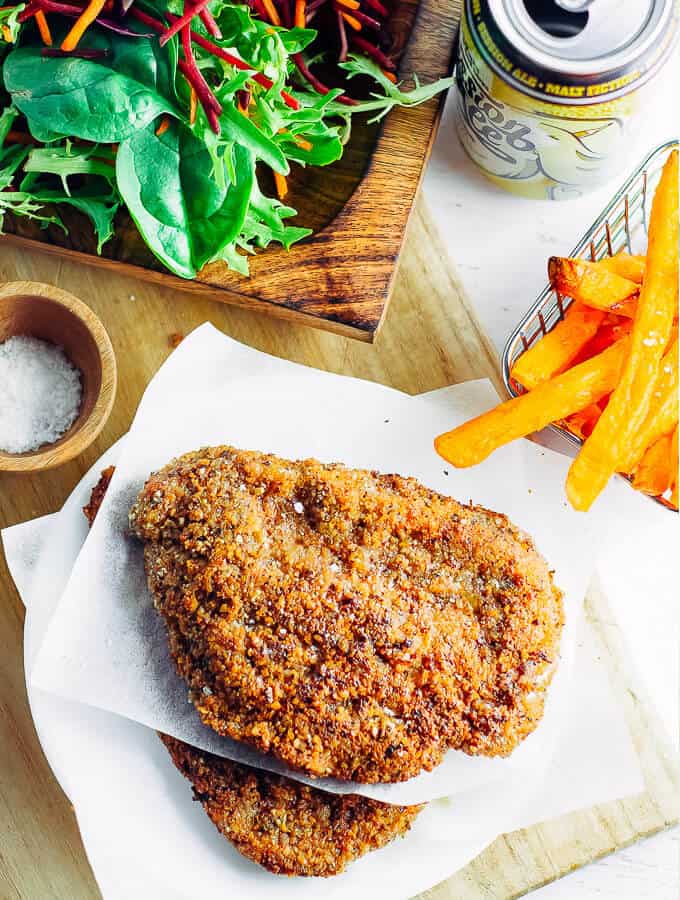 Low carb schnitzel is the best!  When it's cooked, I usually pat it dry of any excess oil with some paper towel.
The other cool this with schnitzel is that it's one of those recipes that is easy to make your own out of your favourite herbs and spices or from things you have handy in the kitchen.
Use any choice of dried or fresh herb e.g. rosemary, thyme, basil, garlic.  Or try fresh herbs in you have them growing in your garden.
Add some parmesan if you have it, or not if you don't.
You could even add some granulated peanuts for extra crunch and texture or in lieu of the parmesan.
TIP: You could use chicken, turkey or pork to make your schnitzel, using this method to create many different versions of low carb and keto friendly schnitzels.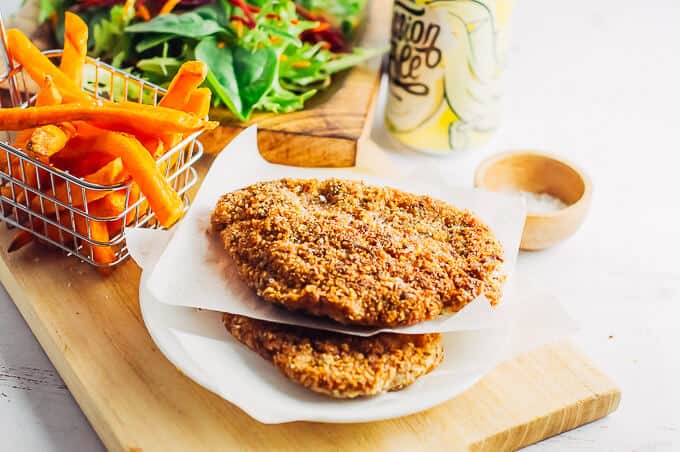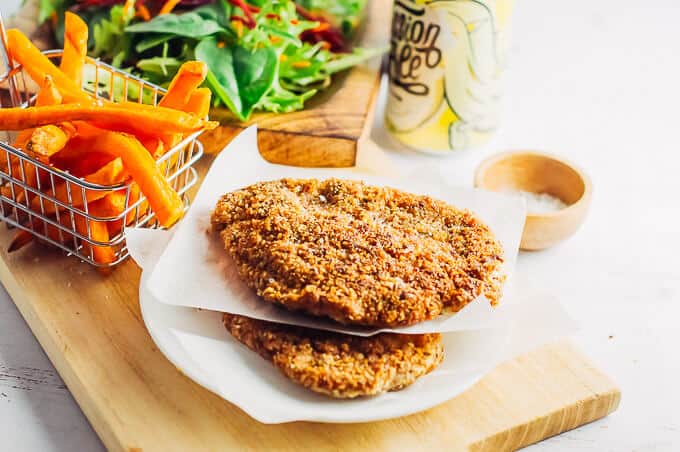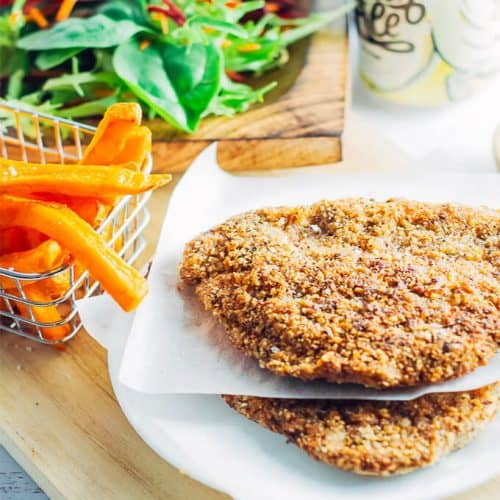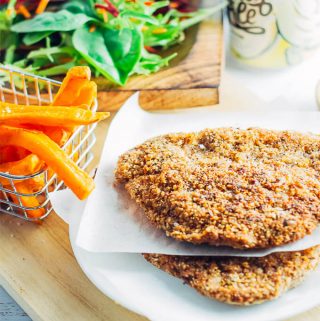 Low Carb Chicken Schnitzel
This Low Carb Chicken Schnitzel is an easy weeknight dinner and perfect if you are watching your carb intake. Its versatile and you can use whatever herbs and spices you have on hand and you can use it with chicken, pork or turkey breast.
Ingredients
2

x 125 gram/ 4.5 oz Chicken Breast

½

cup

Hazelnut meal

½

teaspoon

Garlic Salt

1

teaspoon

dried parsley

1

teaspoon

dried oregano

1

tablespoon

Parmesan

1

medium Egg

1

tablespoon

Milk

2 or 3

tablespoons

Canola oil
Instructions
Place the chicken pieces between 2 sheets of cling film and flatten out with the heel of your palm until the pieces are thin enough to your liking.

On a large dinner plate place the hazelnut meal, garlic salt, parsley, oregano and parmesan.

In a bowl, make the egg wash by whisking the egg and milk together with a fork.

Dip the chicken into the egg wash

Press firmly into the crumb mix both sides until coated

Heat a pan to medium heat and spray with canola oil spray

Add the schnitzels and cook for around 5 minutes each side. Lightly spray schnitzels to prevent them from sticking.

Serve with steamed greens, carrots and steamed cabbage tossed together with teaspoon of butter and some lemon pepper.
Notes
1. You could also try baking these schnitzels if you wanted to avoid light pan frying. Cook them in a moderate oven 180 degrees C/300 degrees F for around 20 minutes
Nutrition
Calories:
528
kcal
Carbohydrates:
11
g
Protein:
41
g
Fat:
38
g
Saturated Fat:
3
g
Fiber:
6
g
Sugar:
3
g
Note: Sugars contained in this recipe are from naturally occurring sugars in fruits, vegetables or other natural sweeteners.
Looking To Cut Out Sugar? Get the FREE Healthy Food Swaps Checklist Pack!
Get your FREE Healthy Food Swaps Checklists with over 65 Healthy Food Alternatives to Help you Ditch The Sugar Without Feeling Deprived.
★ Did you make this recipe? Don't forget to give it a star rating below!