These guilt free no bake refined sugar free caramel slice bites are the perfect after dinner treat when you need to satisfy your sweet cravings. These are so moreish it will be hard to stop at just one. They are sweetened with whole medjool dates blitzed in a food processor to create that familiar caramel like flavour associated with traditional caramel slices you find in corner store bakeries.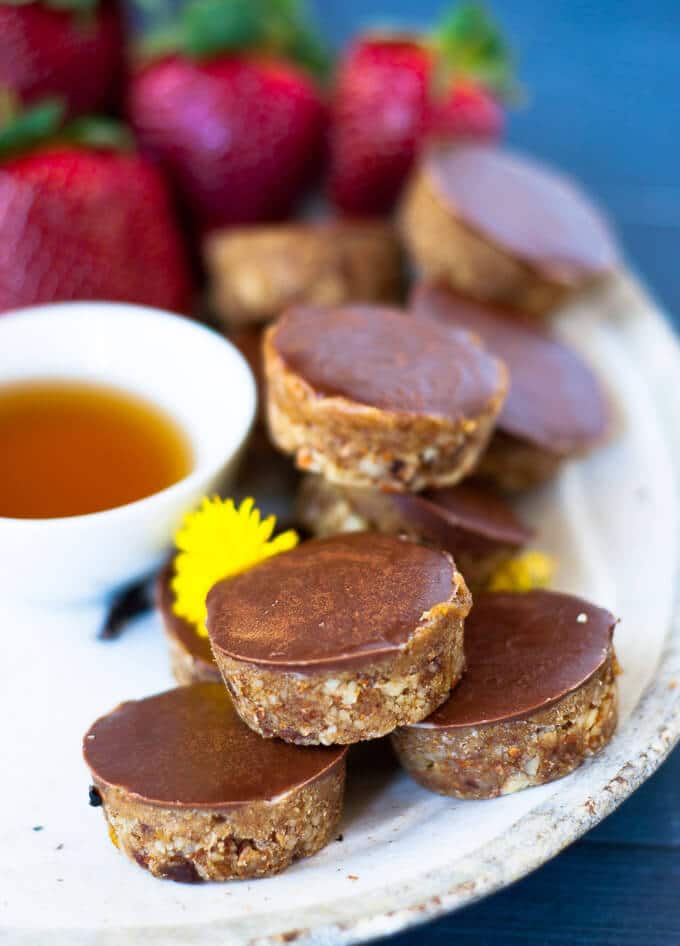 I love making treats on the weekend I can keep in the fridge so I can have them on hand for quick indulgences during the weeknights after work. I really do look forward to having that little something, kind of a reward of sorts, after a hard days work, followed by gym, then dinner, washing up, tidying up and whatever else needs to be done.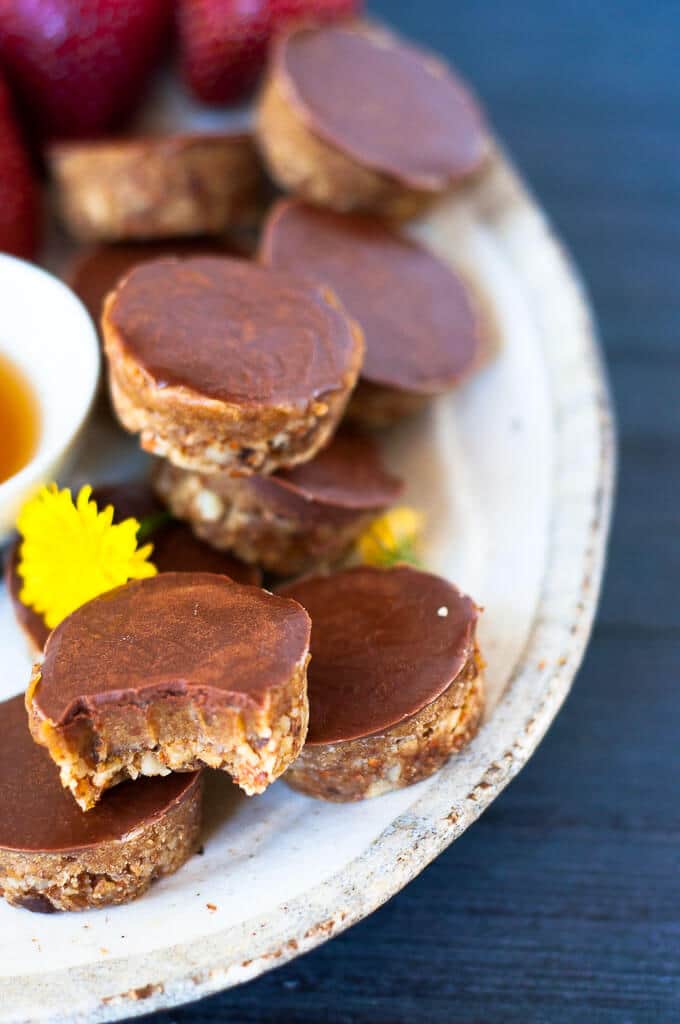 More easy no bake treats: 
Bites Versus Slice
Before I made sugar free caramel slice bites, I made a slice version and everything was good, until I went to cut it into actual slices. I had made the base, the caramel, and the homemade chocolate topping. I had let it set in the fridge. Then I attempted to cut it into nice little portion controlled squares.
This didn't go so well for me. The chocolate cracked (I think I made it too thick though) and my slices started to look a bit squishy. It was edible, but it didn't look pretty.
This is when I turned to my trusty silicone mini muffin tray that creates perfect portion controlled pieces every time! No cutting required, and they are easy to get out once they are set. When I made them a week later, it was a completely different experience. The making, and the eating!
More No Bake Goodies: Tropical Pineapple Fridge Tart and Coconut Lemon Slice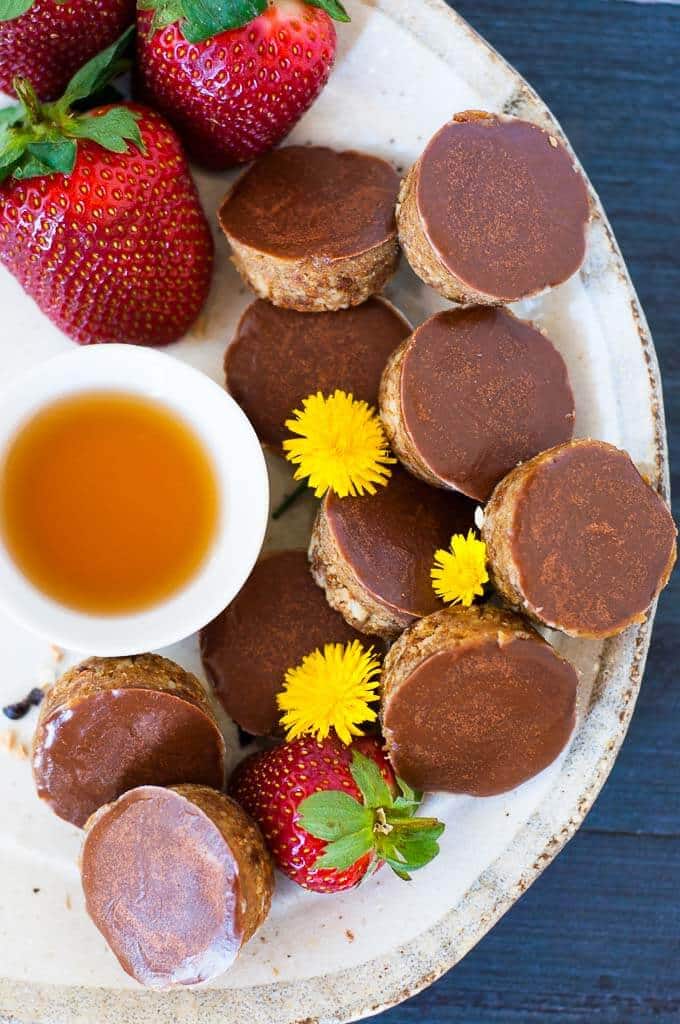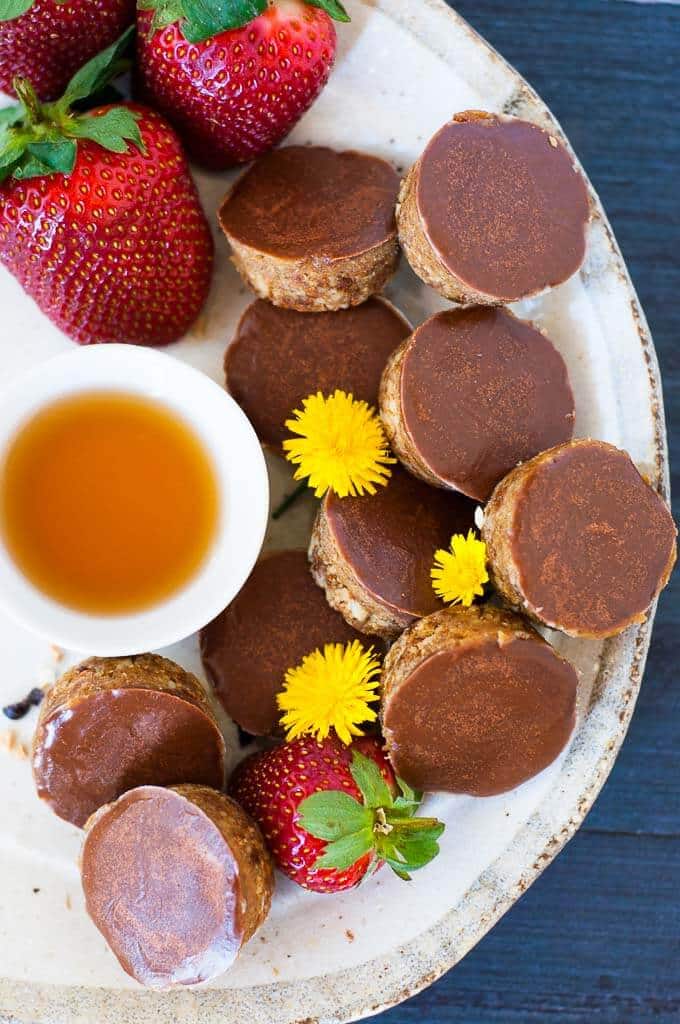 If I had to choose, I would go bites every time. Here's why I think sugar free caramel slice bites are better than an actual "slice":
No cutting, so less chance of the chocolate cracking and me having to put it back together, in the process squishing the slice and making it look lop sided!
They are automatically sized into portions without you even having to think about it. Need I say more. This is one of the reasons why I make desserts in silicone moulds, like my sugar free chocolate bounty bars, and chocolate cashew cups.
A light spray of coconut oil onto the mould before you start building the bites makes them pop out super easy and the mould is so clean it almost doesn't need washing up!
Shaping the perfect sugar free caramel slice bite is a breeze. I actually find it therapeutic and relaxing to press in the bottom layer, let it set, then press in the middle layer.
Less Calories! Ok, so this one might be a stretch and a bit dependant your preferences but using a silicone mould uses less chocolate, due to less surface area than a larger square or rectangle pan. So I'm giving this one the tick!

There are so many different ways to make caramel out there and let me tell you, I have experimented with quite a few of them! I just never could seem to get it just right – too pasty, too gritty, too sweet, too runny, too firm, too lumpy.
After everything, I realised that making caramel shouldn't be hard and I thought to myself what is the closest thing I have in the house that resembles caramel in some way. Peanut butter was it - it was the right colour anyway.
From here I was on a mission to turn peanut butter into some kind of caramel! Sugar free peanut butter was the fastest, most convenient and effortless way of creating an awesome sugar free caramel that has just the right amount of sweetness thanks to my trusty sugar free maple syrup for the local supermarket.
If you're into after dinner treats, you might be inspired to try a cheesecake or two. I'm a bit partial to these best ever mini sugar free lemon cheesecakes, and sometimes when I'm feeling chocolatey and have a special occasion dinner (think Date Nights!) I make my very special Sugar Free Chocolate Tart with real fresh raspberries!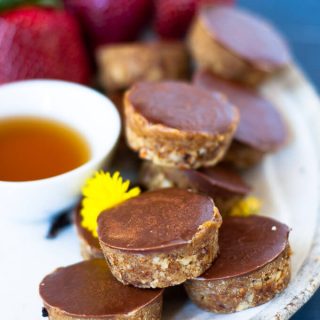 Date Sweetened Caramel Slice Bites
Raw, no bake sugar free caramel slice bites with a nutty base, smooth and creamy caramel centre and silky chocolate on top. Healthy Dessert under 200 cals.
Ingredients
Base:
⅓

cup

Medjool Dates (Room Temp/Roughly Chopped)

⅓

cup

Almonds

¾

tablespoon

Coconut Oil

Pinch

Sea Salt
Caramel:
⅔

cup

Medjool Dates (Room Temp/Roughly Chopped)

¼

cup

Sugar free maple syrup

2

tablespoons

Peanut Putter (room temp)

2

tablespoons

Coconut oil (Melted)
Chocolate:
2

tabelspoons Cocao Powder

2

tabelspoons Coconut oil

-

melted

1

teaspoon

Sugar free maple syrup
Instructions
In a bowl of hot tap water, soak all the dates for 10 minutes.

After 10 minutes, drain all the water from the dates, and chop roughly.

Make the Base: place ⅓ cup of the chopped dates, almonds, coconut oil and sea salt into a food process and blitz until combined

Lightly spray 2 x 12 hole silicone mini muffin trays with coconut oil. Divide the base mixture into 16 portions and press firmly into the base of each muffin hole. Make sure to press it up the sides as well to create a "cup" that the caramel will sit in.

Place in fridge whilst you prepare the caramel.

Wash and clean the food processor ready for making the caramel.

Make the Caramel: Take the remaining soaked and drained dates (⅔ cup), sugar free maple syrup, peanut butter and coconut oil and blitz in the food processor until all smooth and creamy.

Remove bases from fridge and spoon in the caramel evenly across the 16 bases, smoothing over with a spoon.

Once caramel is done, put back in fridge for a couple of hours to let it firm up.

Make the Chocolate Top: In a small saucepan, place the ingredients for the chocolate on medium heat. Stir until heated through and all combined. Then, remove from heat and let cool for a few minutes before spooning onto the caramel bites. (Do make sure they have had around 2 hrs in the fridge to set before putting the chocolate on)

Once the chocolate is done it will be to hot to put onto the caramel straight away. I usually leave it sit in the saucepan (off the heat) for a few minutes as this will thicken it up slightly.

After it has sat for a few minutes use a teaspoon to gently spoon chocolate across all the 16 bites.

Final Setting: Return them to the fridge for another hour or so for a final set before eating.

Keep them stored in the fridge in an air tight container. They will stay fresh for about 5 days.
Notes
All in all the preparation for this recipe is pretty quick.  The longest part is letting it set in the fridge which I like to do for each layer.  The longer you leave it to set the better, you could get away with putting the caramel straight onto the base, and then putting it in the fridge for half an hour.  Following this, adding the chocolate top and a final set in the fridge for 10 mins before eating.
Nutrition
Calories:
193
kcal
Carbohydrates:
14
g
Protein:
5
g
Fat:
14
g
Saturated Fat:
5
g
Fiber:
3
g
Sugar:
8
g
Note: Sugars contained in this recipe are from naturally occurring sugars in fruits, vegetables or other natural sweeteners.
Looking To Cut Out Sugar? Get the FREE Healthy Food Swaps Checklist Pack!
Get your FREE Healthy Food Swaps Checklists with over 65 Healthy Food Alternatives to Help you Ditch The Sugar Without Feeling Deprived.