If you're anything like me you've probably been struggling with finding healthier alternatives to the foods you love, but have had little to no luck. It can be difficult to change your eating habits, especially when you've been eating that way for years. But help is at hand in the form of a Clean Eating Food List where I share with you over 30 healthier alternatives to your favourite snacks, sauces, sugary drinks and sweet treats.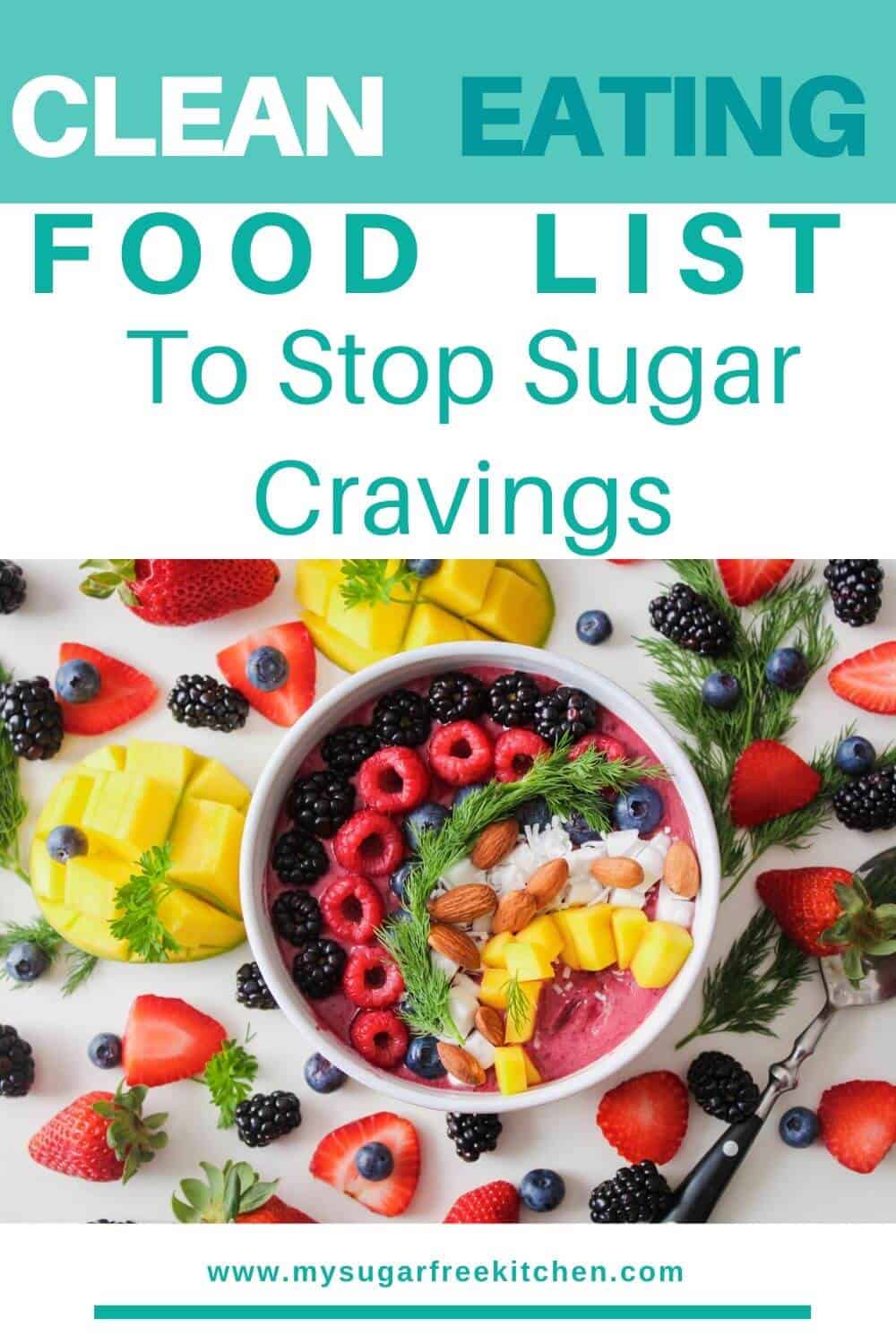 RELATED POST: My Sugar Story – How I Tamed The Sugar Monster
In fact, there are quite a few smart switches you can make easily and with little effort to cut down on your sugar intake.
Healthy Food Swaps and Alternatives: What You Need To Know
If you already know you're consuming too much sugar, cutting down will take time, and as you transition things won't taste as sweet or as "good" as you're used to.
You are essentially retraining your tastebuds to dislike sugar.
The more consistent you are with your healthier food choices, the easier it will become.
Within a week your brain and tastes will start to adjust and the longer you keep at it the more you'll become used to cleaner eating.
RELATED POST: Beginners Guide To Cutting Out Refined Sugars?
Clean Eating Food List Substitutions
These are some of my favourite substitutions to stop cravings that I follow as I keep on the straight and narrow of living refined sugar free. Use the ideas and tips from this clean eating food list as a guideline of what the healthier options are so you can stay fuller for longer and avoid cravings.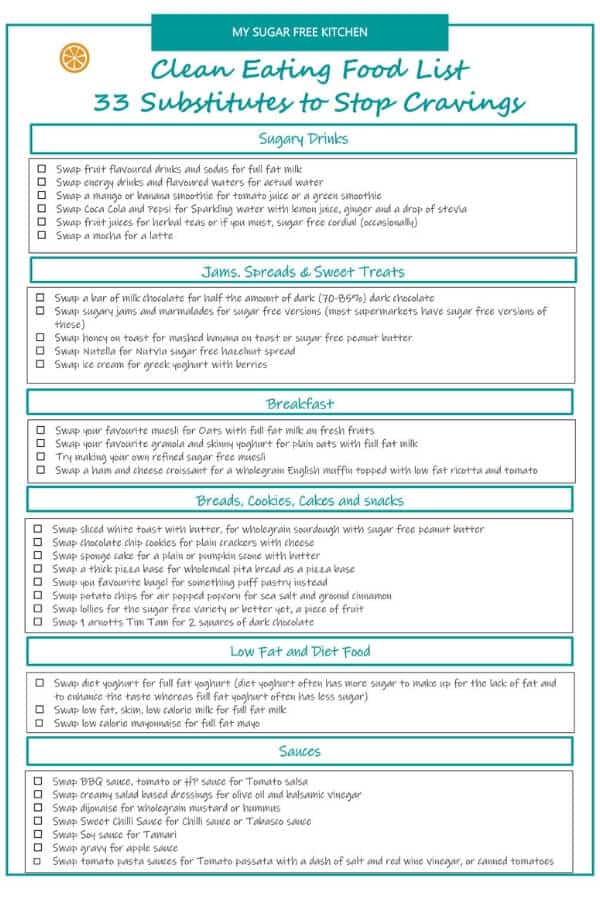 ---
Swaps for Sugary Drinks
Swap fruit flavoured drinks and sodas for full fat milk
Swap energy drinks and flavoured waters for actual water
Swap a mango or banana smoothie for tomato juice or a green smoothie
Swap Coca Cola and Pepsi for Sparkling water with lemon juice, ginger and a drop of stevia
Swap fruit juices for herbal teas or if you must, sugar free cordial (occasionally)
Swap a mocha for a latte
Swaps for Jams, Spreads and Sweet Treats
Swap a bar of milk chocolate for half the amount of dark (70-85%) dark chocolate
Swap sugary jams and marmalades for sugar free versions (most supermarkets have sugar free versions of these)
Swap honey on toast for mashed banana on toast or sugar free peanut butter
Swap Nutella for Nutvia sugar free hazelnut spread
Swap ice cream for greek yoghurt with berries
Swaps for Breakfast
Swap your favourite muesli for Oats with full fat milk an fresh fruits
Swap your favourite granola and low fat yoghurt for plain oats and full fat milk
Try making your own refined sugar free muesli
Swap a ham and cheese croissant for a wholegrain English muffin topped with low fat ricotta and tomato
Swaps for Breads, Cookies, Cakes and snacks
Swap sliced white toast with butter, for wholegrain sourdough with sugar free peanut butter
Swap chocolate chip cookies for plain crackers with cheese
Swap sponge cake for a plain or pumpkin scone with butter
Swap a thick pizza base for wholemeal pita bread as a pizza base
Swap you favourite bagel for something puff pastry instead
Swap potato chips for air popped popcorn for sea salt and ground cinnamon
Swap lollies for the sugar free variety or better yet, a piece of fruit
Swap 1 arnotts Tim Tam for 2 squares of dark chocolate
Swaps for low fat and diet food
Swap diet yoghurt for full fat yoghurt (diet yoghurt often has more sugar to make up for the lack of fat and to enhance the taste whereas full fat yoghurt often has less sugar)
Swap low fat, skim, low calorie milk for full fat milk
Swap low calorie mayonnaise for full fat mayo
Swaps for High Sugar Sauces
Swap BBQ sauce, tomato or HP sauce for Tomato salsa
Swap creamy salad based dressings for olive oil and balsamic vinegar
Swap dijonaise for wholegrain mustard or hummus
Swap Sweet Chilli Sauce for Chilli sauce or Tabasco sauce
Swap Soy sauce for Tamari
Swap gravy for apple sauce
Swap tomato pasta sauces for Tomato passata with a dash of salt and red wine vinegar, or canned tomatoes in juice
RELATED POST: Beginners Guide To Cutting Out Refined Sugars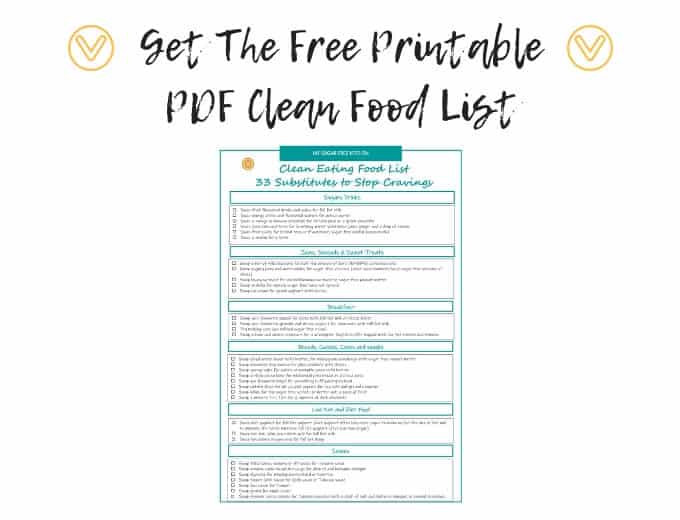 ---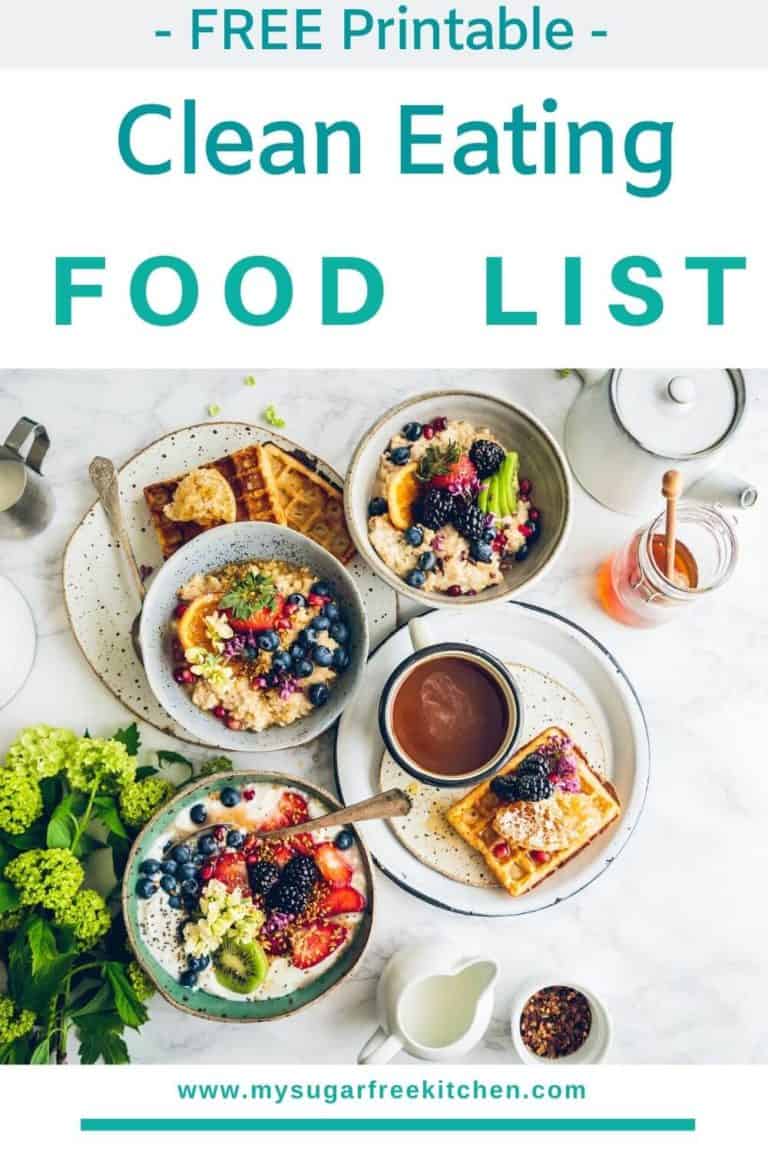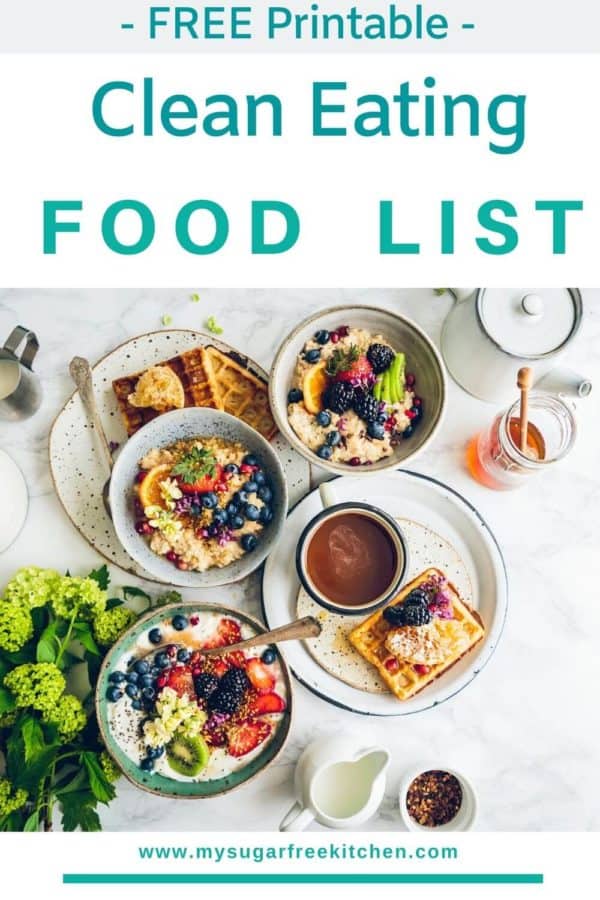 Get Started with Swapping
Pick one and get started. Take one step at a time and make just one change. Get comfortable with it and then introduce a second small change.
★★ Leave me a comment below. I'd love to hear what you're doing to get started, or even some creative sugar swaps you've come up with ★★
Once you start transitioning to a clean eating food list of yummy alternatives, little by little you'll change how you used to think about food.
Not only will your thinking change, your tastebuds will also change, in fact they will probably change faster than your thinking.
Eventually the two will come together and you'll reach a new middle ground where things are different.
Sugar laden treats will lose their appeal
You'll enjoy cooking more
Shopping will no longer feel like the challenge it once used to be
You'll know what to buy and what to put back on the shelf
The time it takes to really see a difference is different for each of us, but I suspect you should start to notice a small shift within 1 week, and if you're consistent and committed, even better results by the 2 and 3 week mark.
But with all good things, it does take some work, and it does require some change, but it will be worth it. Have the courage to make some clean eating food swaps and your body will thank you for it.