If you're often confused by sugar, you aren't the only one.  But knowing when to say no to sugar doesn't have to be as difficult as it seems if you know a little inside information.  Sugar can come in many different disguises and it can be hard to know what is considered OK, and what should be avoided.
But there are some simple guidelines that you can follow to help you navigate the supermarket aisles, your fridge and pantry and even when you're out and about.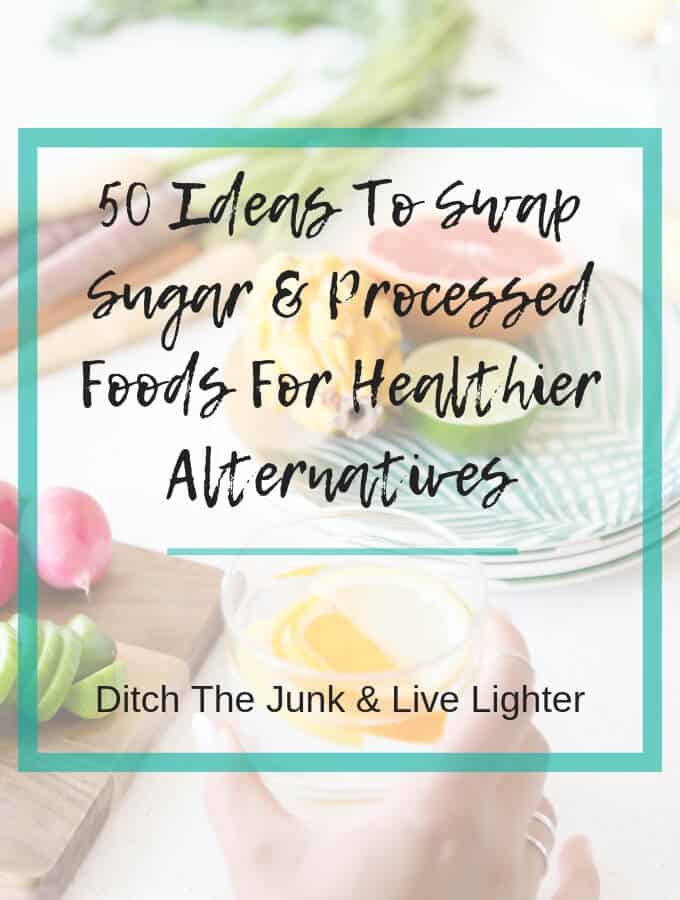 In fact, there are quite a few smart switches you can make easily and with little effort to cut down on your sugar intake.
Discover more tips and insights for cutting out sugar in My Sugar Story – How I Tamed The Sugar Monster
Before we get started though, there is something we need to talk about:
You might already know you're consuming too much sugar, so cutting down will take time, and you might find that as you transition things don't taste as sweet or as "good" as you're used to.  Bear with it though because it is a gradual process to retrain your tastebuds to dislike sugar.
Stick with it.  Your brain and tastes will adjust and the longer you keep at it, the less you will notice the absence of added sugars in what you are eating.
You'll develop a new norm where you actually prefer things to be less sweet, because otherwise they just taste sickly to you and they become something to avoid, rather than scoff down as you may have previously done.
Where you're considering smart swaps in favour of the sugar laden ones you're used to, make sure to read the labels carefully as the sugar content of a product can vary greatly between brands.
Also note that whilst you might be tempted to think that savoury food might be a safer bet as it should have less sugar.  Think again.  It is far from sugar free.
Scarily, 100grams of BBQ crisps can contain about the same amount of sugar as a large square of milk chocolate.
Have checked out my Beginners Guide To Cutting Out Refined Sugars?
OK Let's get to it.
Say No To Sugar With Smart Food Swaps
These are some of my favourite smart swaps that I follow as I keep on the straight and narrow of living refined sugar free.  Use these as guidelines as you think about what to eat when you're next hungry.
Smart Swaps for Sugary Drinks
Swap fruit flavoured drinks and sodas for full fat milk
Swap energy drinks and flavoured waters for actual water
Swap a mango or banana smoothie for tomato juice or a green smoothie
Swap Coca Cola and Pepsi for Sparkling water with lemon juice, ginger and a drop of stevia
Swap fruit juices for herbal teas or if you must, sugar free cordial (occasionally)
Swap a mocha for a latte
Smart Swaps for Jams, Spreads and Sweet Treats
Swap a bar of milk chocolate for half the amount of dark (70-85%) dark chocolate
Swap sugary jams and marmalades for sugar free versions (most supermarkets have sugar free versions of these)
Swap honey on toast for mashed banana on toast or sugar free peanut butter
Swap Nutella for Nutvia sugar free hazelnut spread
Swap ice cream for greek yoghurt with berries

Smart Swaps for Breakfast
Swap your favourite muesli for Oats with full fat milk an fresh fruits
Swap your favourite granola for Weetbix if you're an aussie
Try making your own refined sugar free muesli
Swap a ham and cheese croissant for a wholegrain English muffin topped with low fat ricotta and tomato
Smart Swaps for Breads, Cookies, Cakes and snacks
Swap sliced white toast with butter, for wholegrain sourdough with sugar free peanut butter
Swap chocolate chip cookies for plain crackers with cheese
Swap sponge cake for a plain or pumpkin scone with butter
Swap a thick pizza base for wholemeal pita bread as a pizza base
Swap you favourite bagel for something puff pastry instead
Swap potato chips for air popped popcorn for sea salt and ground cinnamon
Swap lollies for the sugar free variety or better yet, a piece of fruit
Swap 1 arnotts Tim Tam for 2 squares of dark chocolate
Smart Swaps for low fat and diet food
Swap diet yoghurt for full fat yoghurt (diet yoghurt often has more sugar to make up for the lack of fat and to enhance the taste whereas full fat yoghurt often has less sugar)
Swap low fat, skim, low calorie milk for full fat milk
Swap low calorie mayonnaise for full fat mayo
Smart Swaps for Sauces
Swap BBQ sauce, tomato or HP sauce for Tomato salsa
Swap creamy salad based dressings for olive oil and balsamic vinegar
Swap dijonaise for wholegrain mustard or hummus
Swap Sweet Chilli Sauce for Chilli sauce or Tabasco sauce
Swap Soy sauce for Tamari
Swap gravy for apple sauce
Swap tomato pasta sauces for Tomato passata with a dash of salt and red wine vinegar, or canned tomatoes in juice
Have you checked out my Beginners Guide To Cutting Out Refined Sugars

A Note on Sauces
Sauces, mustards, gravies and dressings are a great way to jazz up a meal and add extra flavour.  But be wary that a healthy meal can potentially be sabotaged by choosing the wrong sauce and you end up with a meal full of sugar.
Instead you want to choose sauces, mustards, gravies and dressings that add to your meal in terms of health and nutrients.  Don't be tempted by those high in sugar as they offer little nutritional benefit.  Also don't go overboard with lathering it all over your meal.  Keep it reasonable – a tablespoon or two, after all you want it to enhance what you're eating, not overpower it.
TIP:   you might want to consider adding extra spices to your meal as you're cooking.  Invest in a few of the more common spices like dried basil, oregano, thyme, paprika, and lemon pepper and start experimenting. 
Discover more tips and insights for cutting out sugar in My Sugar Story – How I Tamed The Sugar Monster
7  Ways to Say No To Sugar Starting Now
Reduce sugar in your drinks: If you are used to having sugar in your tea or coffee, cut it in half, and then after one week, cut it in half again.  Also reduce the amount of fizzy drinks you consume.  If you're currently drinking the full sugar version, switch to the diet versions.  If you're currently drink the diet versions, halve the amount you drink per week.  For every coffee or soda you drink, even it out with one glass of water.
Reduce Sugar In Recipes: If baking is your thing, switch to using a granulated sweetener such as Stevia as it measures like for like.  Or if you really can't bear to do this, reduce the actual sugar by half.
Start to read labels: When you're next at the supermarket, every time you pick something off the shelf, pause  and look at the label.  How much sugar does it contain?  More than 10 grams per 100 grams?  Is sugar mentioned as the first or second ingredient in the ingredients list?  If so, it is likely a product high in refined sugars and something you might want to avoid.
Cook more: Processed food – that is, stuff that comes in a box or in a bottle often has added sugars that we wouldn't even think there, and sauces, dressings and cereals are often the biggest culprits.  Commit to cooking 1 or 2 recipes a week and go big.  Make a big batch so you have leftovers and don't have to cook every night of the week.
Quit buying low fat and diet products:   these are loaded with sugar to make up for the fact that the fat content has been limited.  Buy full fat yoghurt, full fat milk, full fat cheese.
Eat more: hang on what?  Eat more?  Eat smaller meals and reduce the temptation to snack or binge when you all of a sudden are ravenous and need something pronto….which often ends up being something you later regret.  Always be prepared.  Keep plain crackers and almonds in your bag or in your desk at work to avoid the munchies.
Choose your fruit wisely: But isn't fruit healthy?  I hear you ask.  Yes it is, but it also contains a lot of sugar and should be eaten in moderation, and different kinds of fruits, have differing level of sugar.  Some have low sugar content, some have high sugar content.  Some of the fruits with lower levels of sugar include blueberries, raspberries, strawberries, nectarines, pears, peaches, pineapple, kiwi fruit, apricots, oranges and apples.  If you're a fan of fruit in a can, choose fruits in juice with no added sugar, rather than fruits in syrup.
What is one action you can take today to make a
smart food swap

to start eating less sugar?

Pick one and get started.  Take one step at a time and make just one change.  Get comfortable with it and then introduce a second small change.

★★  Leave me a comment below. I'd love to hear what you're doing to get started, or even some creative sugar swaps you've come up with  ★★

Little by little you'll build up these changes over time to create a shift in how you used to think about food to a whole new way of thinking.  Not only will your thinking change, your tastebuds will also change, in fact they will probably change faster than your thinking.

Eventually the two will come together and you'll reach a new middle ground where things are different.  Sugar laden treats will lose their appeal, you'll enjoy cooking more, and shopping will no longer feel like the challenge it once used to be.  Because you'll know.  You'll know what is good sugar and what is bad sugar.

You'll know what to buy and what to put back on the shelf.  It will become second nature and it will be just what you do.

The time it takes to really see a difference is different for each of us, but I suspect you should start to notice a small shift within 1 week, and if you're consistent and committed, even better results by the 2 and 3 week mark.

But with all good things, it does take some work, and it does require some change, but it will be worth it.  Have the courage to make some smart swaps and your body will thank you for it. Do yourself a favour and say to no to sugar.