Are you always craving sweet food, even if you've just recently eaten?  When 3pm rolls around, are you reaching for a snack because you're hungry again?  Or perhaps you find yourself heading for the fridge in search of something sweet not long after dinner.  Cravings can be annoying and hard to ignore, but there are ways to stop craving sugar naturally without depriving yourself or going on a restrictive diet.  You just need to know a few simple tips and tricks and the foods that curb sugar cravings to get you feeling in control.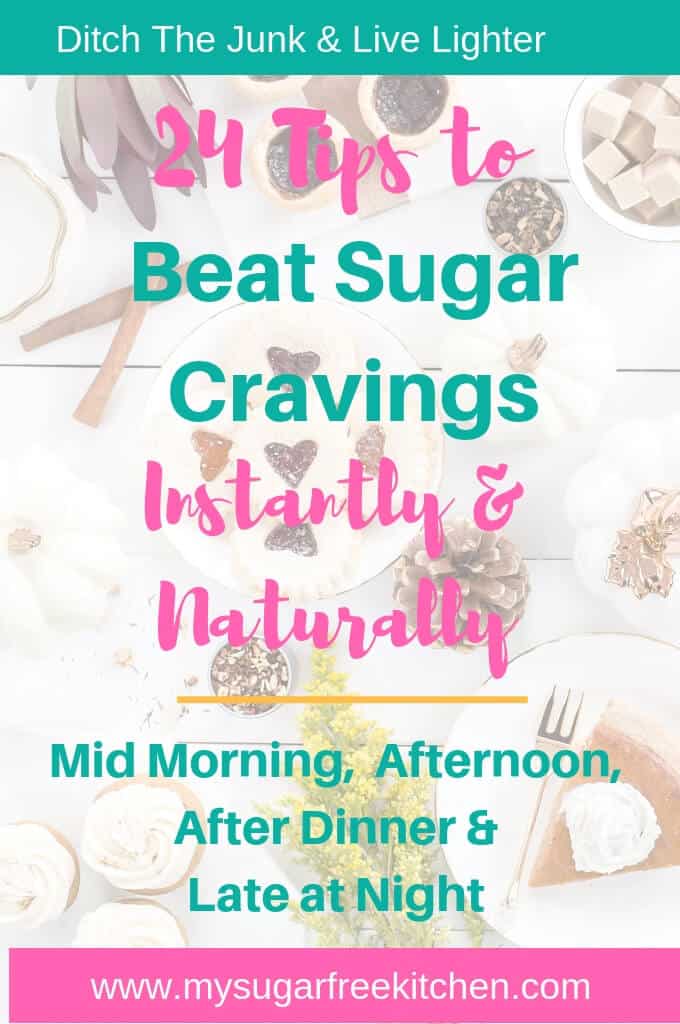 Whether you're having a mid morning snack attack, need your daily 4pm munchie fix, your after dinner sweet cravings satisfied, or you need a late night fix to tame your cravings, let me share with you some of my tips and tricks to beat sugar cravings at anytime of day.
How to stop sweet cravings in the morning
Make sure you don't skip breakfast as this is a sure path to snacking your way to lunch time
If you have eaten breakfast and you're hungry soon after, you're probably not getting enough fibre or protein in your morning meal. White bread, sugary cereals and packaged fruit juices will make you feel full for a little bit, but you won't stay full for long.
Instead, for a breakfast that keeps you fuller for longer try to eat a balance of complex (low GI) carbohydrates, protein and healthy fats such as wholegrain toast with eggs, or avocado, or plain rolled oats with full fat milk and berries.
The more lean protein and healthy fats you consume at breakfast, the less likely it will be that you'll reach for sugary snacks.
If you do happen to get sweet cravings in the morning, one of the best food choices you can make is to have something nutritious, full of fibre and protein based, such as a small handful of almonds, or a small tub of plain Greek yoghurt with berries.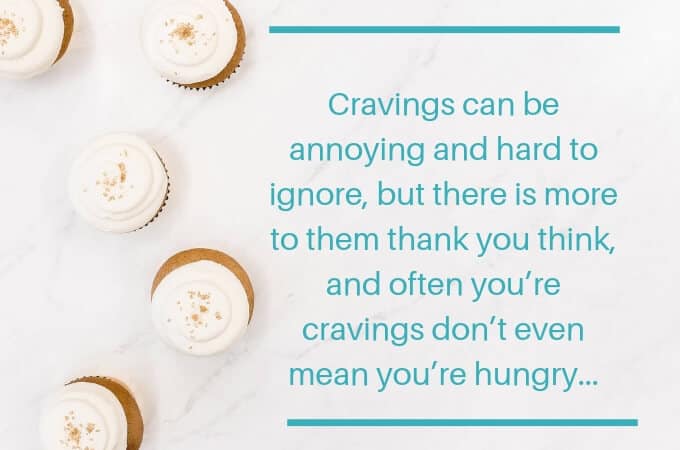 Stop craving sweet food in the afternoon
If you're skipping lunch or not eating a well balanced lunch, your energy levels are likely to dip and you'll start craving something sweet or salty.
A balanced lunch could be a wholegrain sandwich with chicken, avocado and salad.
If you're not a sandwich kind of person, leftovers from the night before are always something I look forward to, like these slow cooker Moroccan Meatballs with brown rice and salad, or these Thai Chicken Meatballs with Slaw.
Actually have a break from your desk or computer screen whilst you have lunch so you can think about what you're eating without getting distracted with emails, or other work related stuff.
Keep a stash of healthy emergency food items for those times when, well, its an emergency. High protein, refined sugar free are the best kind of snacks as they won't spike your sugar levels.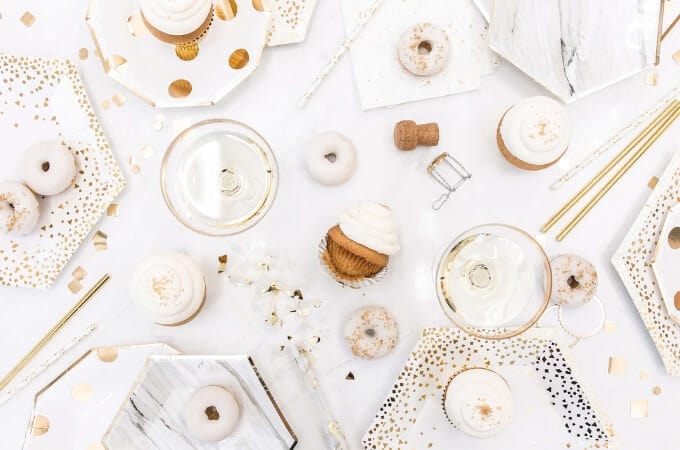 Stop sweet cravings after dinner
Eat more veges at dinner. Try to fill half you plate with veges before you put anything else on it.  The fibre from the veges will help to fill you up and keep you fuller for longer.
Halve the amount of sauces you use – these are full of sugar and the more sugar you have the more you crave it.
Drink a large glass of water with your dinner to rehydrate as many times cravings can be a sing we are dehydrated.
If all else fails to prevent sweet cravings after dinner, keep a small block of

high quality dark chocolate, or good quality sugar free chocolate

in the cupboard, and limit yourself to two squares in the evening after dinner. I've found that the sheer richness of dark chocolate prevents me from overeating and because it is low sugar or sugar free, it doesn't make me crave more than I've allowed myself.
For more tips on squashing After Dinner Sweet Cravings click here. I share my top 7 tips for how I have overcome and dealt with life long after dinner sweet cravings.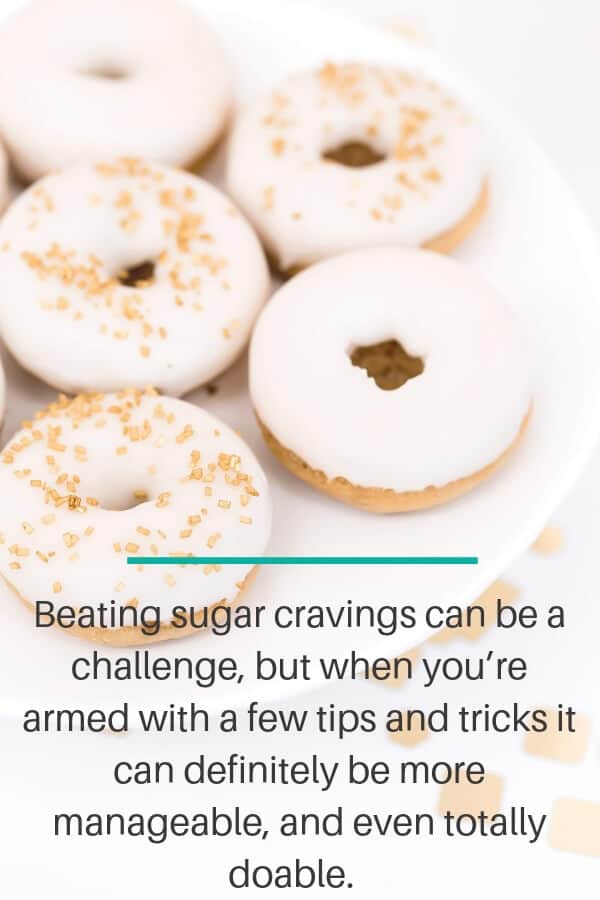 Stop craving sweet food Before Bed or late at night
Whatever you like to nibble on late at night, don't keep it in the house.
When you get up for something to eat late at night, have a big drink of water instead.
If you simply must have something to eat, make a better choice and limit yourself to half a dozen almonds, with a small glass of milk.
Set yourself the ultimate test: a goal to not snack late at night or in the middle of the night for 5 days.  Give yourself a non food reward if you can reach that goal (think: massage, buying a book you've been wanting, a movie, a new hairstyle, or a yoga class)
The Wrap Up:
How to beat sugar cravings at any time of day can be a challenge, but when you're armed with a few tips and tricks it can definitely be more manageable, and even totally doable.  Sometimes we don't even eat because we're hungry, we just eat out of habit or we eat because we're emotional.  Getting to know the difference between real hunger and when your emotions are getting the best of you has been one of the biggest learnings for me.
If you've ever wondered if you're eating too much sugar, you very well could be.  I was for years, even though I thought I was eating healthy 80% of the time.  Because of this, my cravings were out of control and I constantly struggled with my weight.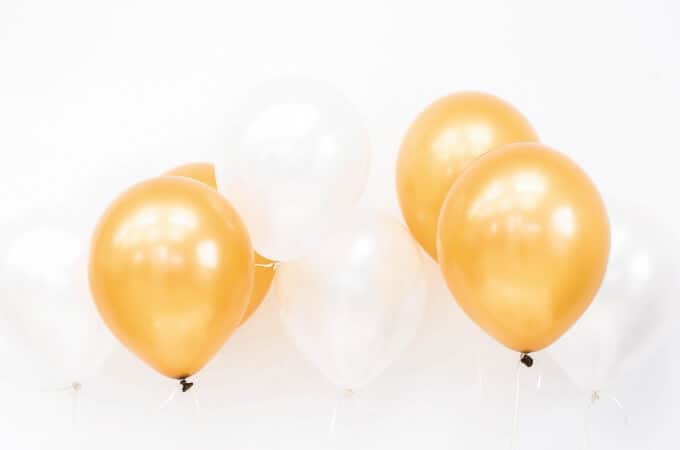 Now though I am much more in control of what I what eat and aware of how my body is responding.  I'm no longer "tricked" into thinking I'm hungry when I've just had a bad day at work.  Instead of hitting the chocolate to help me get over my bad day, I hit the gym instead, and boy do I feel better for it.
How about you?  I'd love to know if you have any other tips that you've adopted to help you manage your cravings.  I always love hearing new ways of doing things!  Leave me a comment below.
Related: