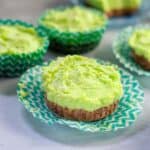 Print
Mini Lime Jelly Cheesecakes
Cute mini Lime Jelly Cheesecakes that are light, fluffy, tangy and free from refined sugars. Easy to make in 20 minutes.
Base
¾

cup

80 grams Walnuts

4

Medjool Dates

room temperature

½

teaspoon

Ground ginger
Extras
8

cupcake liners

Muffin Tray
Base
Blitz room temperature dates, walnuts and ground ginger in a food processor until they resemble a crumb.

Place cupcake liners into a muffin tray and tip date/walnut crumb mixture evenly across all. Press crumbs firmly down into the liner to create the cheesecake base.
Filling
Wash food processor. Add the cream cheese, ricotta, lime juice and zest, and jelly crystals, sweetener. Blitz until smooth and creamy, and there is no graininess from the sweetener.

Spoon the filling evenly across each cheesecake base, filling the liner to ¾. Use a teaspoon to smooth the top of the cheesecake.

Leave the cheesecakes in the muffin tray and either cover with foil, or put into an air tight container if you have one big enough. Store in the fridge overnight before serving.
Sweetener: I used Lakanto Monkfruit Sweetener (Baking Blend), a natural sweetener, similar to Stevia. Its like a caster sugar replacement with only a fraction of the calories. If you can't find Monkfruit baking blend, the regular granulated Monkfruit will work. It will just require a little extra blitzing.
Taste Test: after putting the lime zest and juice in, blitz it, and taste to see if you can taste the lime. If not add a little more.
Jelly: The jelly doesn't really offer much lime flavour, its more about the colour that it adds.
Walnuts: For an extra hint of flavour, you might like to lightly toast the walnuts for 5 minutes in a hot oven before blitzing.
Walnut Substitute: Peacans could be used instead of walnuts.
Cream Cheese: Low fat cream cheese can be used instead of full fat to reduce the calories and overall fat content, however it will be less creamy.
Fresh Limes: before zesting and cutting the lime, press and roll it back and forth on the bench to loosen it up - this will help to release some of the juices
Bottled Lime Juice: Avoid using this is possible. You really can;t beat the freshness of actual real lime juice and lime zest. Lime zest adds greatly to the flavour of these cheesecakes, so its best if possible to use real limes.
Calories:
157
kcal
|
Carbohydrates:
10
g
|
Protein:
8
g
|
Fat:
11
g
|
Saturated Fat:
1
g
|
Fiber:
2
g
|
Sugar:
6
g