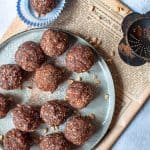 Print
Peanut Butter Bliss Balls
These Peanut Butter Bliss Balls soft, chewy, and you can taste the peanut butter and chocolate. You can make this in just 10 minutes with 7 simple ingredients. 
Place the almond meal, walnuts, coconut and cocoa powder into a food processor and blitz for 10 seconds.

Add the dates, peanut butter and water. Blitz for 20 to 30 seconds or until broken down.

Remove mix from the food process or and place into a bowl

Roll into 14 evenly sized balls (a little smaller than a golf ball).

Store in an air tight container in the fridge for 5 days. Or freeze for upto 4 weeks. If freezing, I recommend letting bliss balls defrost naturally before eating, or let them thaw out in the fridge overnight before eating.
Peanut Butter: I use a sugar free all natural peanut butter.  Make sure to read the back of the label to see what has been added.  Ideally you're looking for one where the only ingredient listed is peanuts.
Dates: Medjool dates are ideal for this recipe as they are soft, plump, sweet and juicy.  They are best at room temperature, however if you've had them in the fridge, just soak them in hot water for 1 minute or so then drain.
Almond Meal: Almond meal is available in the baking aisle at supermarkets and its basically just ground up almonds.  You can make your own by blitzing almonds in your food processor down to a fine texture.
Walnuts: Walnuts provide a great textural element to these healthy bliss balls however if you don't have these, you could substitute with pecans, hazelnuts or brazil nuts.
Calories:
233
kcal
|
Carbohydrates:
15
g
|
Protein:
6
g
|
Fat:
18
g
|
Saturated Fat:
5
g
|
Fiber:
3
g
|
Sugar:
10
g