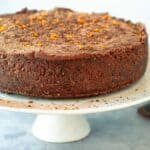 Print
Chocolate Orange Cheesecake
This no bake Chocolate Orange Cheesecake is rich, decadent, filling and contains no added sugar.  With a luscious creamy filling containing two types of chocolate, and a nutty chocolate base, Inspired by the flavours  of Terry's chocolate orange but with a healthy twist! 
Base
1

cup

200g Medjool dates (at room temperature) roughly chopped

2

cups

220g Walnuts, roughly chopped

3

tablespoons

Unsweetened cocoa powder
Filling
3

cups

(675 grams) Cream cheese, Full Fat

2

cups

(360 grams) Sugar free chocolate, melted and cooled

1

cup

240ml heavy whipping cream

2

tablespoons

Unsweetened cocoa powder

3

tablespoons

Orange juice, Freshly squeezed

Zest of 2 medium Oranges

2

teaspoons

Vanilla extract

¼

teaspoon

sea salt
Base
Add all base ingredients into a food processor and blitz to a crumb.

Remove from food processor and press into a 23cm (9 inch) Springform tin, lined with baking paper/parchment paper on the bottom. Press into the base of the tin and ¾ of the way up the sides. Make sure to press the base firmly around the perimeter .

Set aside, while you make the filling. Clean food processor in preparation for the filling ingredients
Filling
Melt the chocolate in the microwave on medium heat until just melted (mine took about 4 mins)

Add the chocolate, cream cheese, cream, sweetener cocoa powder, orange juice, zest, vanilla, and sea salt. Blitz to combine until thick and creamy. (You'll need at least a 3 litre or 8 cup food processor to fit everything in)

Spoon out the filling into the tart base a little bit at a time, smoothing out with the back of a large spoon as you go. Make sure to evenly distribute the filling around the perimeter a bit at a time to avoid air pockets forming.

Cover with foil and refrigerate for at least 4 hours.
To Serve
Add some granulated peanuts scattered over the top, a dusting of cocoa powder, and some more orange zest. Maybe add some whipped cream or double cream on the side.

Cut cheesecake with a sharp knife dipped in a jug of hot water. For a perfectly clean cut, wipe down knife between each cut and dip in hot water.
Cream Cheese: Full fat is best as this helps it to set in the fridge, however reduced fat may also be used to lower the calories.
Whipping Cream: Whilst full fat heavy whipping cream makes it richer, light or reduced fat cream can be used as well. Thickened cream can be substituted for whipping cream.
Chocolate: I used the brand "Naturally Sweet" Dark Chocolate which you can buy in blocks at Coles and Woolworths in Australia. If you can't find sugar free chocolate, use the best quality 70% chocolate you can find. The quality of chocolate you use in this recipe makes a big difference to the final flavour and taste.
Sweetener: I used Lakanto Monkfruit "Classic" which measures the same as sugar. You can get it from coles and woolworths in Australia. Alternatively you can use any granulated sweetener that measures like sugar, like stevia or another brand of Monkfruit.
Oranges: I used navel oranges in this recipe however any sweet juicy orange would work.
Store cheesecake in the fridge in an air tight container for upto 4 days.
Lining the bottom of the springform tin with baking paper or parchment paper helps to easily remove the cheesecake as the paper can just slide right off the  base
To remove the paper from underneath the cheesecake, hold the cheesecake with one hand, and the paper with the other. Lift and turn the cheesecake and slide the paper out.
Taste the cheesecake filling before spooning it into the tart dish. If it needs more sweetness, add more sweetener.  If it needs more orange, and more fresh OJ.  Always blitz again if adding more flavours.  Once you have it just right, make sure you've scraped all the filling from the sides of the food processor and mixed that in before spooning it out into the dish.
Nutrition information does not include optional nuts on top, or cream
Calories:
395
kcal
|
Carbohydrates:
12
g
|
Protein:
7
g
|
Fat:
16
g
|
Saturated Fat:
3
g
|
Fiber:
3
g
|
Sugar:
2
g