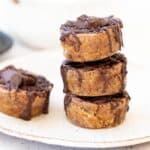 Print
Mini Mocha Cheesecakes
These Mini Mocha Cheesecakes are simple to make with basic ingredients and no gelatine.  They're sweet and creamy with hints of chocolate and coffee on a nutty base. 
Servings
12
mini cheesecakes
Filling
½

cup

Cream cheese

2

tablespoons

Unsweetened Cocoa Powder

1

teaspoon

Instant coffee

1

tablespoon

Water

1

tablespoon

Powdered Sweetener
Toppings
3

tablespoons

Sugar Free Dark Chocolate

Melted

2

tablespoons

Sugar Free Chocolate Chips
Base
Add the ingredients for base to a food processor and blitz together until mixture resembles a crumb (about a minute or so). When it clumps together in your fingers easily it is ready.

Remove blade from food processor and use a teaspoon to fill each hole in a 12 hole mini silicone muffin tray. Use damp fingers to firmly press crumbs into base of mold. Add additional crumbs, pressing down into mold so that base is approx. half the mold and there is half left for the filling

If there is any mixture left over from the base that doesn't fit into the molds. You can roll it into yummy snack balls.
Filling
If your cream cheese is verry soft and pliable you won't need a food processor to mix the ingredients together (I didn't use the food processor to make this filling as my cream cheese was at room temp)

Mix the instant coffee with tap water, stirring to combine in a bowl. Add softened cream cheese and powdered sweetener and thoroughly mix together

Use a small spoon to add filling onto base, pressing in with back of a spoon to make sure there are no air bubbles. Smooth off the tops with the back of a knife.

Cover with foil and let them set in the fridge overnight for for 6 to 8 hours
Removing from Molds
Use a butter knife to go around the edge of the mold of each cheesecake to loosen, cleaning the knife in between each one. Then gently use knife to lift each cheesecake out onto a plate for decorating
Decorating
Don't attempt to add the toppings until the cheesecakes have set properly otherwise the filling will still be too soft.

Melt chocolate in a microwave safe bowl until only just melted (no boiling or overly hot)

Use a teaspoon held at about 30 cm/1 foot height to drizzle chocolate lines in a zig zag pattern back and forth

Add 3 or 4 sugar free chocolate chips on each mini cheesecake, or chop the rest of the chocolate bar into tiny pieces and sprinkle on top.
Medjool Dates: the soft, juicy and almost caramel like texture of the medjool dates are perfect for making cheesecake bases.  Make sure to remove the seeds from the dates before putting them into the food processor, or alternatively you can buy dates that have already been putted.
Walnuts: Doesn't matter if you buy whole walnuts, or the ones that are already crumbled.  You can substitute walnuts for pecans also.
Desicated Coconut: Adds additional sweetener and texture to the base
Cream Cheese: I left my cream cheese out on the kitchen counter for a couple of hours to come to room temperature before making the filling so that it was pliable enough to work with, without having to use a food processor. I don't recommend microwaving cream cheese to soften it and this will affect the overall consistency.  Letting it soften naturally at room temperature yields the best results. 
Coffee: Any type of coffee is fine.  I use Moccona dark roast which has a deep earthy roast.  Make sure to dissolve the coffee first otherwise the filling will be bitter and gritty.
Powdered Sweetener: for the smoothest possible filling, I recommend using a powdered sweetener rather than a granulated sweetener.  I used Lakanto powdered sweetener.  To make powdered sweetener from granulated, grind it in a mortar and pestle for a minute or so.
Sugar Free Dark Chocolate: I tend to use a sugar free chocolate bar melted in the microwave for 30 to 50 seconds.  If you can't find sugar free chocolate, you can use 70% or 80% dark Chocolate
Chocolate Chips on top:  I use sugar free chocolate chips that I buy from Woolworths (in the baking aisle).  Alternatively you could use bard chocolate chops or a chopped up sugar free chocolate bar to sprinkle on top.
Calories:
136
kcal
|
Carbohydrates:
12
g
|
Protein:
2
g
|
Fat:
10
g
|
Saturated Fat:
5
g
|
Fiber:
1
g
|
Sugar:
4
g