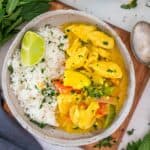 Print
Creamy Coconut Chicken Curry
This creamy coconut chicken curry is quick and easy to make in one pan and in under 30 minutes. This is a thai inspired curry that is savoury, sweet and earthy while still being light and fresh.
Curry
1

medium Brown or white onion

finely diced

2

tablespoons

Vegetable oil

1

tablespoon

Crushed Garlic

1

teaspoon

Minced Ginger

1

teaspoon

Lemongrass Paste

1

tablespoon

Curry Powder

1

tablespoon

Lime juice

1

tablespoon

Yellow Curry Paste

1

can

400 ml/14 oz Coconut Milk

1

tablespoon

Fish Sauce

3

kaffir lime leaves

optional
Vegetables
1

medium Capsicum/Bell Pepper

chopped into chunks

1

large Zucchini

chopped into small chunks

1

medium Onion

thickly sliced

1

cup

Pumpkin

diced
Marinate Chicken
Add diced chicken, lemongrass paste, garlic, ginger and curry powder to a bowl, mix together.

Heat a non stick wok on medium to high heat. Cook chicken pieces for a few minutes until cooked through and then remove from wok, cover and set aside.
Make Curry Sauce
Add the oil, vegetables, garlic, ginger, lemongrass paste, curry powder, and yellow curry paste and stir through until it becomes fragrant.

Add Coconut milk, fish sauce, sweetener and lime leaves and stir through, letting it come to a gentle bubble (about 3 – 4 minutes)

Add chicken pieces into curry and mix in
Serving
Divide amongst bowls, adding rice first, and curry on top

Garnish with unsalted and roasted peanuts, lime wedge and sprigs or coriander/cilantro.
Chicken: I like to use chicken breast in this recipe but there is a risk that it can become dry if overcooked.  Pre-cook chicken at the beginning of recipe until its just done.  If overcooked it could become dry when it goes back into the wok at the end of the cooking process.
Marinating the Chicken: if you have the time you can let the chicken marinate (30 mins or even overnight) buts its not necessary to get the full flavour of this curry.  The marinade ingredients quickly coat the chicken and the gentle cooking at the beginning will infuse all that lovely flavour into the meat.
Curry Powder: I use a simple yellow curry powder called Clives of India. 
Yellow Curry Paste: This adds a nice richness, depth and complexity to the curry.  It can be left out if you don't have it, but I definitely recommend adding it if you can.
Lemongrass: Lemongrass paste is my secret ingredient in this recipe.  The paste is really concentrated and adds a massive about of flavour.  This dish is all about the lemongrass and the paste certainly delivers.  Find it in the fresh fruit and vegetable section of the supermarket at Coles and Woolworths.  Alternatively you can use fresh lemongrass, but make sure to slice in very finely, and use the white part only – discard the rest.
Coconut Milk: Full fat coconut milk is best for that creamy curry sauce.  You could use a low fat coconut milk but the curry sauce may be a littler thinner.
Granulated sweetener: I like to use monkfruit sweetener, but you can also use stevia or any other granulated sweetener that measures like sugar.  Alternatively you could also use Honey.
Serving: Serve with your favourite rice, peanut, sprig of coriander and lime wedge.
Heat Level: This is a medium curry.  Adding the cornflour/cornstarch to thicken will dimmish the intensity of heat and some of the flavours, but it creates a deliciously thick, creamy and luscious curry that coats the chicken perfectly.
Thickening: this is a personal preference.  I like thick curry sauces, so I like to add a thickening agent.  It tastes just as good without thickening and there's still plenty of sauce to soak up all that rice!
Low carb option: Serve with cauliflower rice.  Omit potatoes and use parsnip or swede root vegetables instead.
Storage: Store in an air tight container in the fridge and eat within 3 days
Freeze: Freeze for upto 3 months.  Let defrost in fridge overnight ad reheat I the microwave.
Calories:
452
kcal
|
Carbohydrates:
13
g
|
Protein:
40
g
|
Fat:
25
g
|
Saturated Fat:
8
g
|
Fiber:
2
g
|
Sugar:
6
g