Have you ever wondered how to stop snacking at work and why it just seems so darn hard?
Is you job a bit Blah?  As in dull, lacklustre and uninspiring.  Do you find yourself snacking at work because you're putting off the things you don't want to do, or perhaps because you don't have enough to do.  Constantly snacking all day at work when you're not really hungry is an easy trap to fall into when you have a job that's just not fulfilling you.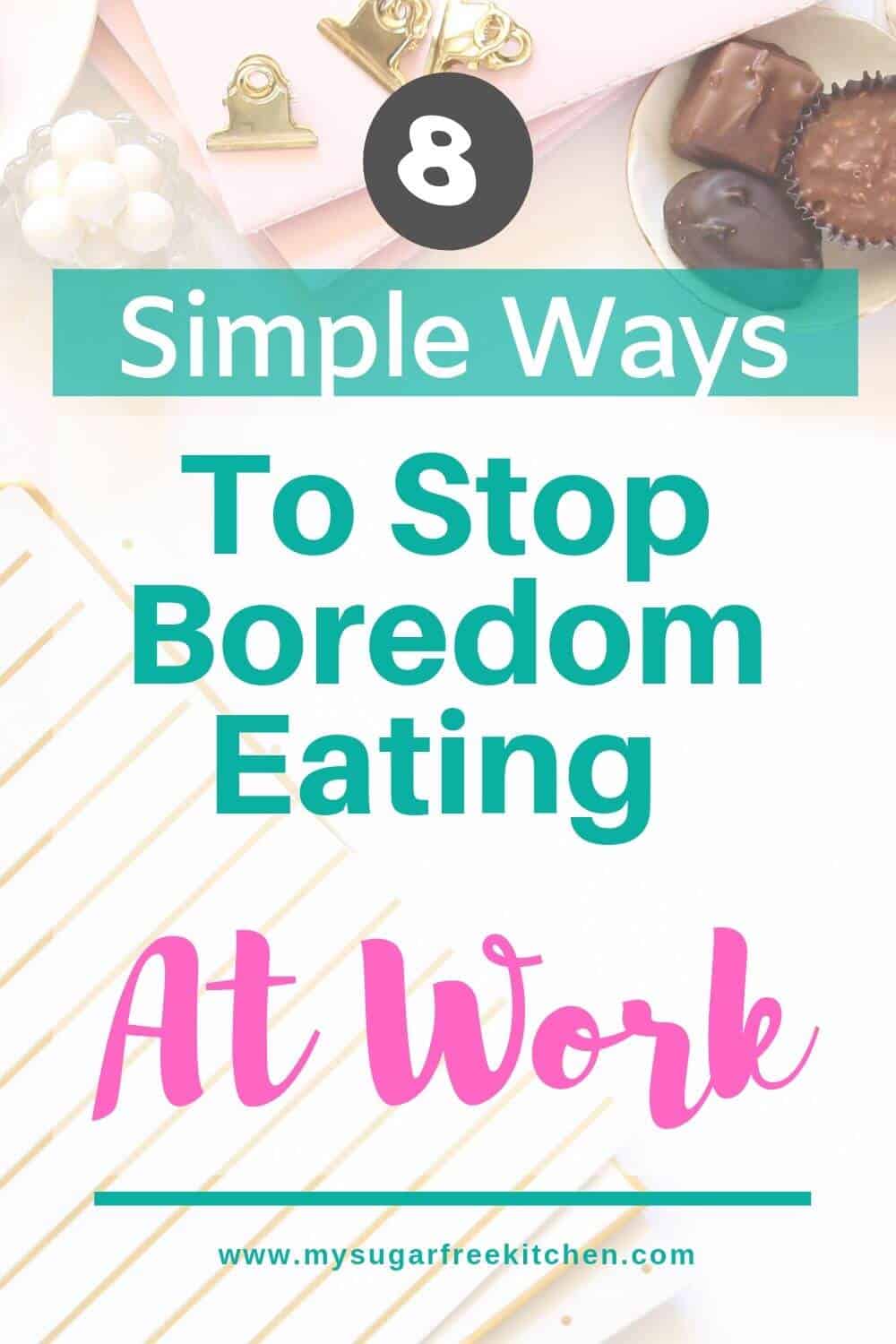 Why Do We Eat When We're Bored a Work?
Is you're eating at work because you're bored, it's usually a sign that there is more going on.  Things like:
you don't feel valued in your job
you don't feel part of the team
you're there because you feel trapped and can't see a way out
Whatever the reason is, emotions play a big part in when we eat when we're bored, and it makes us feel better.  It helps to pass the time in a job we don't like and it's a great distraction from the thing's we should be doing, but aren't.
Eating When You're Bored At Work Is A Slippery Slope
But being bored at work and eating you day away is not something you can get away with for too long, otherwise, you might soon begin to realise your clothes no longer for like they used to.  You'll also probably start to notice:
Your energy levels are low
You become moody
You eat and eat but don't really taste the food, nor do you really enjoy it
You're never really that hungry, you just eat because food is there
What To Do To Stop Boredom Eating
Getting your boredom eating under control at work is achievable and a lot if it has to do with becoming more mindful of what you're doing and how you're doing it.
In practical terms, to stop this, it means getting out of autopilot mode and noticing more of what is going on around you.  It means ditching old habits and making new ones.
So, how do you make new eating habits at work?  Let me show you.
8 Tried and True Ways to Stop Constantly Snacking  at Work
I believe that the key to overcoming boredom eating at work is a combination of changing how you eat and setting up more structure and routine to help to create an operating  rhythm where things have a place and time.  Below are my tips for putting an end to boredom eating  once and for all.
Allocate times for eating and Map out your day
Make a plan for the time you'll have lunch and when you'll take your morning and afternoon breaks.  Put it on a sticky note and stick it to your computer and commit to not eating outside of these times.  Setting eating boundaries  is a great way to incorporate structure into your workday and can help to minimize all day grazing.  For example:
9.30am: Morning Break
12.30pm: Lunch Break
3.00pm: Afternoon Break
Related:  How To Cut Back On Sugar And Feel Instantly Better
Plan for Snacks throughout the day
Take your snacks to work with you so you know what you'll be eating.  This way you can avoid the vending machine or nipping out to the shops for something.  Make sure you avoid sugary snacks because the more sugar you eat, the more you'll crave.  Check this out for healthy snack ideas. Or, try these instead.
A small handful of almonds
A small tub of Greek yoghurt
3 water crackers and cheese
Avocado on high fibre grain toast
A few pieces of shredded chicken breast
1 or 2 squares of dark chocolate
Drink more water
When you feel the urge to snack, have a drink of water instead.  Try and aim for 8 glasses of water per day.  Keep water bottle on you desk so you know how much you've drunk throughout the day.  Here are my top 2 tips to stay on track with your water intake:
Invest in a good quality water bottle so you can take it with you wherever you go
Fill up your water bottle as soon as you get into work, even it it's not empty
Set up a recurring reminder in your phone to drink water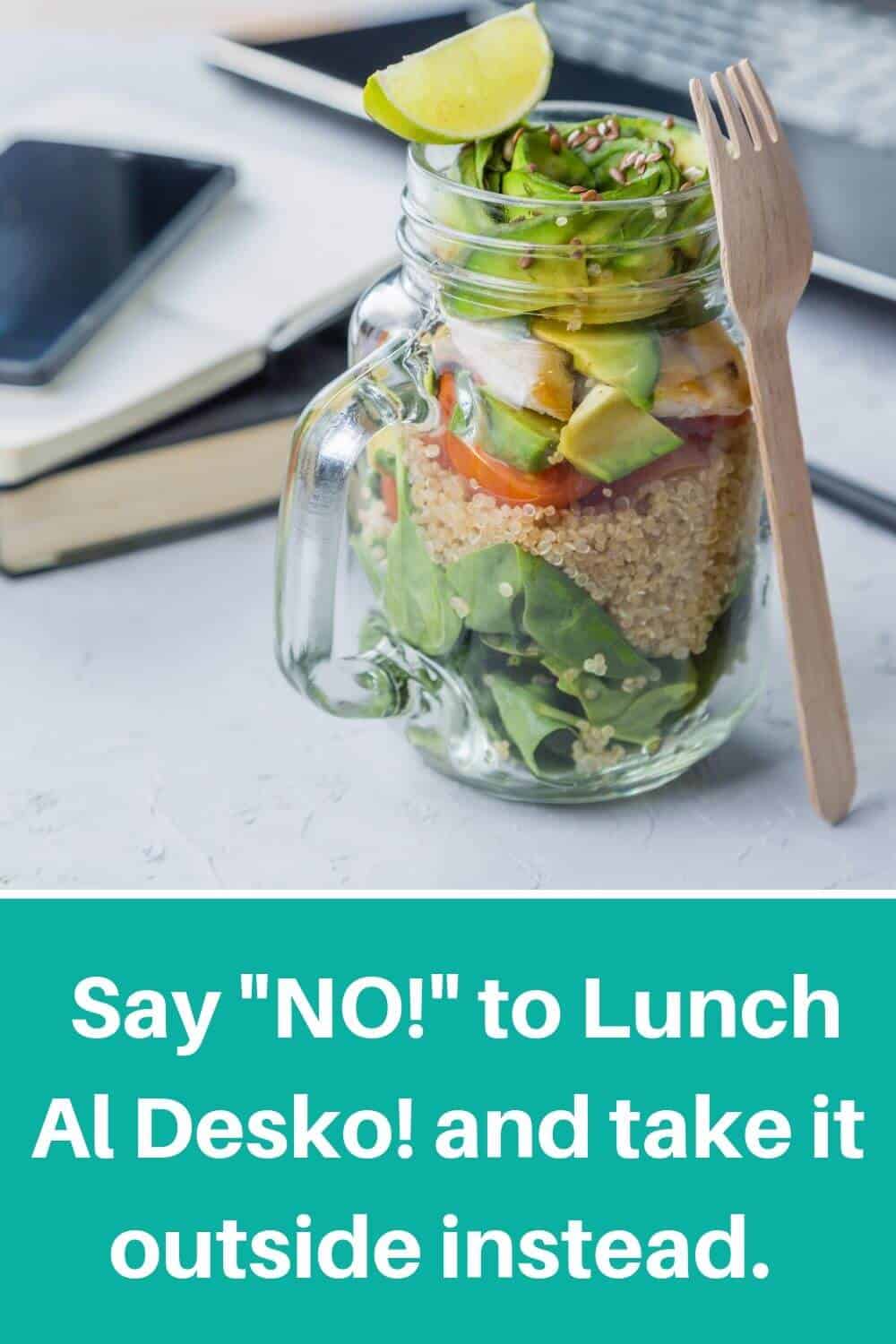 Change your scenery at Lunchtime
If you can, try and get out of the office, or at least up and away from your desk.  Getting up and moving and reinvigorate your energy levels.  I find getting outside for even 10 minutes helps to make me feel better and resets my motivation for the afternoon ahead.  Some of my favourite ways to experience a change of scenery at lunchtime are to:
Go for a walk outside
Go for a short drive, with the windows down and wind blowing in
Go sit in a coffee shop and just chill out with a magazine
Go to another part of the office building such as a meeting room or another vacant space to read a book, and eat  lunch
Go outside and listen to a podcast, or do a guided meditation via an app
Get some inspiration whilst you work
If you're feeling bored with what you're doing, instead of eating and scrolling Facebook, why not take 10 or 20 minutes to listen to an inspiring podcast, or Ted Talk.  Or perhaps you could create a short playlist of motivational songs to help get you back in the zone.  Some of my favourite TED Talks on mindfulness are:
Implement mini rituals
If you find that you always get the 3pm munchies and you head straight for the vending machine, create a new healthier ritual.  Put it into your calendar so that a reminder pops upto remind you.  The aim is that over time, this will become something that you'll look forward to.  For example you could create a:
3pm herbal tea ritual
3pm hot chocolate ritual
3pm fruit ritual,
3pm protein shake ritual
Take a Few Deep Breaths and do some Chair Yoga
Before you reach for something to eat, take 5 minutes to do some deep breathing at your desk.  Take 5 or 6 deep breaths and then do some stretches or "Chair Yoga".  I personally love chair yoga and do it daily.  It's perfect to do in the afternoon and great for relieving back tension from sitting all day.
Note Down What You're Grateful For
Grab a pen and paper, or open a new document and get writing.  Give yourself 10 minutes to crank out as many things as possible that you're greatful for.  I find this a really great technique to get me out of my head and back into the present moment.  Thinking about what I'm greateful for puts me in a better, more positive frame of mind and helps to reframe my current thinking from "boredom" to "gratitude"
Over the years, in many of my corporate jobs, boredom eating has been something that I have struggled with at one time or another.  Over that time, I have developed one simple rule:  "I will not eat lunch at my desk".  This means most days I go outside in the middle of the day to have my lunch.  But sometimes, that's not possible.
On these days, I'll eat my lunch in a meeting room, in the staff kitchen, standing in a hallway looking out a window or even in my car.  The point being, that a change of scenery in the middle part of the day has been one of the best ways to stop boredom eating at work.  Why?
Because it reset my perspective.  It re-energized me.  It snapped me out of being on autopilot and made me more conscious and aware of what I was  doing, including what I was  eating and how I was eating it.  A change of scenery at lunchtime allows me to eat more mindfully and for me, mindful eating is the key to putting an end to boredom eating at work.
Related Posts: