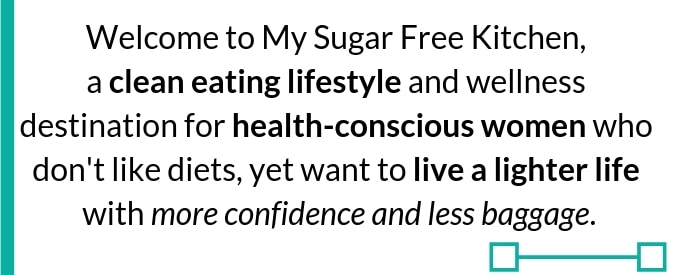 Hi I'm Kim, the blogger, cook and photographer behind My Sugar Free Kitchen and I'm so glad you're here because it means you have an interest in changing your eating habits and finding ways to better take care of yourself.
Here at My Sugar Free Kitchen, I want to inspire, motivate and educate you by sharing recipes, tips, tools, habits, insights and wisdom , to help you cultivate the confidence necessary to take action to ditch bad eating habits and transition to a confident clean eating lifestyle.
I believe becoming healthy and confident in your own skin is a journey that leads to a happier, more fulfilling life.
My mission is simple:  to help you Ditch the Junk so you can Live Lighter, Be Well  and Thrive.
Do you start your day out well with porridge for breakfast and salad for lunch, but when 3pm rolls around, you're pigging out on chips and chocolate?
Are you constantly tired and lacking energy and motivation to do the bare basics?
Are your jeans are tighter than they used to be and you're feeling blah about your body and want to get into shape, and maybe shift some excess kilos?
Are you constantly snacking and no matter how much you eat you're always hungry?
Do you find it nearly impossible to go a day without treating yourself to something sweet?
Is your complexion dull and lifeless and you find it hard to relax and rarely take time for yourself?
Are you moody, forgetful and have trouble concentrating for long periods?
Do you find supermarket shopping overwhelming and food labels just plain confusing?
I've been in your shoes.  I know breaking old habits and creating new ones is no small feat.
But what if it didn't have to be hard at all?  What if you could feel better, improve your confidence, have more energy and never have to do another diet again?
What if you could  eat and feel vibrant and energized every time?
What if you could feel more balanced and connected every day?
What if you could be more mentally and physically lighter without a lot of effort?
It is possible and within reach.  Stick with me and let me show you what I have in my bag of tricks!
---
What You'll Find on My Blog:
Clean Eating How To, Inspiration, and Motivation
Tips to Manage Cravings and Master Meal Planning
A Suite of Practical and Simple Self Care Tips, Routines and Practices
Simple Wholesome Clean Eating Dinner Recipes and Sweet Treats
You can read more about my story here
Before I go, I want to say a sincere thank you for visiting my blog and for starting your discovery into the world of healthy, delicious and flavour packed sugar free dinners and desserts.
You can get all my latest recipes, tips and words of wisdom on how to ditch the junk and live lighter by signing up to my mailing list.  No spam, just real stuff that's actually useful.
Or, why not follow me on Pinterest to get inspiration and ideas for meal planning and getting into those awesome eating habits
Or, maybe you're more into Instagram.  I'm there too.
Then again, if Facebook is where you're at, you can get all the latest posts straight to your feed.