Hi I'm Kim, the blogger, cook and photographer behind My Sugar Free Kitchen.
I live on the Sunshine Coast in sunny Queensland, Australia with my husband and our cheeky, and totally adorable Staffordshire terrier who I just can't seem to say no too.
This blog is about my passion for food and my love of being in the kitchen creating everyday sweet and savoury recipes free from refined sugar.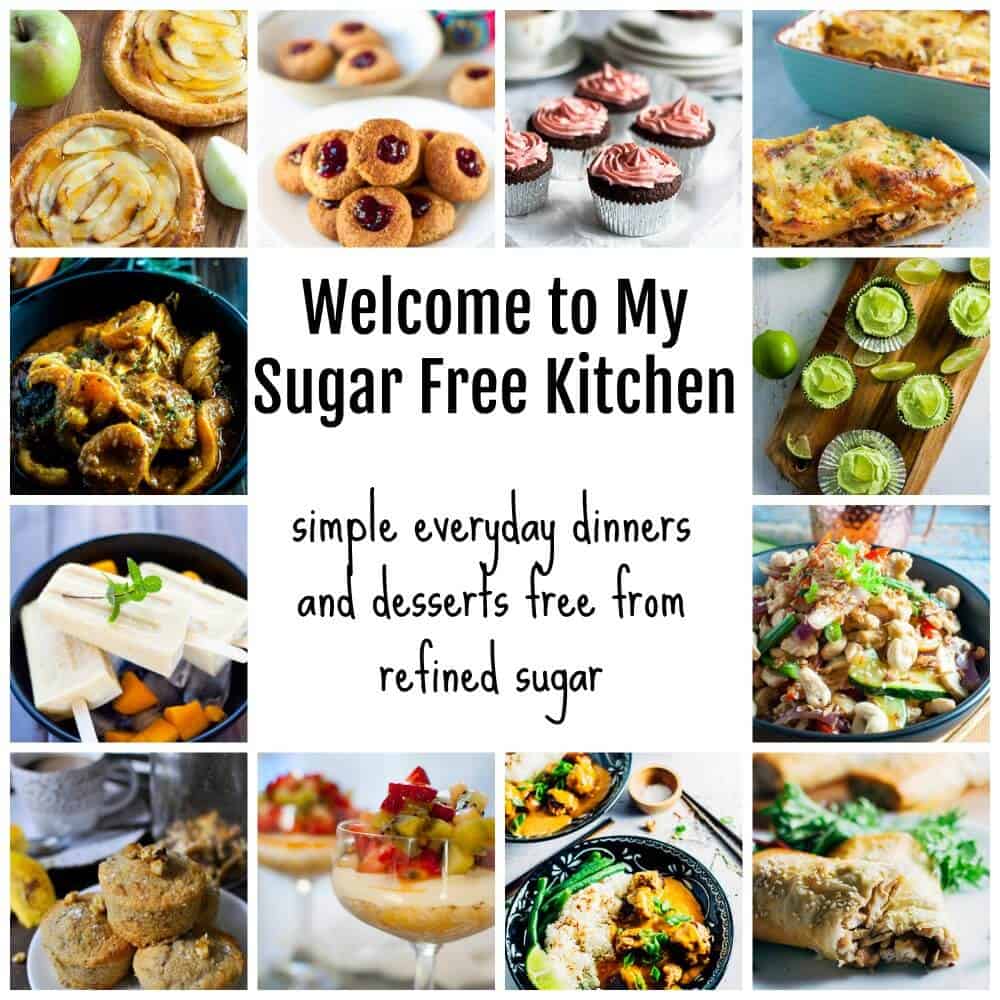 A Lifestyle Skinny on Sugar And Full on Flavour
..but your reality looks something like this? 
You've recently realised that sugar controls your life and that your sweet tooth is out of control
You rarely cook a meal from scratch, and instead buy lots of convenience foods because you think they "help" you be more organised or eat better, when really they just drain your wallet and add to your waistline
You eat when you're not even hungry and you're not sure why it keeps happening, and if you're honest, you binge eat but don't want to admit it.
You've been on ALL the diets and you're

sick of the merry go round

, the restrictions, the failures and the bland uninspiring food.
You eat too much takeout food, have trouble staying away from the vending machine at work and you over indulge at office morning teas that leave you feeling guilty, regretful and feeling awful.
Because life is too short for Sugar to be in charge.
I believe you can transition from eating convenience and  processed foods to cooking real food from scratch, even if you're short on time and are money conscious.
I believe you can control your sweet tooth by making better food choices that fuel your body and energize your mind.
I believe that you can still enjoy all the sweet things, by learning how to use  and cook with simple alternative and natural sweeteners that don't cause sugar spikes and aren't laden with calories.
Sugar Is Not The Boss Of Me
Just imagine living a life that is not controlled by sugar, cravings, or your sweet tooth. Imagine if you no longer had afternoon sugar slumps, mood swings and brain fog and you felt more motivated and energized than you've felt in years because your tastebuds are no longer addicted to sugar?
Instead of eating dinner out of a box most nights you introduce one or two healthy home cooked dinners into your meal routine each week that take less than 30 minutes to get on the table with simple steps and easy ingredients.
Instead of gorging on half a cheesecake because you feel you can't physically stop, you can easily stop at just one slice and be happy about it
Instead of eating store bought takeaway 3 or 4 times a week you recreate your own healthy versions of your takeaway faves at home
Instead of eating toast after a big day at work because there is nothing in the house, you have a freezer stocked with healthy home made meals on tap to help you stay on track with your healthy eating plan
Instead of sitting down to a giant plate of food that you just keep piling up, you happily enjoy a regular portion controlled serving that leaves you pleasantly satisfied
Small changes can make a lasting difference.  Let me show you how to use natural sweeteners, and flavour bombs to make your food sing!
Over the years, it's been my experience that only when you start paying attention to food packaging labels that you realise just how often sugar makes the top three ingredients.
This blog shows you how simple it can be to eat amazing food using natural, unrefined sugar alternatives…so  you can eat the sweet things in life and not feel guilty.
I don't believe in spending hours in the kitchen, but I do like to create food that is healthy, delicious, comforting and has bags of flavour, without the added sugars.
This means easy sugar free dinners and desserts that keep you fuller for longer, reduce cravings, and give you more energy.
Think: healthy and quick dinners for midweek meals, healthy comfort foods to make ahead and freeze, and waistline friendly sweet treats without the added sugar or the guilt.
If you crave comfort food with a healthy spin, have an incurable sweet tooth and can't go without your after dinner treats or your 3pm munchies, and yearn for the day when you can put your cravings back in their box, you're have arrived at the right place.
WHAT YOU'LL FIND ON MY BLOG
Simple, full flavoured dinner meals using fresh ingredients
Takeout favourites with a healthy twist and without the added sugars
Delicious make ahead recipes that you can make in the Oven, Pressure Cooker or Slow Cooker
Healthy and exciting seafood recipes that are easy to make. Because I love, love, love Seafood.
Dinners for two because date nights matter and deserve and amazing nosh.
Dinners that are between 400 and 500 calories because I understand that sometimes you just want something awesome tasting, and awesomely low calorie.
Sugar free desserts that don't taste sugar free (naturally sweetened with stevia)
Portable snacks to take to work or to eat on the go (also sweetened with stevia)
Recipes that I have made many times and have eaten time and time again. If a recipe does not pass my strict standards, it does not go onto my blog.
Recipes with nutritional information calculated via the My Fitness Pal app.
WHAT YOU WON'T FIND ON MY BLOG
I don't follow any particular diet, except to say that I cook and eat sugar free 90% of the time.
I do not buy bottled pre made recipe bases.
I don't use splenda, honey, agave syrup, pure maple syrup or rice malt syrup in any of my recipes
I avoid bland, boring and tasteless. I like lots of flavour.  In Everything.
I also avoid complicated recipes. Mostly because I can't be bothered.  I want it to be easy and I want to enjoy doing it, so its uncomplicated all the way.
You can read more about my story here
Before I go, I want to say a sincere thank you for visiting my blog and for starting your discovery into the world of healthy, delicious and flavour packed sugar free dinners and desserts.
Or, why not follow me on Pinterest to get inspiration and ideas for meal planning and getting into those awesome eating habits
Or, maybe you're more into Instagram.  I'm there too.
Then again, if Facebook is where you're at, you can get all the latest posts straight to your feed.