When's the last time you did something just for yourself? Took a little bit of time out, put yourself first, did something that made you feel joyful, happy and alive. Today? Yesterday, last Week? Or perhaps you're not even sure. I get it. Sometimes trying to squeeze in even the smallest amount of self care can seem almost impossible in the sea of busyness around us.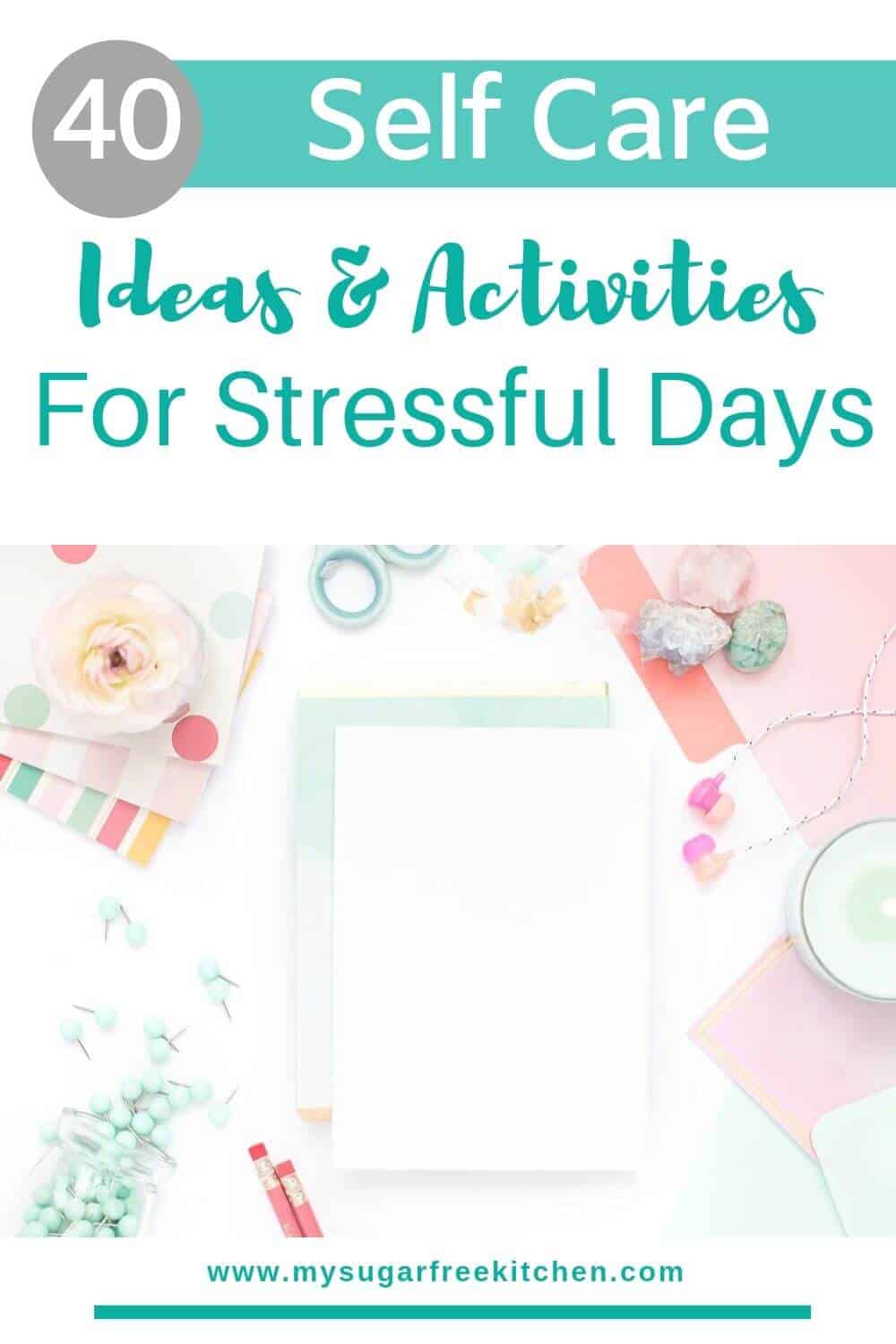 But then when we eventually do have a window of 5 minutes, 20 minutes or an hour, what do we do with it? Oftentimes, more busyness or mindless activity that doesn't really add to our sense of wellbeing, relax our minds or nurture our spirit. It can be hard to get started with even simple self care.
[irp posts="3786" name="What Is Self Care: Essential Questions to Understand Your Self Care Needs "]
How to Fit In Self Care
There are so many things - everywhere - that compete for our attention, time and energy.
Over the years, I've found one of the tricks to becoming a master of your own self care is to not only schedule regular and consistent time for self care, but to also become aware of what I call "gaps of opportunity".
Gaps of opportunity are those little (or big) moments of idle time, downtime, or time in between that you can use that time to top up the tank, instead of emptying it with other mindless, energy sapping activities that serve no purpose. Commuting to work, waiting for an appointment, your lunch hour, folding the washing, as soon as you wake up and right before you go to bed – these are just some of gaps of opportunity that I like to use to my advantage so they become "me time", instead of "wasted time".
I like to think of it like this.
My body is a vehicle. (let's say an Astin martin for arguments sake). I like to drive my Astin Martin pretty fast. I take it on long drives, ask it to do things I'm not even sure its capable of, and generally push it to its limits. Trouble is though, I find going to the fuel station kind of annoying. Its smelly, an inconvenience and out of my way.
Herein lies the problem: If I forget to fuel my Astin martin, it's gonna stop on the side of the road, probably in the middle of nowhere in a place I'm not familiar with. Nobody wants that.
Self care is the fuel that drives your body, your mind and your spirit.
Push it hard, put it through its paces and expect great things of it, but make sure you're regularly fuelling up along the way and don't let the dial get below half.
But where is the self care refuelling station? And what to fill up with? I've got you covered.
Here are some of my favourite ways to top up my tank, and the self care activities that bring me the greatest joy, happiness and just generally make me feel better.
[irp posts="3840" name="5 Steps to Identifying Your Core Values and What's Important to You"]
My Personal Self Care Activities List to Top up The Tank
A Yoga session at home – I love the Down Dog app
Put on your favourite 3 songs – nice and loud - and get a little dance happening
Bake something – anything - a cake, muffins, scones. Bake something that makes your heart sing
Declutter your clozet of stuff you haven't worn or no longer love
Read something to escape, not to learn (Hello Liane Moriarty Novels)
Give yourself an at home manicure, pedicure and facial
Have a bubble bath with a glass of your favourite wine
Sit outside and watch the sun set with your husband
Buy a bunch of flowers for your kitchen bench or dining table
Go to the beach or park for a 30 minute walk
Sit outside and watch the clouds go by and just do nothing
Go to the cinema and watch a movie by yourself
Go for a walk in the middle of the day and feel the sunshine on your face
Listen to a motivational or inspiring podcast, whilst driving, sitting at the beach, or exercising
Listen to your favourite music playlist
Grab a notebook and write down 10 things you're proud or grateful for. Make this your new Journal
Phone your mum and ask how she's going
Phone up a friend and organise and in person catch up and put the date in your calendar
Write a letter, on actual paper to someone you care about to tell them how much they mean to you
Go to a coffee shop you've never been to and order something you've never had before
Light a scented candle or put your diffuser on. I love to do both.
Cook yourself a really nice dinner and watch a movie at home
Get up early on a Sunday morning, grab an Acai Bowl and eat it on the beach or in a park
Make appointments you've been putting off and stick to them – dentist, doctor, accountant – yep I'm guilty for putting them off for as long as possible.
Start researching where your next holiday could be and come up with 3 suitable options
Take a weekend off from social media – it'll be harder than you think. No Facebook. No Instagram. No Twitter. No Pinterest. No Snapchat.
Make a decision about something you've been avoiding. Do it and commit to it.
Go to a farmers market and buy a couple of things to support the local community
Give something away to someone who needs it more than you
Ask someone to help with something you're struggling with. They'll probably be only too happy.
Tell your Husband that you love him and appreciate all the little things he does
Cross something off your To-Do List – the world probably won't fall apart if you have one less thing on your list
Go one week without having the TV switched on and embrace the silence
Get up half an hour earlier and read something stimulating to start the day off
Go to a H.I.I.T [High Intensity Interval Training] class at a gym– this might not be for everyone, but it's hands down one of my favourite self care practices (call me weird!)
Book in for a massage, followed by lunch by yourself in a nice café
Play a boardgame – no technology required. My husband and I love Snakes and Ladders, Trivial Pursuit and the card game UNO
Track your spending for a week to see where your money is actually going. I love the Expense App. Its free and so basic and simple to use.
Organise a Date Night with your Husband. Try and make it a regular thing. We do ours every 2 weeks on a Thursday night, mostly at home, but sometimes we go out
Make a Bucket List of things you want to do in the next 5 to 10 years and pick one to do it the next 3 months.
This is my list and I hope some of these things jump out at you as something that you could add to your self care regime.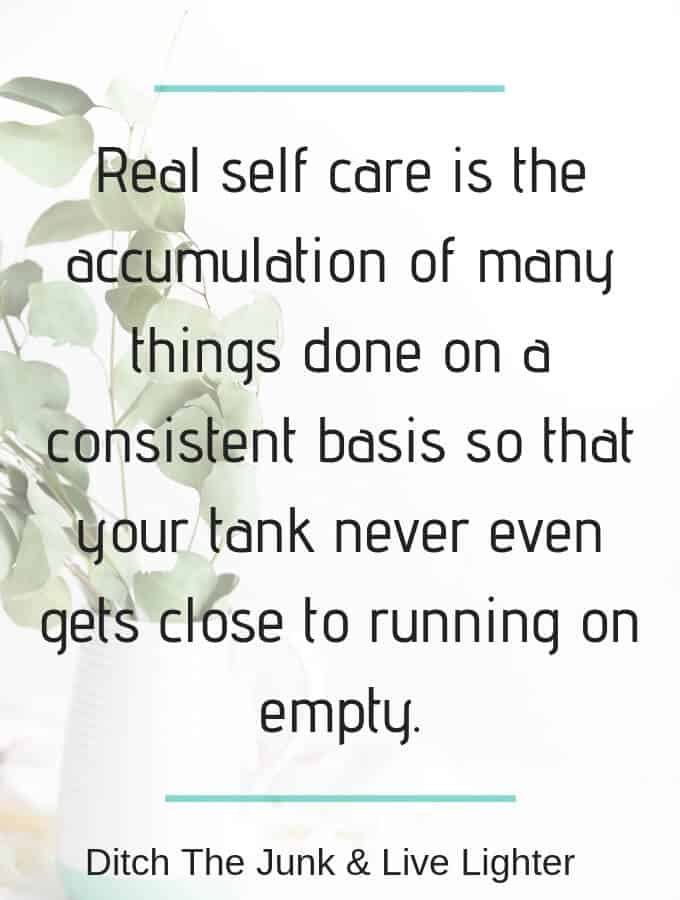 Remember Self care doesn't have to be a big guesture, it doesn't need to cost a lot, and it doesn't need to take a big chunk of time. Real self care is the accumulation of many things done on a consistent basis so that your tank never even gets close to running on empty.
Self care is about keeping the guage between three quarters and full so that you have enough to give to others and enough to be the person you want to be. The key is to just get started with simple self care and to start somewhere.
Over to You
What's one thing you can add to your self care ritual this week? Pick just one thing, and commit to doing it. Schedule it into your calendar if you need to. Do it. Enjoy it. Repeat it regularly and make it a habit.
I'm a bit of a self care junkie, so it's hard to have just one. But, if I had to choose, a good High Intensity Interval Class definitely lets me have my cake and eat it too.
I'd love to hear your thoughts on self care ideas and activities and what your favourite way is to practice self care.
Leave me a comment below!
Further Reading:
5 Steps To Getting Started With Simple Self Care With Your Time Poor