If you've ever thought to yourself "there must be an easier way to do something" then this list of resources for food bloggers short on time might be just thing thing you've been looking for.
But first… a quick word on how I ended up here…
I literally woke up one day and thought I would start a food blog.  I'd dabbled a bit before in business blogging, and had built some websites and had actually been thinking about starting a pet blog.   But I kid you not I got out of bed, had the wild idea that it would be cool to start a food blog as a creative outlet and so I could start using my camera more and experimenting in my new kitchen, and by the end of the day, the blog was up… with two very awfully written and photographed posts:  biscuits and muffins.
It was called easyproteinbaking.com, and it lasted 3 months because I soon realised I was headed off in a niche that I didn't want to be in long term.  So I stopped that one and started another one called eatortreat.com… that had no niche whatsoever and I put everything on there.  I got to about 20 recipes and stopped.  The lifespan of that one was also about 3 months.
Then My Sugar Free Kitchen was born with the happy niche of sugar free Dinners and Desserts.
Those early days of my two sandpit food blogs as well as my previous dabbling in business blogging and website design were an invaluable learning ground.  I broke things, paid for things I didn't need, took 5 hours to do something that should of taken 30 minutes, and generally got very frustrated, had many late nights and had to restore my site from backup an embarrassing amount of times.
All the things I list here are things that I use to run and manage my blog.  Some I might use more than others, but each serves a specific purpose and has helped me get to where I am now.  I don't really consider myself an expert in any of these areas, but these are the things I know about and hopefully these insights might be useful in some way to you wherever you are on your blogging journey.
This post contains affiliate links which means I will earn a commission if you purchase through those links.  It is at no additional cost to you, but helps support this blog. I have paid for them out of my own pocket, and recommend them because they are companies and products that I have found trustworthy and worth the investment. 
Themes & Hosting I Use
StudioPress Genesis Theme is the wordpress framework my site runs on. I love the Genesis Theme because it has been around for years and has an excellent reputation for both quality and support.  The Genesis theme is what is known as a "Parent" theme which means that it acts as the foundation for the "Child" theme to sit over the top.  The parent theme is where all the technical functionality of your blog is built from.  The benefit of having a parent/child theme is that changes can be made to the backend of your blog theme – "the parent" (via updates to the plugin) and it won't affect your styling or design aka – the "child theme".  The Genesis theme is not a standalone theme – it requires a child theme to make your blog beautiful.
Foodie Pro Theme is the "Child" theme that this blog runs on. It is one of the most common child themes used by Food Bloggers and is known for its flexible and customisable user interface, even if you're not techy.  I am a big fan of this theme and have received very prompt replies to support requests on the odd occasion I have submitted one.  The team at Feast also have other themes, particularly targeted to Food Bloggers but this is my favourite.  It's simple, no fuss, and it does what I want.  It's also mobile responsive which gets a big tick from Google
Siteground is the hosting company I use and where I host my wordpress blog. I've found their support to be very good.  They have many tutorials and how to's which have also been helpful.  Their user interface is very easy to navigate and I like that they have plans that grow with your blog which makes it easy to transition up more seamlessly as your blog grows.  I've never had any problems with website speed or downtime and this is another reason why I'm happy to recommend them
Namecheap is the company where I buy domain names from (I have about 40 of them!). I like to keep my domains separate from my hosting.  It stems from something someone told me years ago along the lines of it just makes things easier if you a) get hacked and b) want to move hosts one day.  So, I've gone with that and always kept them separate.  Although it does mean slightly more work for me with taking care of a bit of tech stuff at namecheap to point the DNS to Siteground – basically so the domain name I have with Namecheap works via the Siteground hosting.
Plugins to keep your Food Blog Secure & High Performing
Vaultpress is a paid plugin that I use to take backups of my site. I am a big fan of this plugin as I have had to restore my site from backup at least 10 times in the last year, mostly because I have fiddled around with something I shouldn't of, and one time when I updated another plugin that caused a conflict and made my site go haywire.  I had to roll back the changes and having Vaultpress allowed me to do this in under 5 minutes without any help from my hosting company.  (Note:  Siteground also does regular backups of my site, but to restore from there is not as straightforward as with Vaultpress + I feel more comfortable having dual backups, in the unlikely event one fails)
Wordfence is a paid Security plugin that helps protect your site from hackers and malware. It has controls in place to prevent hacker's brute forcing their way into your site and to stop your site being vulnerable to infectious malware which could either bring down your site, or sit silently in the background doing bad things and you wouldn't even know it.
WP Rocket is a paid plugin I use to help with the speed and delivery of my website. It works in conjunction with your Content Delivery Network (CDN) to provide caching for your site so that users get the best possible experience.  It also uses Lazy Loading which is good for Food Bloggers as it means image files are only loaded as they are required. So, if the user doesn't scroll down your blog, those images at the bottom won't be loaded, likewise if the user scrolls down and reads through your post, images will be loaded as they move down.  This is great as it means your website uses less resources to render your website, making it faster to load.


Social Warfare is a paid plugin I use so that readers can share my posts to Pinterest, Facebook, Yummly and Google Plus. It has a reputation as an extremely lightweight "social" plugin that won't bloat or slow down your site, which some others social plugins may do.  I also really like Social Warfare because it has the ability to hide the Pinterest long image.  This means any time a reader pins an image from my post, the long pin is always the one that comes up as opposed to any of the others on the page.
WP Recipe Maker Pro is the recipe plugin I use (It is the paid version, although there is also a free version with slightly less functionality) I have found this plugin to be awesome, and  really couldn't imagine myself using anything else. Prior to this plugin I was using the original WP Recipe Maker Premium (by the same Developer) which is still available, but the new version WP Recipe Maker Pro is an improved lightweight version with some really powerful features such as the easy built in jump to recipe button, nutrition label, and amazon ingredient links.
Yoast Premium is my SEO Plugin. I chose to upgrade to the paid version basically for one reason – its redirect capability.  I had a bunch of posts that had terrible titles and bad URL's and not great SEO when I first started, and having the premium plugin allowed me to go and rename them and then it did the redirect automatically in the background pointing the old URL to the new one.  This was important so I didn't get any broken links, which Google is not a fan of.  It also mattered because I didn't want to lose the SEO juice I'd built up with the other (bad) name, even though it wasn't great to begin with.
Autoptimize is a free plugin that helps with speed and performance of your website. When I had done some speed tests on my site, and got the results, there were some issues and whilst this plugin did not fix them all, it did help with some, including optimising how some of the scripting works in the backend.


Related Posts for WordPress is a free plugin I use in lieu of Jetpack. I had jetpack for a while, but there was a lot of talk about how it could contribute to slowing down your site, as it is a big plugin with lots of features.  I only needed a couple of things from it, so I got rid of it and this plugin is easy and lightweight and has the same look and feel as the related posts feature in jetpack.
ShortPixel Image Optimizer is the plugin I use for image compression, once they have gone through ting.png. Short Pixel helps with faster page loading by further reducing the size of the image without impacting the quality.
Social Media Flying Icons is a free plugin I use for readers to click through to my Pinterest page, Facebook, Instagram and Google +. It's easy to use, has heaps of styling options and does one thing well – display and link to social media icons.  The other reason I like it is the icons fly down the page as the reader reads the post so the icons are always visible, therefore increased opportunity for engagement on those other platforms since the icons don't disappear the further down you go.
Tools I Depend On
KW Finder is the Keyword Research tool I can't live without. It is a paid tool and I bought it basically because I work full time and blog part time and need to be as efficient as possible with my keyword research and this tool really helps me to do that.  Basically, I put in a recipe I'm thinking of making and it will tell me the number of monthly search, on a scale from 1 to 100 how competitive it is, who is currently on page one and how difficult it would be to get on page one.  It also has a plethora of other useful features that I rely on, daily such as the keyword suggestions, serious filtering capability, exporting of results, and tracking of keyword searches.  It's not cheap, but I'm short on time and this tool keeps my keyword research efforts efficiently managed.
Keywords Everywhere is a free chrome extension and a must have in my opinion. Simply download it from the chrome store and when you search for a keyword in google it will the return the number of monthly searches and the number of results for that keyword.  Very useful as a super basic form of keyword research although I do use this in combination with KWFinder.
Answer the Public is a cool tool to generate keyword ideas and its free. Simply type in your keyword and it will present you will a mind map of all the different variations of the keyword you put in that people have searched for.  It's good for brainstorming ideas related to a keyword, and for when you are stuck about what to write for a post – ask and it shall tell you!
Moz Bar is a free tool with a chrome extension that allows you to see the domain authority and page authority of a site as part of Googles search results. Used in conjunction with the Keywords Everywhere chrome extension, this pair are quite powerful.  I often use this combination when I'm just casually browsing around and a keyword pops into my head and instead of going into KWFinder, I can pop it into Google and get an indication with the Moz ranking and Keywords Everywhere stats.
Ting Png is a website I use to compress all my images before uploading them into WordPress. I aim to get my photos between 150 kb to 100 kb, but the lower the better.
Tailwind is a paid program I use for scheduling my Pinterest pins. For me, working fulltime and blogging part time, this is essential as it helps be keep a solid Pinterest presence at all times.  Actually, I think it would be essential (or at least a tool like it), even if you weren't working a fulltime job and managing a blog part time.  It is just so beneficial for helping me to manage my time.  I spend around 90 minutes a week scheduling my pins – generally I do it all in one sitting, and I pin about 30 or so pins per day.  Tailwind also has a feature for scheduling Instagram posts, but I haven't ventured there yet as my main focus is Pinterest.
Optin Monstor is a paid service as well as a plugin that allows me to create optin forms on my site. Now you could certainly just do this via a free software with something like Mailchimp, but Opt In Monsotor works with Aweber so that I can create multiple opt ins on my site such as in the sidebar, in post, at the end of the post, and via the lightbox popup when you first arrive on my site.  The other beautiful thing about Opt In Monstor aside from it being totally easy to use is that you can have lots of different opt in offers on your site for different things that all feed into the one Email Management platform such as Aweber.
Aweber is my email management platform that I pay a monthly fee for. I have been very happy with it and it's quite intuitive to use and whilst I could have used a free service, I wanted one that I could grow into that was still cost effective.  I send my weekly Newsletter via Aweber and now that I have it all templated, it takes me less than 30 minutes to do.
Pic Monkey is what I use to create my collages, including my Pinterest long pins. I used to use the free version of it which I love and found extremely to use, but sometime about late 2017 they stopped the free version and you had to pay to continue using it.  Well, I had become so used to the convenience of it that I paid the small annual fee to keep using it and haven't looked back.  Whilst I also use photoshop for more graphic design things, it's Picmonkey all the way for photo collage and Pinterest pins – they are done in a fraction of them time I can get them done in photoshop.


Adobe Lightroom CC is what I use to edit all my photos. I take all my photos in RAW and import them into Lightroom for editing.  It's what I first started using when I got into photography and have found it to be very intuitive.  I also love that it is a software specifically for editing photos without all the other fluff to distract you which Photoshop sometimes does – well, for me anyway.
Webroot is a must have anti-virus/anti malware software and something that as an IT Professional I have used in many of the companies I have worked with. This is a tool for your computer, as well as your blog.  It will help protect your computer from malicious software and other threats which in turn helps to protect your blog.  Its heuristics based, which means the virus definitions are constantly updated as opposed to some other AV software which only have their virus signatures updated periodically.  I use it in conjunction with the Microsoft Updates and the two work well together without any conflict.
Trello is what I use to organise my blogging activity. I have boards for keeping my keywords organised and prioritised, my post backlog and the activities associated with each one I need to complete, and a board for general tasks across various categories that allows me to prioritise what to work on in addition to my regular post schedule.
Lastpass is a password management software.  It stores all your passwords so you only have to remember one password.  I use the free version which I find really useful, having so many passwords to remember for all the things I need to run my blog.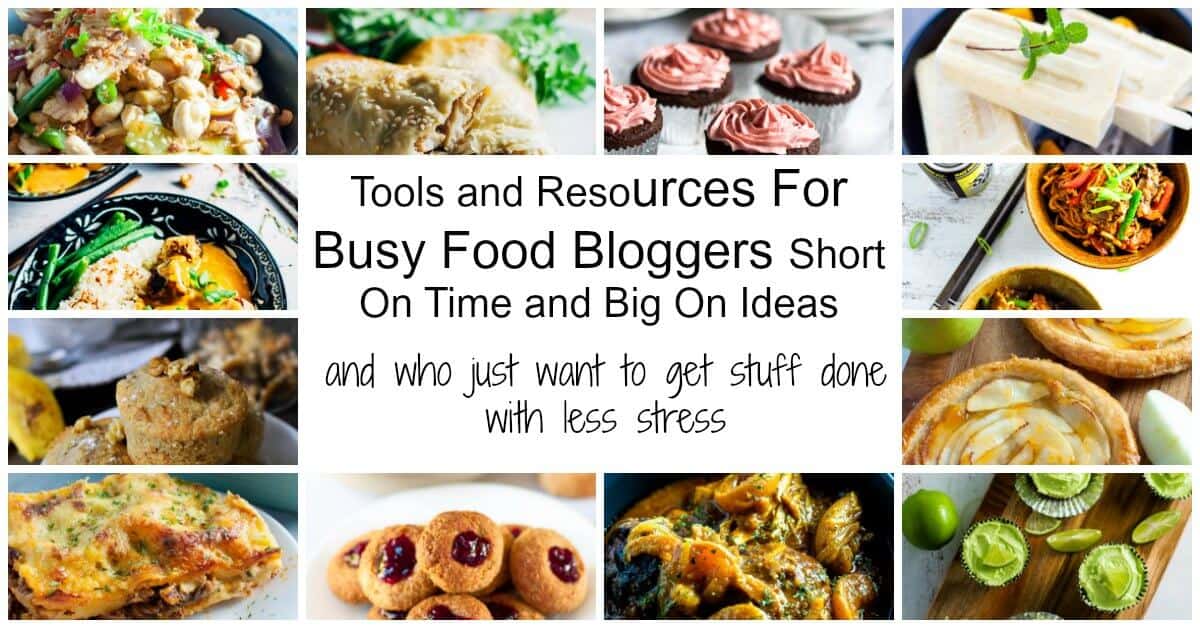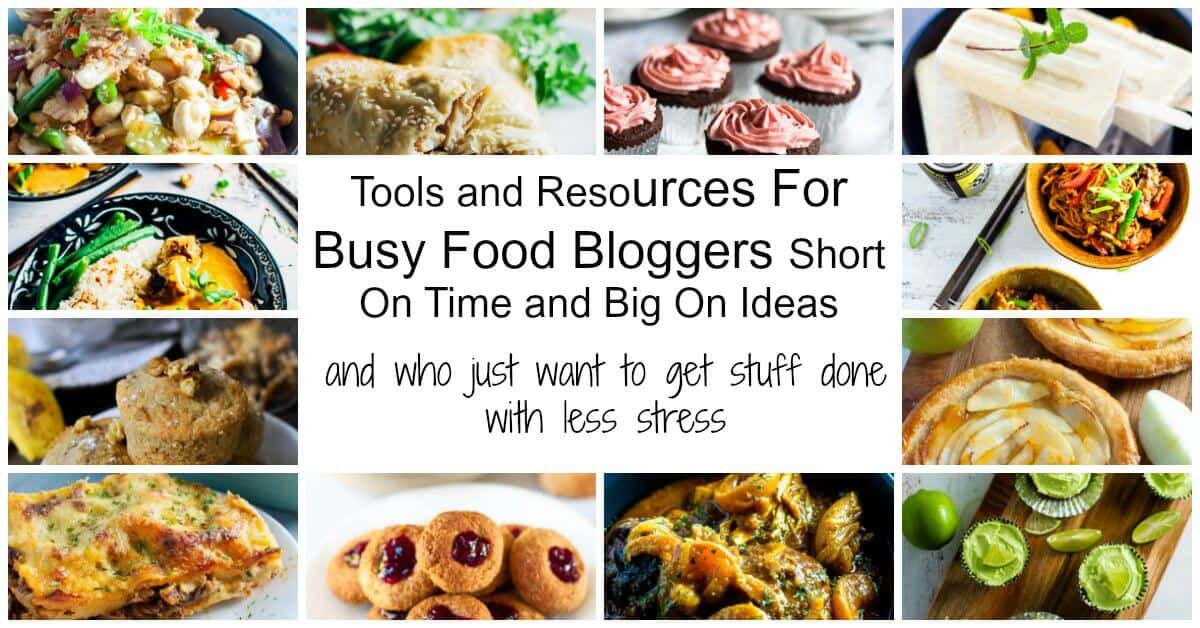 Food Sharing Websites I Submit To
When I first started out blogging, I was hesitant to submit my photos to sharing websites – mostly because I didn't want more work to do and also because I wasn't sure if is was really "necessary".  Well, I can absolutely say that casting a wide net and submitting to lots of different food sharing sites has had a significant impact on growing my traffic.
Whilst it's a fairly monotonous task, it is an essential one in my opinion if you want to get more traffic and importantly build backlinks to your site.  Submitting to food sites for me has been a case of slow and steady, getting into the habit and making it part of my regular workflow so that it becomes part of my publishing process.
My Food Blogging Education Resources
Food Blogger Pro membership was essential to me in the initial stages of starting my food blog. With so many how-to videos, monthly sessions with Bjork and Lindsay and the community, it is what allowed me to learn the fundamentals of blogging and photography so I could get going with less stress and in a quicker timeframe.  Whilst I don't use the videos as much these days, I still use the community forum very regularly and check it most days.  Likewise, the monthly video sessions are invaluable for up to the minute happenings and are very useful to get into as your blog grows.
Food Blogger Pro Podcast, Chopped Podcast, and the Pro Blogger Podcast are the three main podcasts I listen to which are all free and have helped me almost as much as a lot of the information I have paid for. I have found these podcasts to be perfect for me as I have a 45-minute commute to work each way, so I have 90 minutes each day that I wanted to put into productive use.  I would be lost without these podcasts because not only do I enjoy them so much, I learn a lot and they often spark new thoughts of creativity even when I'm not looking for it.  I subscribe to them on ITunes which makes it easy to listen on the go and in my car.
Lightroom Magic is the course that taught me the nuts and bolts of how to use Lightroom. Before doing this course, I wasn't happy with my photos and I was just randomly using all the various settings in Lightroom to see what would happen and honestly, I didn't really know what I was doing.  This course was very structured with activities along the way to help me improve the areas I was learning about.  It has taught me how to use various settings I previously ignored because I thought they were too hard.  Sure, I could have figured out this stuff by watching free videos on you tube, but I wanted a step by step course in using Lightroom that is specifically for Food Bloggers and that is what this is.
SEO for food bloggers from the bloggers at the site Hurry the food Up contains heaps of easy to understand actions, explanations and strategies for both getting started with SEO and for building useful backlinks written in the context of Food Blogging.


Pickles & Honey SEO EBook is another resource I purchased to learn more about SEO which is a slightly more technical Ebook than the one from the guys at Hurry the Food Up , however I found it very useful as I already had a basic understanding of SEO and some background in the technical side. It covers a much wider span of SEO information but it is all related back to the specifics of Food Blogging which is very handy.
DIY SEO Course is a general SEO course I did that is not specifically related to Food Blogging, or blogging in general. It is a broad look at all the facets of SEO from an online marketing and sometimes technical perspective.  It made me think about my blog using a long-term strategy, design and implementation perspective.  Specifically, it helped me to change the way I structure the design and layout of my site including how I use categories and tags, also how I write content, and manage my keyword research.  It also taught me about many useful SEO tools and how to research and learn from competitors.
Probloggers 31 days to build a better blog EBook is an Ebook that is definitely one of the most valuable resources I have purchased. Even though it is not specifically targeted at Food Bloggers, the Ebook contains so much practical and actionable information with steps at the end of each section, it has really helped me to shape the direction of my blog, to understand who my audience is, and to understand how to monetize and write content that might be useful to my readers that isn't necessarily recipes.
Moz Blog is a blog I subscribe to for tips on SEO. There are a wide range of articles for bloggers of differing levels of SEO experience, which I appreciate, and while I don't read everything, there are often useful pieces of information that help inform me with my SEO efforts.
My Photography Tools & Resources
Tasty Food Photography E Book from Lindsay at Pinch of Yum was the first Food Photography resource I bought, and I really found this book to be a great introduction to getting started with using my DSLR and learning about light, especially artificial and how to use props which I had no idea about. This book is what got me excited about Food Photography and after watching Lindsay in the photography videos in Food Blogger Pro, this Ebook was the perfect accompaniment to getting me out of automatic mode and into manual mode with my camera.
Recipe Tin Eats Food Photography E Book is the second book I purchased on Food Photography which really is a brilliant piece of work. The level of detail in this Ebook was exactly what I needed and the way it was written  – I found I could really relate to it, maybe because of the Australian connection being that the Author is from Sydney and I am from the Sunshine Coast in Queensland.  This is the book that allowed me to step up my photography.  There were a couple of checklists included in this book that I still often refer to and I love that it included various "rules of thumb" which I find very useful to add structure to my photography and then I can deviate from there as necessary.
Lowell EGO Light for photographing food once the sun has gone down. I would be lost without my Lowell.  Working full time means I have limited "sunshine" opportunities so I am often making my dishes as night and photographing them at night so this light that I bought online from the US and had it shipped to Australia was worth every penny.
Nikon 50 mm Lens is the lens I used most frequently for my Food Photography. I have quite an old Nikon camera which I really love and absolutely does the job at the moment.  The 50 mm lens I find is quite adaptable and I use it for overhead shots and well as angle shots.  Heck sometimes, I even shoot landscapes with it.
Homemade photography boards – I have three homemade wooden boards. One a double-sided board, whitewash on one side and dark stain on the other.  I made it from wooden boards I bought from the local hardware store with yes, nails and a hammer, oh and the paint.  All in all, took me about 30 minutes from start to finish.  The other one is a sheet of MDF board from the hardware store and I used various spray paint cans to create a mottled metal/cement look.
Props Collection – No matter how many props I have, I still think I don't have enough. I scour vintage shops, op shops, discount stores, antique stores and sometimes make my own (such as turning new baking trays into old looking baking trays).  My current weekness is rustic handmade earth coloured pottery plates and bowls.  I love them, and have now taking to eating regular meals off them, instead of just using them as props!
Some Facebook Groups I'm In
Food Bloggers Central (Run by Nagi of Recipe Tin Eats and author of the Food Photography E Book)– If you're a food blogger and you're not in this group, you should be. There is so much useful stuff that gets discussed, sometimes even industry experts chime in.  It's also a great place to ask a question if you're stuck on something.
Foodie Pro Bloggers – is a good group to be in if you have the Foodie Pro theme on your blog. It's a good place to ask questions specific to this theme and sometimes they announce special deals, or tips to members of the group.
Food Blogging Photography & Video – useful group for connecting with others about the specifics of food photography, as opposed to blogging.
In Closing
My intention with this post was to provide some insight into the resources and tools that have helped me start a food blog, and avoid some of frustrations along the way.  Blogging can be addictive and it can be very time consuming if you let it.  In the end, I have realised it is all about managing my time wisely and finding tools that can help me be as efficient as I can be, given that I still have a day job.  Sure, some of these tools might cost a bit, but what hobby doesn't.
And Ultimately how much money you put into making your blog work is entirely relative to your circumstances and where you want to take it.  For me, I am in it for the long haul.  I don't want it to rule my life, and I want it to be something that I enjoy.  Something which slowly but surely builds my skills over time and who knows what doors that might open in future.