Identifying your values is about working out what is most important to you so you can make better decisions that are in alignment with who you are as a person. The trouble is though, we are often so caught up in the day to day busyness of our lives that our values are not often at the forefront of our minds because we're on autopilot half the time, or we walking around like zombies and we've never even taken the time in the first place to really ask ourselves what we truly value.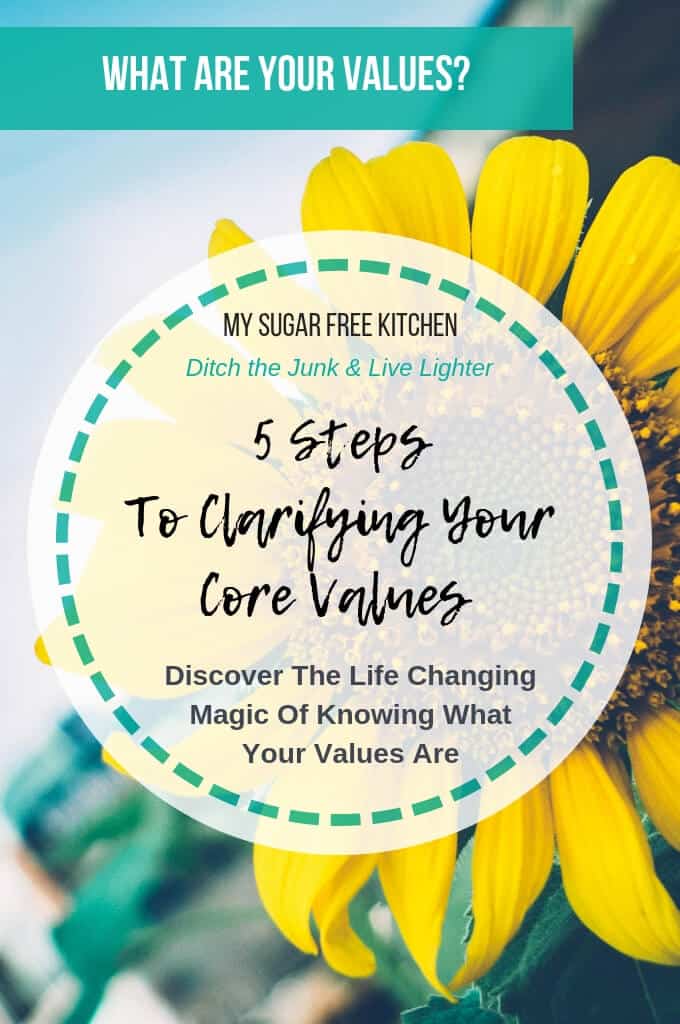 What are Values?
Values are those things that really matter to you. They are the non negotiables in your life that inform all major decisions and actions.
Our values are the guiding light by which we live our lives.
But sometimes that light is a bit hard to see, and at times it might seem like it's not even there.
When you pause for a moment, and make space to look at the things that are important to you, you'll realise once you have clarity on your core values, it becomes easier to make decisions, it's easier to say no to things that don't thrill you and yes to other things that light you up. Your values help you to set boundaries around your work, your social life and relationships. But your values won't fence you in. In fact they will give you the ultimate freedom.
How Are Values Formed?
We all have values, whether we are conscious of them or not, they are there and they are influencing the decisions we make and the actions we take every day. Our values are part of who we are and factors like life experiences, upbringing, culture, spiritual beliefs, parents and grandparents all shape what our values are.

The Life Changing Benefits Of Knowing What Your Values Are
Your values will give you wings and the clarity to see things that maybe you missed before. Knowing without doubt what your values are, will allow you to more easily prioritise things – some things might drop off your list and some things may come onto your list. And one thing is for sure: clarifying your values will allow you to get rid of things that are no longer working for you.
When you have clarified and committed to living your core values, you'll feel in control of your life, calmer, more peaceful and able to deal with the things that life throws your way.
[irp posts="4002" name="How To Get Started With Simple Self Care"]
How to Identify Your Values
CHOOSE: Use the list below to choose your top 10 values. These should be the ones that jump out at you and resonate with you. Don't spend more than a few minutes on it and don't over think it. Just go with the 10 that jump out the most and write them on a piece of paper. If there is one that is at the forefront of your mind not on the list, write it down now and use the list to choose the rest.
PRIORITISE: You have your list of 10 values. Prioritise them from 1 to 10 in order of importance. Don't spend more than 5 minutes on this.
FOCUS: Focus on your top 5 and write a short statement about what each value means to you. Write it down, and read it out loud a few times to let it sink in and wash over you. Make sure you feel comfortable with it.
SELECT: From the list of five, select your top three values. Number them 1 to 3 in big numbers. What is your number one value? Your second and your third. Memorise them and read each one aloud half a dozen times. Use the prompter:

"My number one core value in my life is "……." And it is important to me because of "……".
"My second most important core value in my life is "……." And it is important to me because of "……".
"My next most important core value in my life is "……." And it is important to me because of "……".

COMMIT: Whether you write your top three core values down afresh and look at them on a regular basis, or commit them to memory, standing firm on what is important to you and what you value is your gateway to being kinder to yourself, being more productive and creating greater self awareness.
The next question is: "What do you need to change in your life to reflect these values".
List of Core Values
FREEDOM: independence, flexibility, autonomy, spontaneity
SELF RESPECT: personal pride, a sense of identity
INTEGRITY: authenticity, being genuine, being true to yourself
PERSONAL DEVELOPMENT: greater awareness, undiscovered potential
CREATIVITY: exploring your creative side, being innovative, using your imagination
FINANCIAL SECURITY: income and money coming in, no money stress
ORDER: stability, routine, organisation, control
CONNECTEDNESS: a sense of belonging, being involved and connected with others
HEALTH: wellness, self care, Physical and Mental Health
ACHIEVEMENT: being a go getter, feeling a sense of accomplishment
A SENSE OF CALM: harmony, inner peace, quietness
ADVENTURE: seeking out new faces, places, and challenges
FAMILY: quality time together, family happiness
LOVE: compassion, caring for self and others
LOYALTY: honesty, trustworthiness, comittment
BEING OF SERVICE: contribution, community, giving back
SIMPLICITY: ease, minimalism, unfussy, humble, unpretentious
TEAMWORK: working together, collaborating, joint effort
HAPPINESS: joy, contentment
FUN: enjoyment, pleasure
PERSEVERANCE: grit, determination, diligence
Really getting clear on what your values are can be challenging, but knowing what your values are can change your life.

My Values
My top three values are Family, Integrity and Health, and understanding my values has helped me immeasurably over the years to have clarity on the decisions I needed to make to live the life I wanted to live. Family is my number one core value. I strive to always make decisions and create an environment where the majority of what I do is so I can spend quality time with my family – My Husband, our dog, our extended family, and of course we count many of our close friends a family as well.
Integrity is about being authentic, sticking to my word, and being true to myself, not following the pack and being OK if sometimes I rub people the wrong way. I believe life is too short to not be who we are because we only get one life. Integrity for me is about keeping it real, and avoiding fakeness, false pretenses and keeping up with the jonses.
Maintaining my mental and physical health is something I'm fully committed to and as I've moved into my 40's, my thinking around this has evolved from just healthy eating, exercise and self care to include being kinder and more compassionate to myself. I'm not in a race to the finish line, and I'm not competing against anyone. This, I remind myself of often. I'm just a girl, living a life, trying to be less of an overachiever and more of a just regular human being who leaves dishes on the sink, forgets to check the mail, and occasionally blows off the gym in favour of Netflix and a bowl of popcorn.
The Wrap Up
So, what values are guiding you, in life, in your day to day decisions? One of the best things you can do for yourself is to decide to own your values, plant your stake in the sand and live by them.
Do you know what your top three values are? If not, or you're a bit fuzzy on them and could do with a dose of clarity, I encourage you to do the exercise above. They might only be three words, but they are three words that will change your life for the better.
Further Reading: