Simple self care is one the easiest things you can do to make yourself feel better.  It helps you to manage your stress, avoid burnout and to focus on yourself, even if it is for only 10 minutes a day.  Self care allows you to prioritise your own needs so that you have enough left to give others.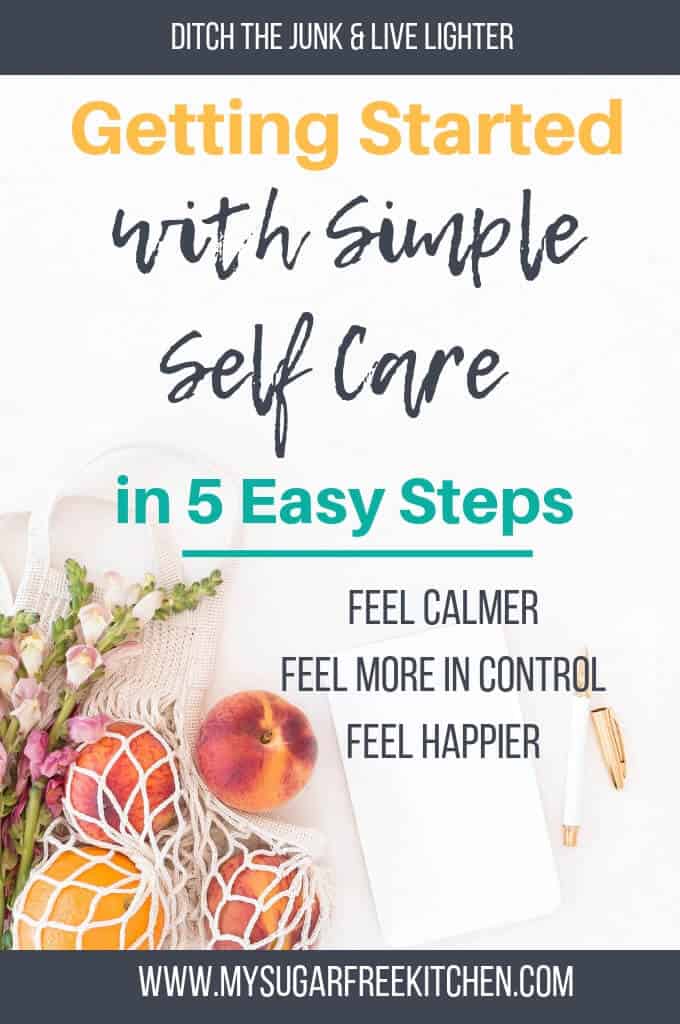 Even Simple Self Care Can Be Hard To Achieve
If self care is so good for us, why aren't more people doing it?  Well, the problem that stops so many of us from truly taking time out for ourselves is either not enough hours in the day, or we don't know where to start.
Both lack of time and not knowing where to start can be solved when you prioritise what is important to you, then implement small changes based on that so that you can optimize your time and create "gaps of opportunity" to fit in self care.
The Benefits of Simple Self Care
Once you get started with Self Care you'll soon wonder how you ever did without it.  I know I did and it has certainly been my saving grace in many a stressful situation.
Implementing simple self care into your day and week will:
help you to feel more in control of your life, because you're managing your time, time is not managing you
give you a greater sense of calm, because you're proactively slowing down and focusing on what is important to you and your wellbeing
make you feel happier because with all the giving, you're also getting something back
5 Steps To Getting Started With Simple Self Care
When do you want to do it: are you a morning person, an evening person, or is lunchtime or after work your prime time?  Work out when your preference is for "me" time and when is most practical for your schedule.
What makes you feel good: self care is all about restoring your inner sense of calm, and wellbeing so you feel refreshed, relaxed and better than you did before.  Do you prefer something soothing, something that gets your body moving, something that expands your mind,  something indoors, outdoors, something that takes 10 minutes or something more luxe.  If you're stuck, here's my personal list of 40 Self Care Ideas and Activities that are my go to toolkit for self care.
Why is it important to you: Find a reason why taking better care of yourself is non negotiable.  Has stress been making you sick?  Are you constantly run down and want to feel more energized?  Are you in a rut where everything seems the same all the time?  Find your reason as to why self care is a priority for you and don't let go of it.
How are you going to get it done: Do you need to rearrange your day to fit in self care?  Do you need to take something off your to do lit, do less of something, reprioritise all together?  Schedule self care into your diary or calendar, create reminder alerts, make a screensaver on your computer if you have to.  Slot it in the morning when you get up, at lunchtime, after you get home from work, or in the evening before you go to bed.  30 minutes is great, but if all you can get is 10 or 15 minutes, work with that.  Its not the amount or time, it's the accumulation of self care practices that will make the difference and the more consistent you are with your self care practice the better you will feel.
Who do you need to let know: your spouse, your kids, your best friend?  Let those close to you know that you've re-evaluated things and that you've not been feeling your best lately and you're making a conscious effort to take better care of yourself and that you may need to ask for help from time to time.  By taking a little time for yourself each day it will allow you to be a better partner, mother and friend.

How I Got Started With Self Care
It wasn't too long ago that I was facing serious burnout and extreme stress to the point that infection had taken over my body and I needed to have 2 operations.  I hadn't been taking care of myself.  I'd recently faced some very difficult times and was devastated by grief.  I forgot how to take care of myself and stress took over making me sick, anxious and sad.
After being so sick though I decided to prioritise my self care and make it non negotiable.  Nothing was going to get in the way of my health and wellness.  I decided to revisit my values and what was really important to me, and to get rid of stuff that was physically and mentally weighing me down by asking myself a series of questions to understand what my self care needs were.
For me, I got started with self care because I knew if I didn't, I would continue to slide downhill, and I might not be able to get back up.  If only I'd had a regular self care practice in place earlier and I truly treated myself as a priority I might have been better equipped to deal with the most difficult circumstances I've ever had to face.
Don't wait for things to get as bad as I did before you start making yourself a priority in your own life.  Do it before tragedy strikes.  Do it today so that tomorrow you'll be prepared for whatever life throws at you.
TIP:  If all else fails in getting started with self care, start with sitting quietly and still for 5 minutes.  Its harder than you think, and surprisingly refreshing for such a quick self care practice.
Over to You
Take some time this week to work out one thing you can start doing on a regular and consistent basis that will help you to manage stress and improve your wellbeing.  Here's my self care list if you need a little inspiration.
Has this idea of getting started with Self Care resonated with You?  If so, I'd love to hear your thoughts in the comments section below.
Further Reading: