This fruit salad tart is rich, creamy and light and won't weigh you down.  It's made with cream cheese, ricotta and canned fruit, is refined sugar free with no baking required.  Its also low calorie.  Bursting with tropical fruit zing it is the perfect clean eating dessert without the guilt.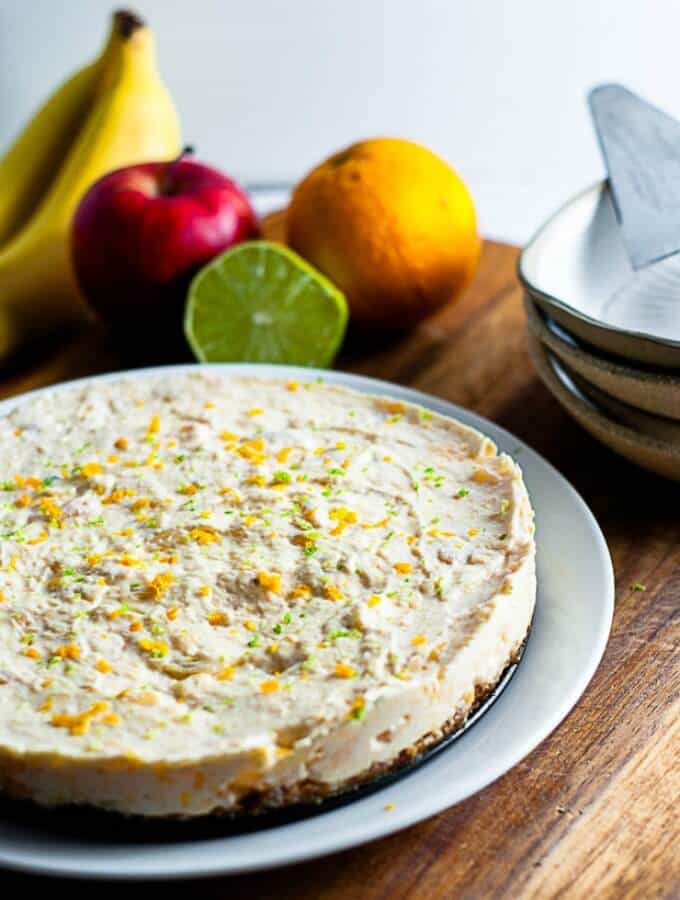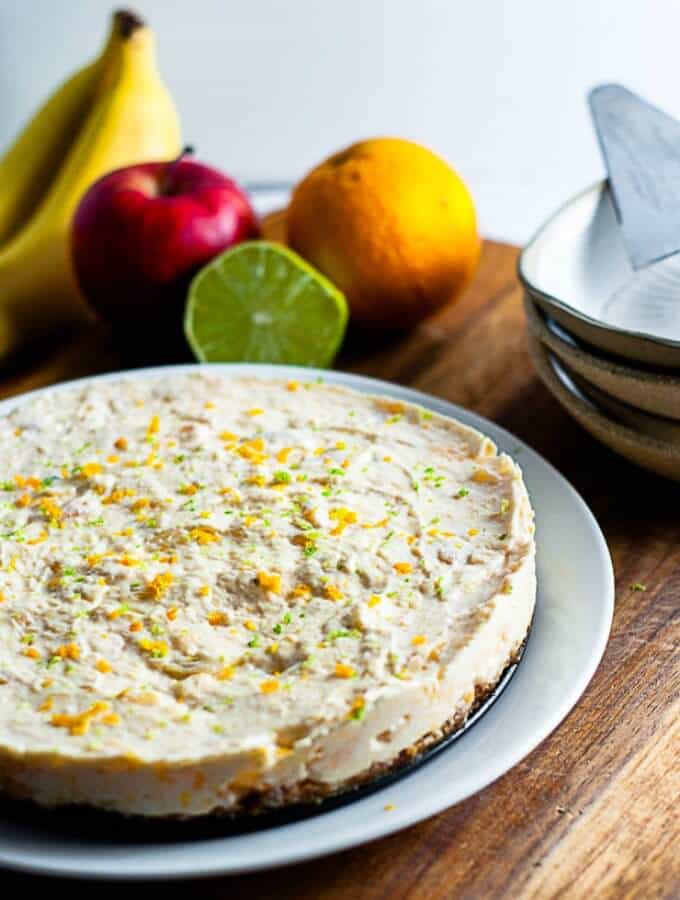 Why This Fruit Salad Tart is Different
Who doesn't love a creamy dessert?  They're comforting and satisfying but often leave you feeling like you either can't get up off the chair, or you need to get yourself to the gym quick smart.
Not this one.
There won't be any regrets, or any need for seconds.  One will be enough and you'll be OK with it.  Your sweet tooth won't be screaming at you for more. I promise.
Other Clean Eating Dessert recipes you might like:  Chilli Chocolate Cheesecake, Mini Lime Cheesecakes, Choc Orange Jaffa Cheesecake, healthy sticky date pudding and this delicious no bake passionfruit cheesecake.
Why?  Because there is no sugar added added to this no bake cheesecake tart recipe, instead it is sweetened with Stevia and the sweetness from the natural fruits.  The majority of which leave you feeling high and like you want to eat the whole dessert in one hit, shortly followed by "Why did I do that to myself".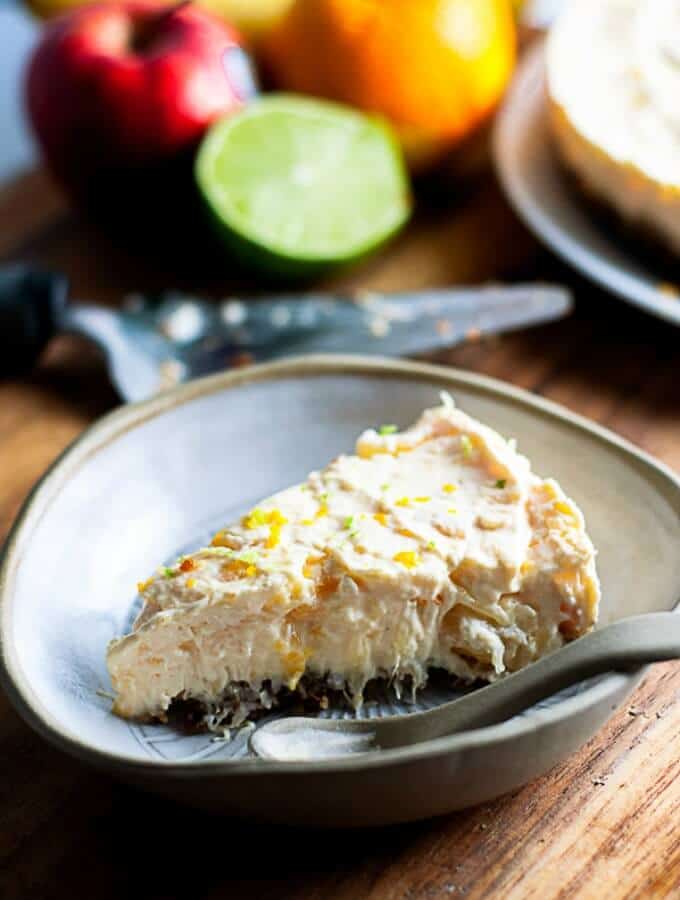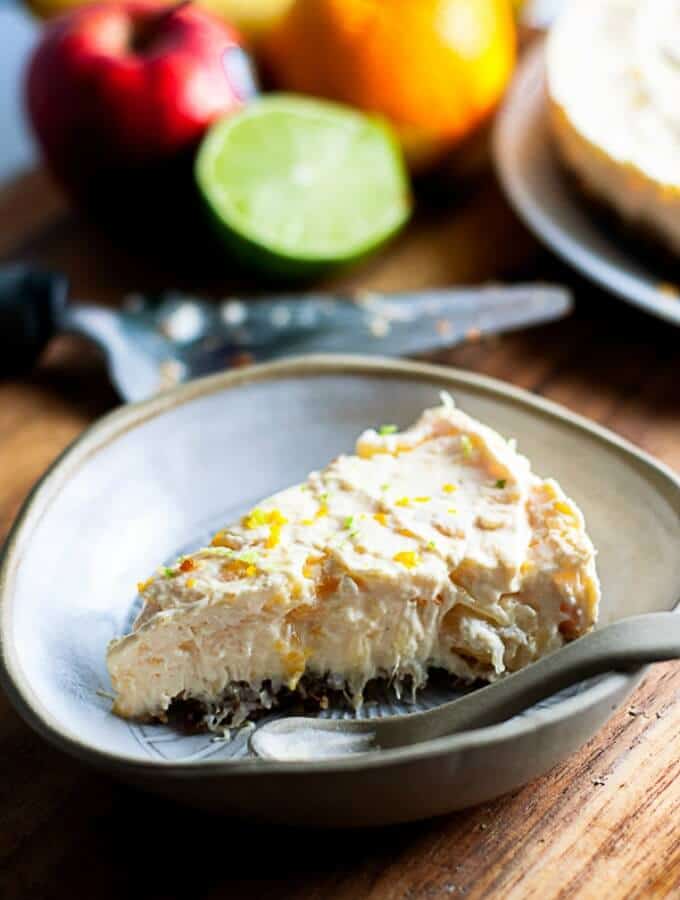 This Fruit Salad Tart has been on my to do list for years!
This is because my mum makes a version of it, which I have been known to be addicted to from time to time.  It generally makes an appearance at Christmas, and occasionally on birthdays.  There is a slight problem though.  It's loaded with sugar and it mum made it with condensed milk.
This is my healthier version of a fruit cocktail tart that's a clean eating dessert fit for dinner parties.
TIP 1:  The addition of the sugar free orange/mango jelly crystals really boosts the flavour and I would say it is a must add ingredient which seems to be pretty much readily available at supermarkets.
TIP 2:  Alternatively, you could also use freeze dried fruit (mango or pineapple) blitzed to a powder which would also work to add that same intensity of flavour.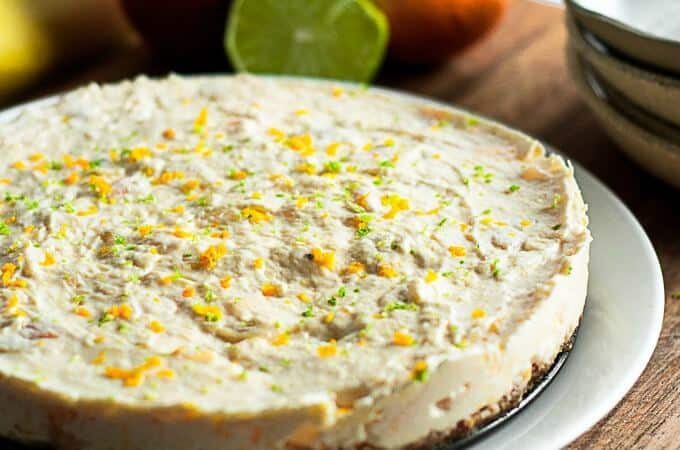 What's In a Fruit Cocktail Tart?
The Base
The base is made of walnuts, medjool dates and desicated coconut, blitzed together in a food processor.  It's then easy to press into a tart dish as the three ingredients work perfectly together to create exactly the right amount of texture and moisture for the ultimate no bake cheesecake tart base.
The Filling
To make this as easy as possible, I used canned fruit in this tart, which technically makes it a canned fruit tart.  The type of canned fruit I use is Golden Circle Traditional Fruit Salad, however you could even use tinned crushed pineapple.
Golden Circle Traditional Fruit Salad has a tangy sweet taste and is a mix of pineapple, passionfruit, peach and banana puree, and it is yum, even on its own.
In addition to the fruit salad, there's cream cheese, smooth ricotta, granulated stevia (I use Baking Natvia Stevia), orange/mango jelly crystals, a little gelatine and some water  which helps it to firm up.
You might also like this delicious Pineapple Fridge Tart with whipped Cream and fresh pineapple chunks.  Its a light, tropical no bake sugar free dessert that is perfect to impress dinner party guests with.  They won't even be able to tell its sugar free!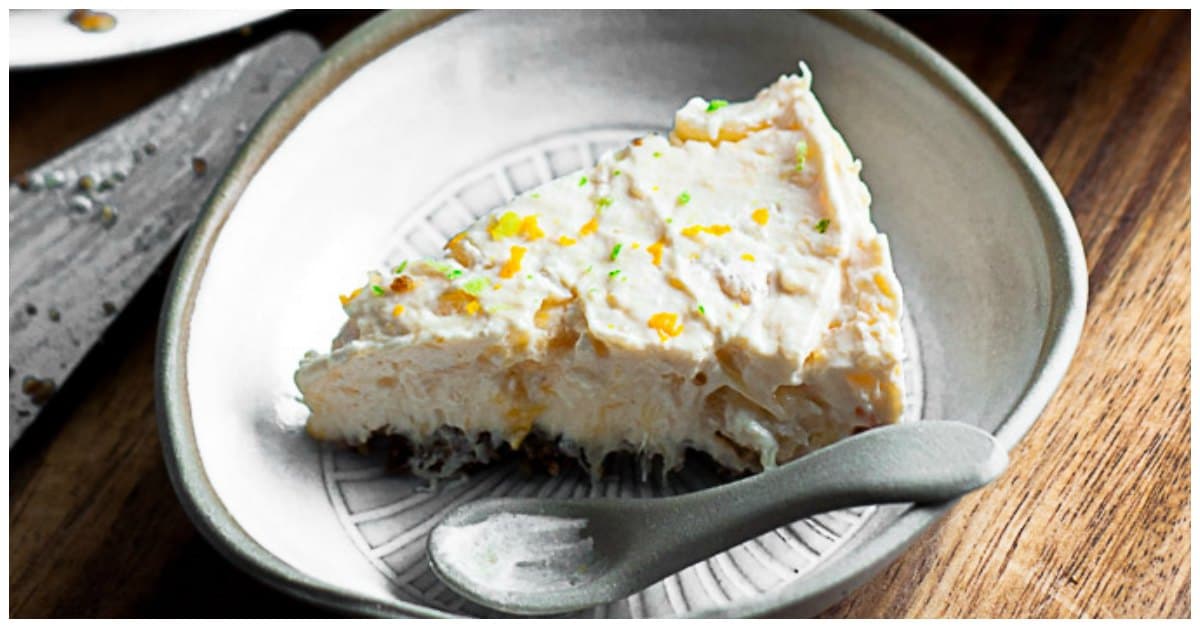 This no bake cheesecake tart represents to me the quintessential summer dessert.  My lightened up version is lower in fat, low calorie, and is free from white refined sugars.  The beauty of it is that you can use different canned fruits in combination with powdered jelly crystals or blitzed up powered freeze dried fruit to create any flavour profile you can think of.
If you're looking for a clean eating dessert that's light and summery with creaminess and tang all in one, this is the one.
Like what you see? Follow me on Facebook or Pinterest! Did you try a recipe? Tag me on Instagram: @mysugarfreekitchen, and leave a comment & star rating!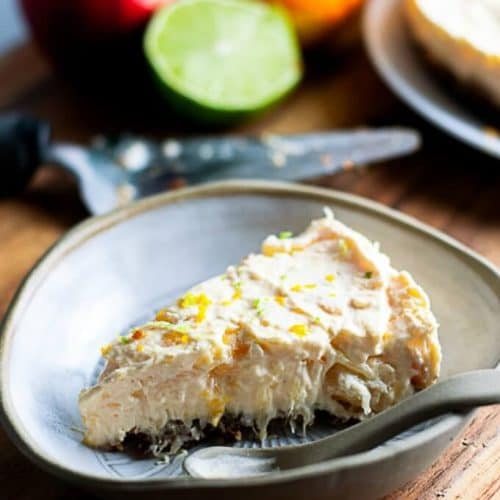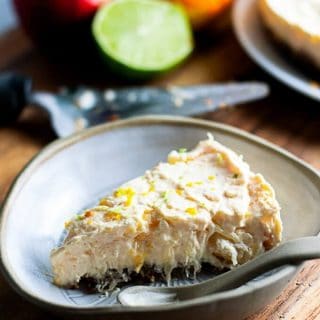 Fruit Salad Tart
This Fruit Salad Tart is incredibly rich and creamy, but very light. It's naturally sweetened with dates and stevia, it's tangy and fruity and perfect for summer dinner parties or Christmas feasts.
Print
Rate
Ingredients
Base
1 ¼

cup

walnuts

½

cup

dates

-

(Note 1)

¼

cup

Desicated coconut
Filling
250

grams

/9 oz. Extra Light Cream Cheese

250

grams

/9 oz. Smooth Ricotta

1/4

cup

Granualted Stevia

440

grams

/15 oz. Golden Circle Fruit Salad, juice drained

2

tablespoon

sugar free orange/mango jelly crystals

1 ½

teaspoon

Gelatine powder

1

tablespoon

Boiling Water
Instructions
If you keep dates in the fridge, set them out on the bench at room temperature for at least 1 hour. Otherwise to speed up the process, take the dates from the fridge and place them in a bowl of hot water for 10 minutes to soften them up before going into the food processor/blender.

Make the base: In a food processor of high speed blender, place the nits, coconut and dates. Blitz until combined.

Press the base ingredients firmly into a round tart dish. Place into the fridge for 20 minutes.

Rinse the food processor/blender and get the tart filling ingredients ready. Get the cream cheese out of the fridge onto the bench at room temperature for 10-15 minutes.

Place the cream cheese, ricotta, jelly crystals and stevia into the food processor/blender. Blitz until combined

Take the tart filling out of the food processor/blender and put into a mixing bowl. Gently stir in the fruit salad with a spoon.

In a small dish, mix he boiling water with the gelatine and add to the tart filling mixture. Make sure to work quickly gently stirring the gelatine into the filling.

Spoon filling onto tart base and keep in the fridge for at least 6 hours, preferably overnight.

Store in an air tight container in the fridge for upto 4 days.
Notes
1. Whilst there is no refined sugar in this recipe, the sugars in the nutritional panel are from the natural sugars contained in the dates.
2. If you'd prefer to have bigger portions and cut the tart into 8 slices instead of 12, here is the nutritional breakdown: Calories – 312, Saturated Fat – 6g, Carbs – 26g (9%), Protein – 13g, Sugar – 19g
Nutrition
Calories:
208
kcal
|
Carbohydrates:
17
g
|
Protein:
9
g
|
Fat:
14
g
|
Saturated Fat:
4
g
|
Fiber:
2
g
|
Sugar:
13
g
Did You Make This Recipe?
Mention @mysugarfreekitchen or tag #mysugarfreekitchen!
★ Did you make this recipe? Don't forget to give it a star rating below!