This Crustless Cheesecake with vanilla bean and raspberries is refined sugar free, rich, creamy and perfect if your want your cheesecake without the calories. A generous serving of this cheesecake is just 100 calories and topped with ripe tangy raspberries will keep those cravings at bay after dinner.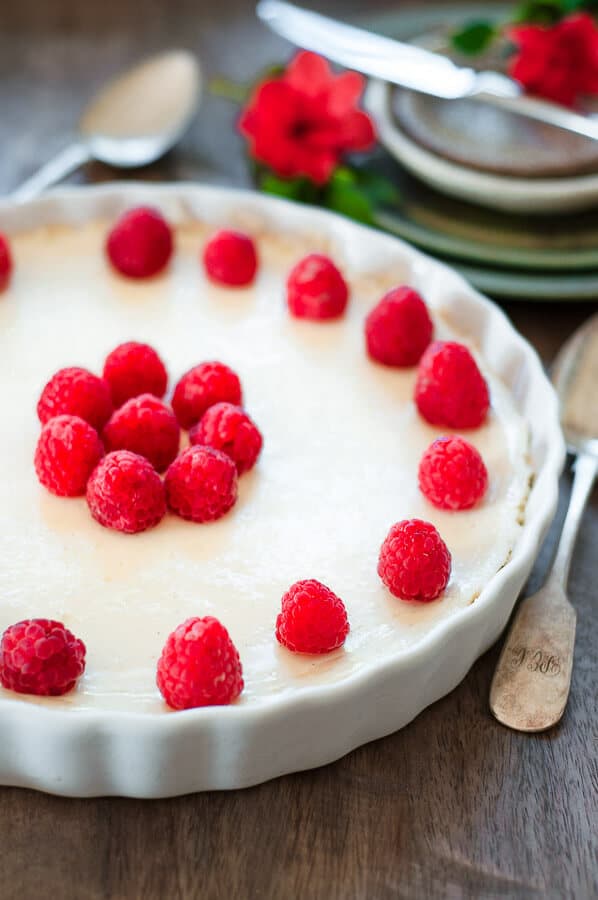 If you love cheesecake as much as I do, you may well ask what is the point of even making a crustless cheesecake? Because the crust is pretty good. Well, there are a few advantages to this crustless version.
First of all, its much easier and quicker than making a cheesecake with crust and when you're short of time, this could be exactly what you need for your cheesecake fix
Secondly, a crustless cheesecake contains less calories than one with a crust so if you're watching your weight this could be a good option if you are still looking to satisfy your sweet tooth.
Thirdly, because it's different. At the bottom of this post I reveal one of the ways I like to eat this cheesecake that takes it from tart dish regular cheesecake to next level cheesecake boom that will impress even your mother in law.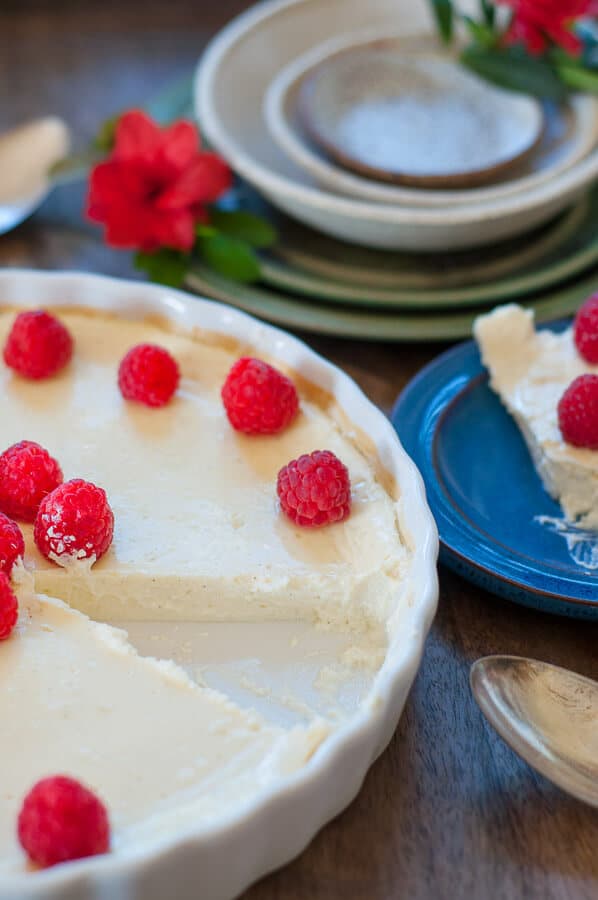 One of the things that makes this crustless cheesecake a breeze to make is that you literally put all the ingredients into a food processor or high speed blender and blitz until smooth and velvety and then scoop out into a ceramic pie dish.
To make it and get it into the oven literally takes me 10 minutes. Then it's into the oven for 50 minutes (with the timer on) and you can forget about it and go do something else.
When the timer goes off, you still leave it in the oven to cool for one hour which prevents it from developing cracks. For best results, I find it works best if you leave the oven door slightly ajar so the heat can escape while the oven cools down.
Tips For Making A Crustless Cheesecake
Avoid mixing by hand. A food processor or high-speed blender is a must for this recipe. If you don't have wither of these, you could try electric handheld beaters although it will be a bit trickier to get the mixture as smooth and creamy as what the food processor can do it, and the granulated sweetener may not completely dissolve.
Give it a good and thorough blitz so that the granulated sweetener dissolves into the cheesecake mixture and you're not left with any graininess.
Test before baking. Before pouring it into the tart dish, dip your finger and give it a taste test. Do you taste any grain in the mixture? If so, blitz it some more. Is it sweet enough? If not, add some more granulated sweetener, or freshly squeezed orange juice. Or if you are into using honey you could try a bit of that

Different Flavours and Fruits you might like to try
Add a couple of tablespoons of espresso to the cheesecake mix before you put it into the tart dish (or ramekins) to give it a slight coffee flavour
Add some texture on top with crushed nuts (peanuts would be my favourite, although pistachios would also be great and the colour would be lovely too)
When you have all the ingredients in the food processor (before you have blitzed), add a few tablespoons of sugar free jelly crystals (I like orange/mango) or freeze dried fruit (strawberry is my favourite). Use just one or the other not both as using both will overpower the dish.
How To Eat A Crustless Cheesecake
It needs to be very firm so that when you cut a slice it holds together from the skinny middle bit to the wider outer bit. To achieve this there are a few things I recommend:
After it has spent 1 hour cooling in the oven with the door ajar, place it in an air tight container in the fridge for at least overnight
Before serving freeze for 20 to 30 minutes
To cut the first slice use a sharp clean ( not serrated) knife and remove the first slice with a triangle shaped cake spatula (that is about the same size as the cheesecake you're getting out

BONUS TIP 1:
Why not make this cheesecake for your next dinner party by baking it in individual ramekins. Double it up and make 4 large individual cheesecakes (which will only be 200 calories each), or keep them small and use 8 ramekins if you're having more guests. Don't for get to leave room for the fruit. It's essential and really brings the cheesecake to life.
BONUS TIP 2:
Another way I often enjoy this cheesecake is to deconstruct it after it has baked and cooled in the oven and spent overnight in the fridge. If I'm having people over, I'll scoop out the crustless cheesecake into fancy dessert glasses or martini glasses with layers of fruit, crushed nuts, sometimes some lemon curd or passionfruit.
This type of arrangement can look really impressive, but really the effort involved is very low, and especially if you're not very creative and aren't that good at baking, this is a good way to present a beautiful, colourful and textured dessert that says "Eat Me Now!"
More Cheesecake Recipes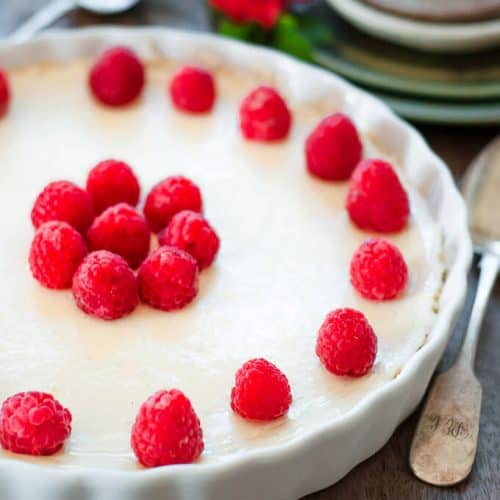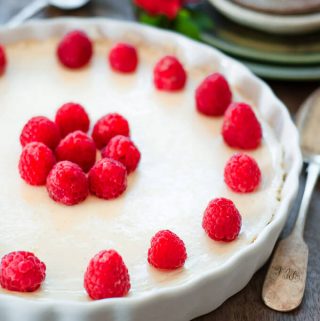 Crustless Cheesecake
A simple, easy, low carb and low calorie dessert you can eat even if you're watching your weight. Delicious with fresh fruits, especially raspberries, pasionfruit or lemon curd.
Ingredients
1

cup

light ricotta

1

cup

low fat natural yoghurt

1

cup

light cream cheese

½

cup

Granulated Stevia/sweetener

2

extra large eggs

Zest of a lemon

finely grated

2

teaspoons

Vanilla Bean Paste
Instructions
Preheat oven to 160 degrees C (fan Forced)

Add all the ingredients to a large mixing bowl and beat with an electric beater, or alternatively add all ingredients to a food processor and blitz until smooth.

Pour mixture into a round ceramic tart dish (25 cm) and bake for 50 minutes

After 50 minutes, leave the cheesecake in the oven and turn the oven off. Open the oven door slightly so that the hot air can escape. Leave for approx. 1 hour. This will help prevent the surface of the cheesecake from cracking.

Once it has cooled and come to room temperature, cover with foil and store in the fridge overnight.

TIP: Before serving, chill in the freezer for 25 minutes.

Serve with fresh raspberries.
Nutrition
Calories:
101
kcal
Carbohydrates:
9
g
Protein:
5
g
Fat:
6
g
Saturated Fat:
4
g
Fiber:
1
g
Sugar:
5
g
Pin This Recipe for Later!