If lately you've been feeling stressed, anxious, or overwhelmed, you might have a sneaking suspicion that know you need to take a step back and slow things down.  You have a million thoughts running rampant inside your head and you need them to settle down pronto.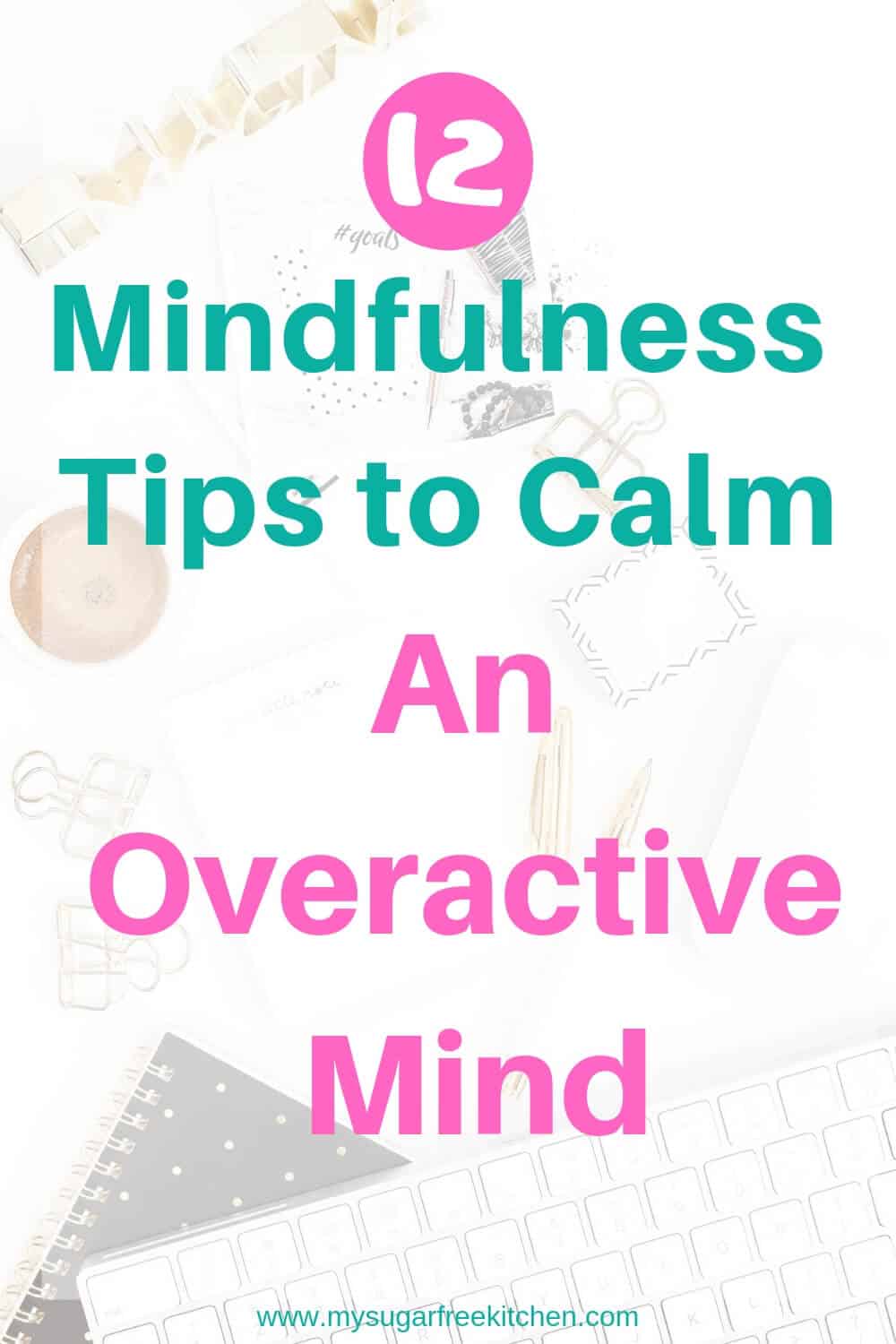 Maybe people have been telling you that you should get into meditation.  That it'll do wonders for you.  Change your life and all that.  Well, on one hand, yes it could, but on the other hand, that's never going to happen if you're dead set against it.  I get it.  It just might not be for you.  Even though you crave a slower pace, and more breathing room in your everyday life.
Meditation might not be for everyone, but how do you get some of the benefits of meditation without actually doing meditation?
The answer is mindfulness and a little bit of mindfulness each day can go a long way to making you feel better.   Mindfulness is the perfect antidote to incorporate into a busy day because you can do it anywhere and at anytime.
12 Mindfulness Típs To Calm and Overactive Mind
1. Focused Breathing
Taking in three big breaths through the nose and slowly exhaling through the nose is something I do often throughout the day.  I find it helps me to re-centre, particularly when I've just been landed with something I wasnt expecting or when unwanted thoughts pop into my mind.  This takes less than 1 minute to do and I always feel better after I do it.
2. Adjusting your Posture
Next time you're feeling like you have something you can't handle, stand up, put your shoulders back, stand tall, draw in your core and tell yourself you CAN handle it and you WILL handle it.
Related:  How To Create A Mindful Morning Routine That You'll Actually Stick To
3. Disconnect from phone and TV
Sometimes putting down the devices is exactly what you need to relax and recharge from all that activity going on inside our brain.  Put your phone on silent for while, or better yet switch it off for a few hours.  It'll still be there when you want to come back to it.  As for TV, make a decision to have a few nights a week where you don't turn it on, or you only turn between certain hours.  I have tried several TV bans this last year (the most recent lasting 21 days) and it was amazing how much more productive I was in the evenings and how much better I felt.
4. Accept
The quicker you can accept where things are for you right now, the easier it will be for the stress to melt away.  If you can't change it, don't worry about it, if you can change it, do something about it.
5. Looking in the Mirror
If your faced with something at work that gets you upset or stressed out, excuse yourself and go to the bathroom.  Take your time, and look in the mirror at yourself.  See who you are as a person.  Connect with what you are feeling in that moment and know that whatever it is, you are a good person.
Related:  5 Steps To Identifying Your Core Values and What's Important To You
6. Movement
Whatever is bothering you, exercise always helps.  It releases feel good endorphins and allows you to temporarily zone out.  Whether you can get yourself to a fitness class at a gym, a walk outdoors, or even exercise at home via one of the many apps, exercising in the moment, even when you don't feel like it will always feel better, and you'll never regret a workout.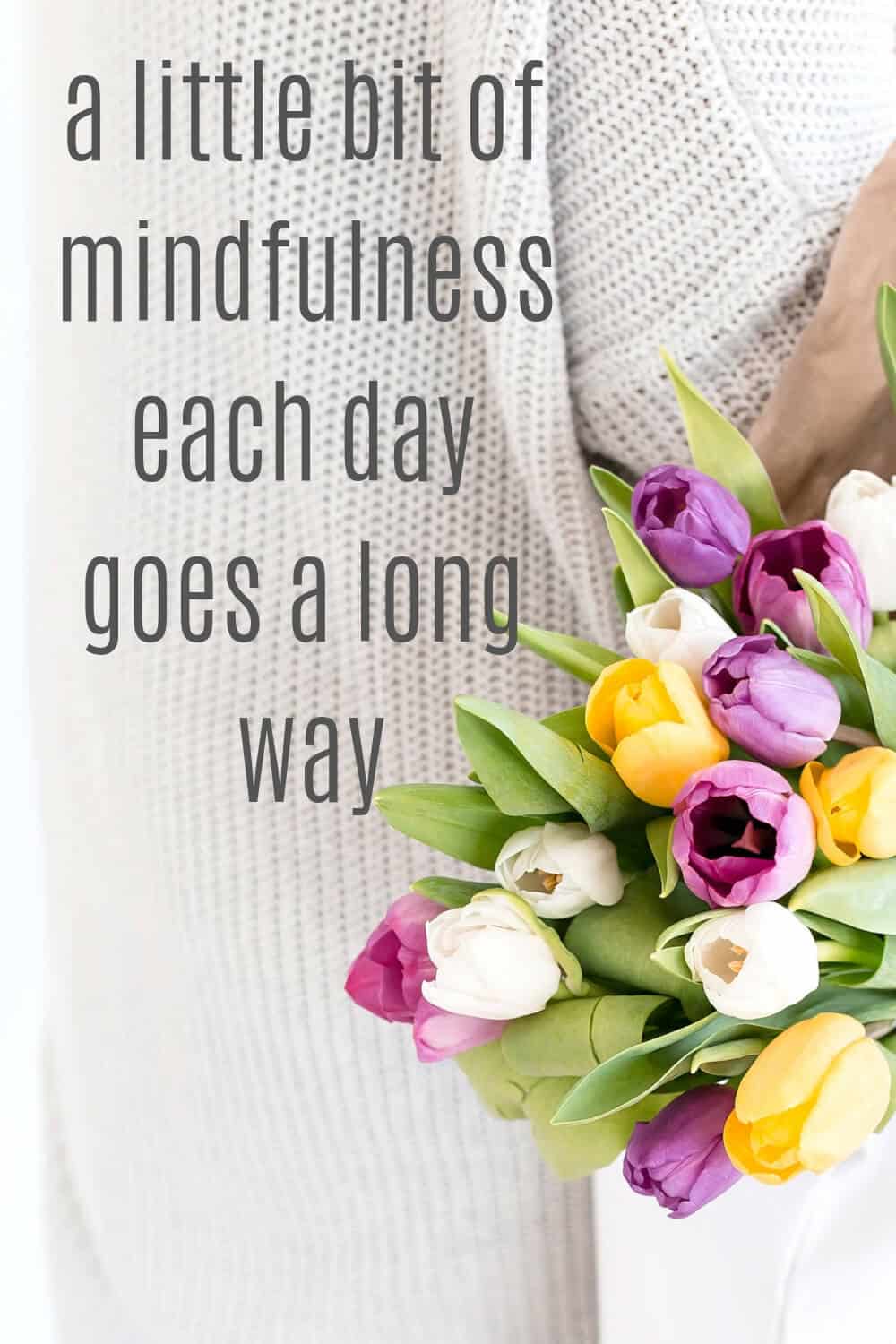 7. Music
If you're feel out of sorts, put on you favourite music or soundtrack and just sit and listen to it.  Connect with it, the meaning behind it, the emotion, the rhythm, and why you chose it.
8. Write it Down
When stuff is bothering me, I always write it in my journal.  This helps to clear my head and to work out what's really important.  It also stops be from jumping to conclusions and catastrophing.  Even if you're not a journaling person, just writing out your frustrations on a piece of random paper and then throwing it away will be a worthwhile purging exercise.
9. Gratitude
There's nothing like taking the time to think about what we're grateful for to bring us into the moment.  I do this daily, every morning where I write down three things that I'm grateful for.  This is a particularly helpful thing to do when you have a lot of stuff going on that if affecting your but not directly related to you.  Gratitude journaling has helped me to focus on my own life, when I've been embroiled in managing the lives of other family members.
10. Eat an Apple
You might think this a an odd one.  But try it if you're sceptical.  If you're struggling to be in the present moment because your mind is constantly racing away, grab an apply, and just look at it for a minute.  Feel it in your hands, smell it, turn it over.  Take it in with all your senses.  Then take a bite, and connect with how it tastes, the flavour, the texture.  Chew slowly and don't be distracted by anything else while eating your apple.  Taking a moment to practice mindful eating cane be a wonderful way to come back to the moment at hand and nourish our body in the process.
Related:  8 Valuable Benefits Of Mindful Eating That Will Surprise You
11. Pat an Animal
In the past when I have been in the throes of chronic stress and grief, other than my husband, my dog has been the one thing that I have been most grateful for.  Dogs are present moment creatures.  They don't care about the past or the future.  They are all about the now and when you are around one, you ae constantly reminded to be in the present moment.  There act of sitting with a dog and patting them is also so calming and relaxing that there has been many a time where my stress has melted away because of those mindful moments.
12. Help Someone Else
When I have a lot on my plate, I never say no to helping someone else who needs it.  Why? Because everyone has his or her own problems and oftentimes just knowing that you're not alone in the problem department is comforting.  Being of service and sowing kindness and compassion to others somehow diminishes the size and scope of our own worries, even if only temporarily.
Calming an overactive mind with mindfulness tips is possible, and its all about knowing what you can do and what things you can have in your toolkit for those times when life gets a little unpredictable, a little messy and a little out of control.  It's my hope that in sharing some of my favourite mindfulness tips for calming a busy mind that you too can find some peace and quite amongst the chaos.  No meditation required, unless you want to that is.