This Apple Rose Pastry with apricot glaze is sweet and tangy with crisp and crunch from the golden baked puff pastry, and just a little bit naughty with a hint of rum!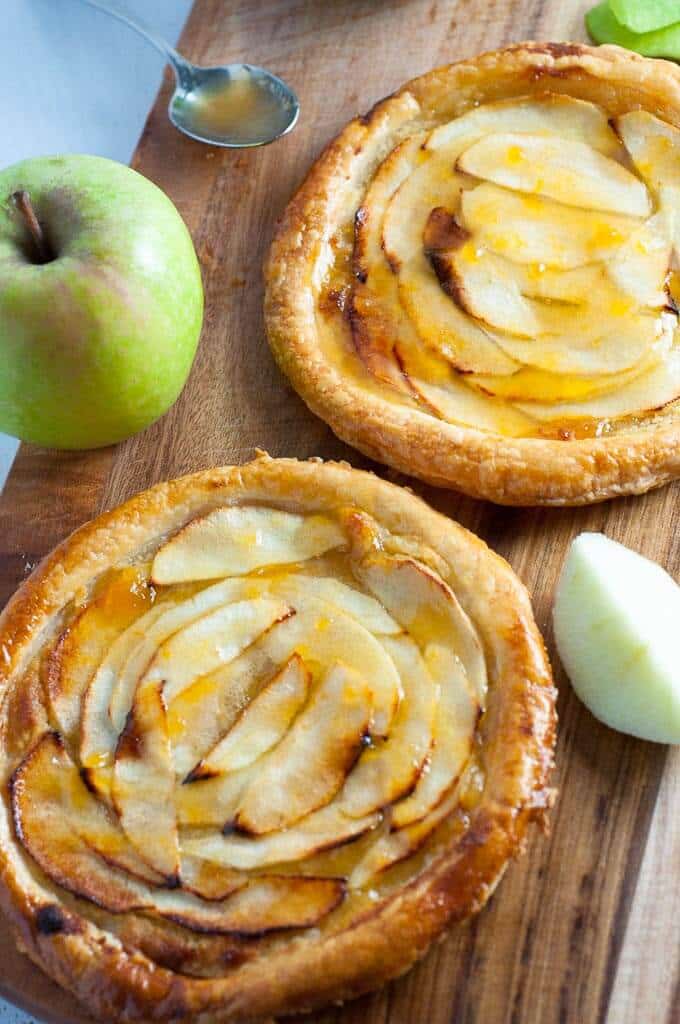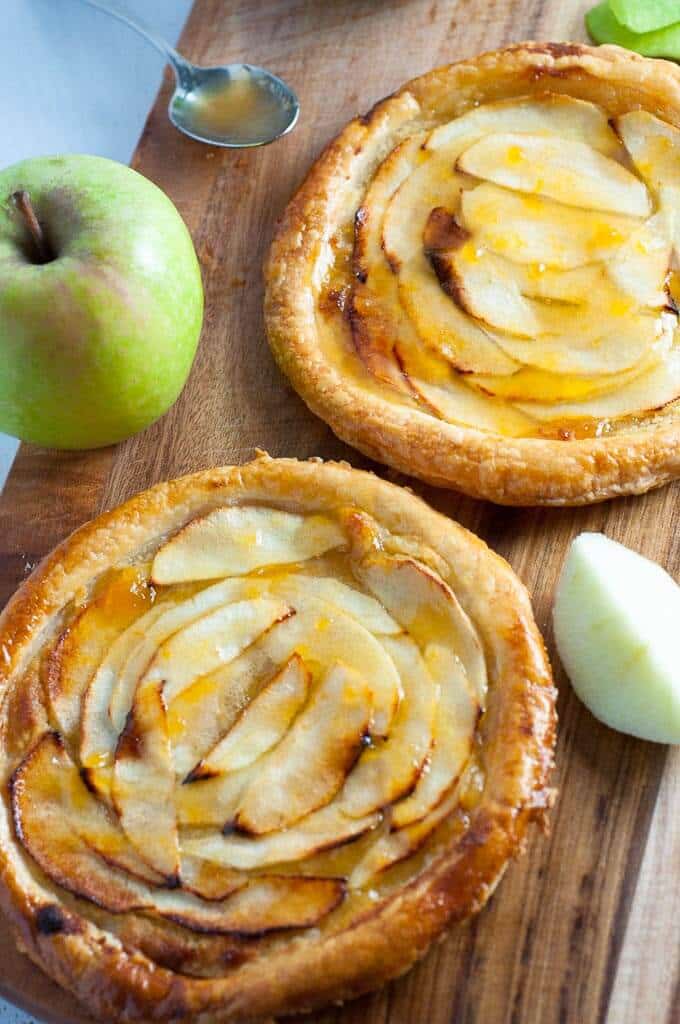 I love this tart. It's simple to make. Has fruit. Has Pastry. Has booze. I honestly would never have thought to put rum with jam, but when I came to putting the glaze on, I realised that it would just be too sweet, even though I hadn't added any sugar and was using sugar free jam.
What I needed was something to really amp it up and take the super sweet edge off. What better than something boozy, after all it is a dessert.
And like many Queenslanders, there is always rum in the cupboard, well, our cupboard anyway. So thought why not, and I don't mind a good boozy dessert from time to time.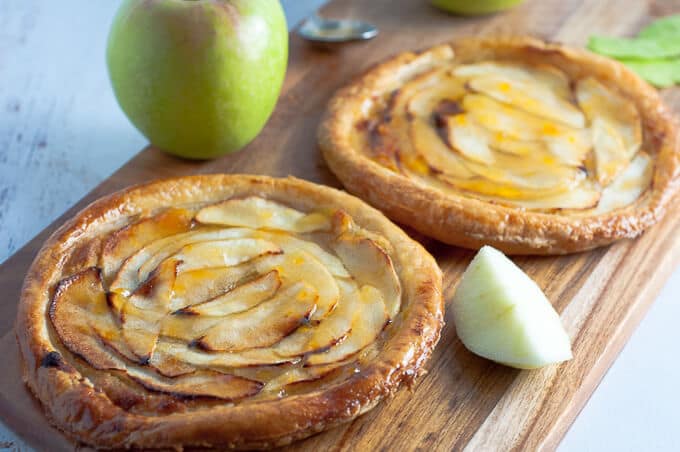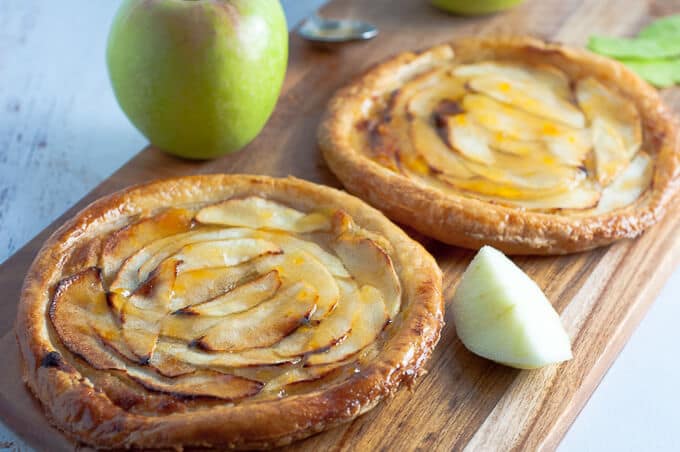 How to make your Apricot Tart special
Don't skimp on the ginger. It really adds a nice depth of flavour.

Let the puff pastry defrost halfway, not all the way. It is easier to cut your circles this way.

You could if you wanted to, add some dried blueberries for a pop of colour

You could if you wanted to be really adventurous, add some chilli paste, cocoa powder, or both into your almond mixture
It's easy to get creative with this sugar free dessert sweetened with natural zero calorie stevia. Now I have one under my belt, I have many other variations I want to try out as well.
These are best eaten warm, about 10 minutes after you've out the glaze on. I usually make a few at a time and have them for dessert 2 or 3 nights in a row and each one is different.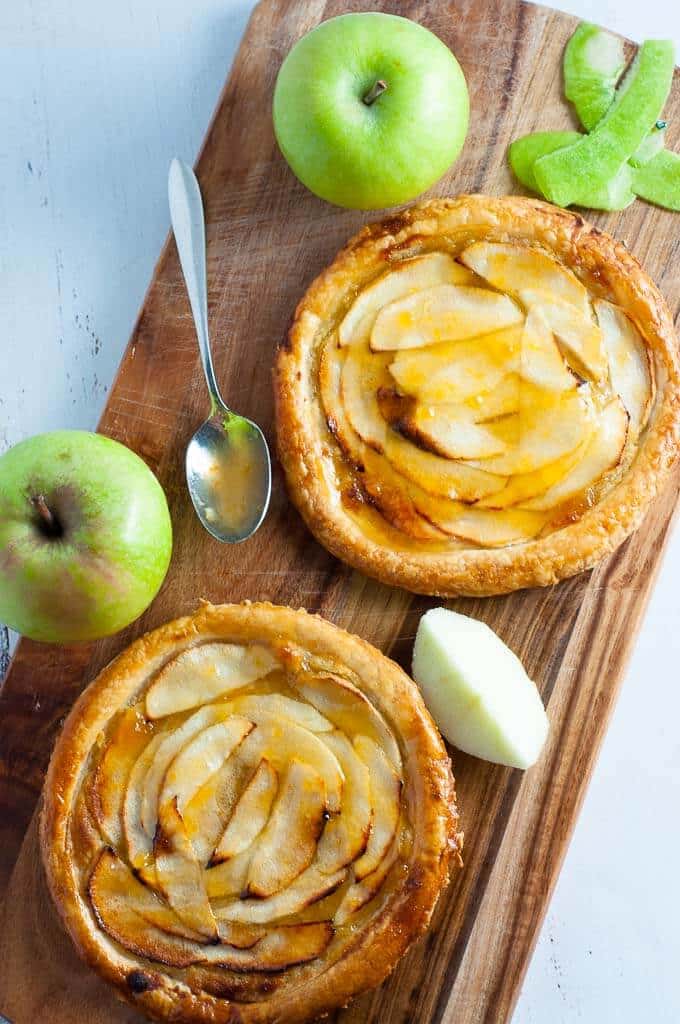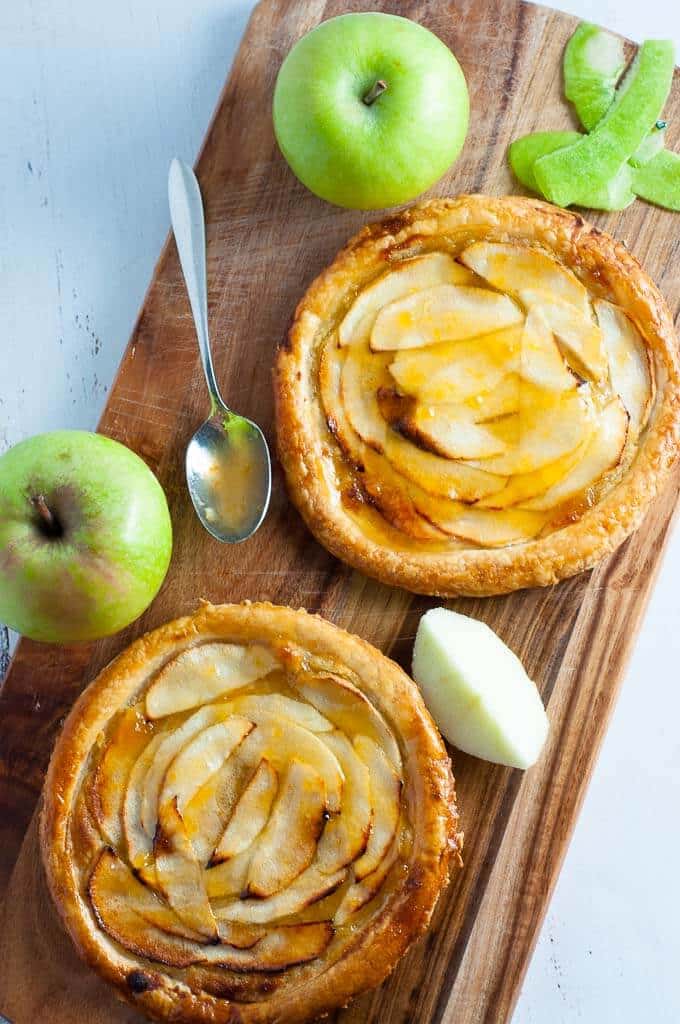 How to enjoy your apricot glazed Apple Pastry
The good old fashioned way: with sugar free vanilla ice cream, or sugar free custard made from scratch. My favourite, YUM!

In the nude: otherwise known as all by itself, nothing else, just apricot glazed apple tart on a plate alone. For when you have nothing in the pastry and nothing in the freezer!

The weird way: blended with milk and ice cubes into a smoothie. Yep for real!

The savoury way: served with a sprinkling of basil, thyme and oregano. If your game!

The new way: with even more fruit! Think kiwi fruit, strawberries and peaches finely chopped, placed on top of your apricot glazed apple tart, drizzled with passionfruit. Yes please!

The cool kids way: a dollop of greek yoghurt, with roasted walnuts and hazelnuts sprinkled on top, with a dash of sea salt! Sweet, salty tangy, Boom!
Other Recipes You Might Like: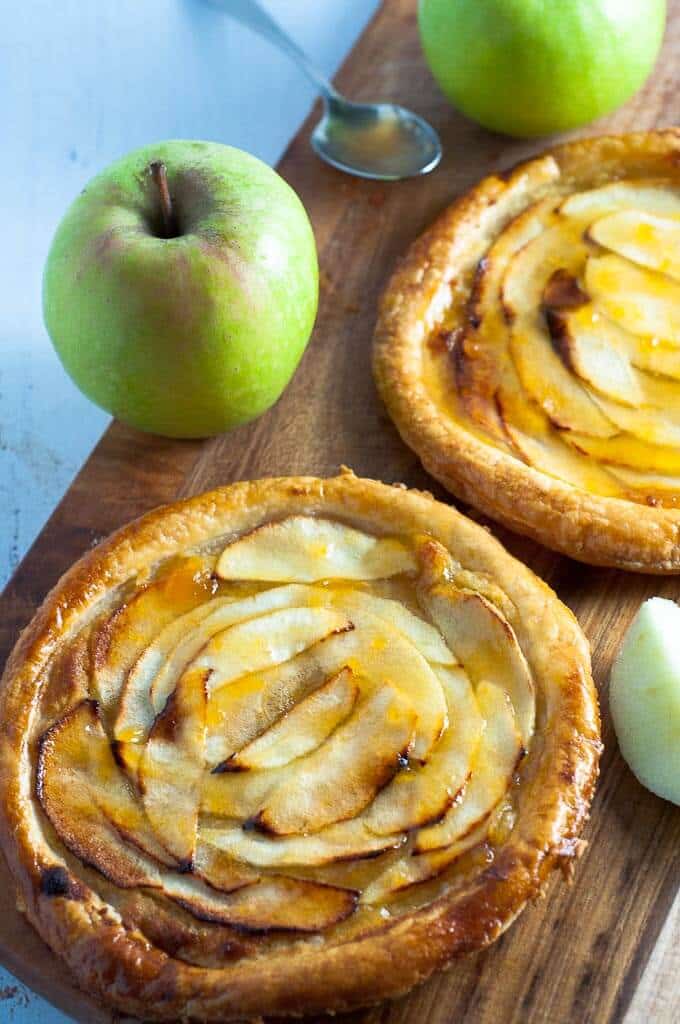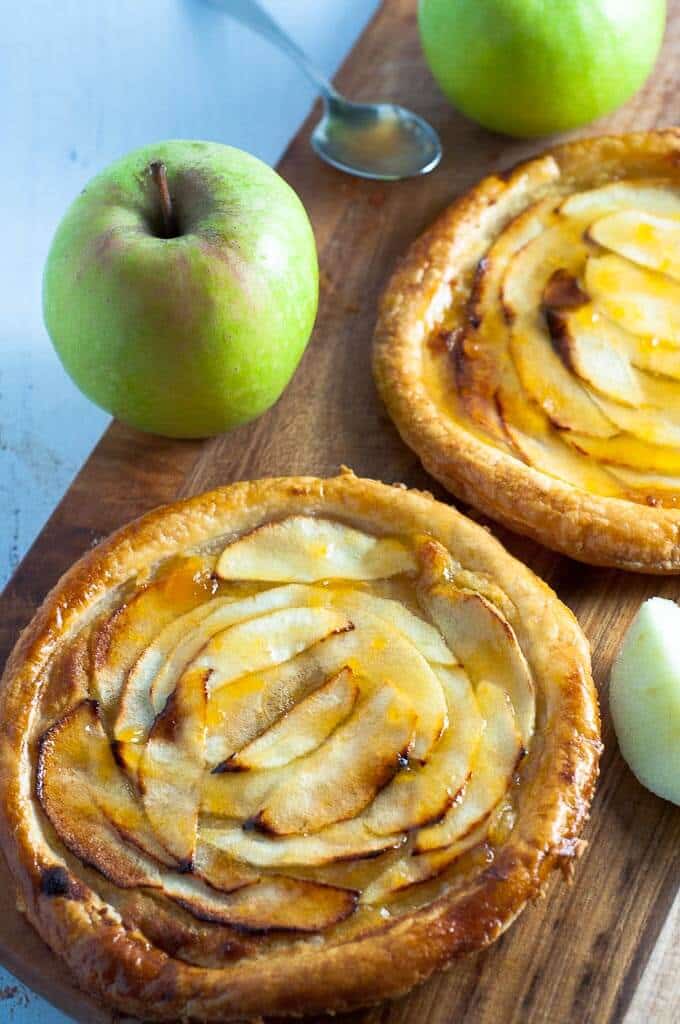 You might also like to try my awesome homemade apple pie filling that tastes way better than that canned stuff I used to use. It's also good to put on top of puff pastry (baked in the oven), or to eat in the nude as well.
Or maybe you're feeling chocolatey and could be persuaded to try some healthy homemade bounty bars, or a tangy sugar free chocolate tart with raspberries. These really are the bomb!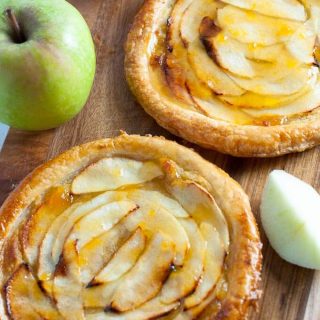 Apricot Glazed Apple Rose Pastry
This apricot glazed apple rose pastry is sweet and tangy with crisp and crunch from the golden baked puff pastry, and just a little bit naughty with a hint of rum! 
Ingredients
2

sheets Puff Pastry

1

medium Granny Smith Apple

2

tablespoons

Almond meal

2

tablespoons

Granualted Stevia

2

tablespoons

Butter

½

teaspoon

Ground ginger

1

tablespoon

Sugar free apricot marmalade

I use St Dalfours

1

teaspoon

Dark rum
Instructions
Let the 2 sheets of puff pastry defrost if frozen, by placing each one on a tea towel, covered by another tea towel. If you are getting it straight out of the freezer, let it sit for about 30 minutes until it loses its stiffness.

Once it is more pliable, place a small dessert plate upside down on top of each pastry sheet and use a knife to cut out the circle.

Place the pastry circles on a lightly creased or oiled baking tray.

For each pastry circle you will need to draw an inner circle on each one as this will be the boundary line to keep the apple inside. Mark a circle on each pastry approx. 1cm from the edge but don't cut through the pastry. It is just to "score" the pastry so that during baking it puffs up slightly to encase the apple.

In a medium bowl, add the almond meal, granulated stevia, butter and ginger. Mix together with a spoon and divide into two and spread evenly onto each pastry, staying within the bounds of the scored circle.

Peel and very thinly slice the green apple into wedges.

Arrange the apple slices over the almond filling starting from the outside. I usually do two layers of thinly sliced apple.

Bake in oven at 180 degrees for 20 minutes [350 degrees F]

, or until the apple and pastry just starts to colour.

Once they are done, remove from oven and make the glaze.

In a jug, mix the apricot jam and rum and using the back of a small spoon spread over.
Notes
The 24 grams of sugar in this recipe is from the natural fruit sugars in the apples
Store these at room temperature for 2 days, or freeze for upto 1 month.
I use St Dalfour apricot jam and am a big fan of their sugar free jams, especially the raspberry jam I used in these coconut jam drops
If you don't have rum, you could use another dark spirit.
Nutrition
Calories:
278
kcal
Carbohydrates:
46
g
Protein:
4
g
Fat:
14
g
Saturated Fat:
7
g
Fiber:
4
g
Sugar:
24
g
Tried this recipe?
Let us know how it was by leaving a comment below!