When you eat too much sugar, there are things that start happening to your body. Many of these are things that we wouldn't choose to happen if given the choice. That's because none of what happens is good and much of it can have serious consequences. The more sugar we eat, the more damage it will do to our bodies from bloating to weight gain to chronic health conditions like diabetes.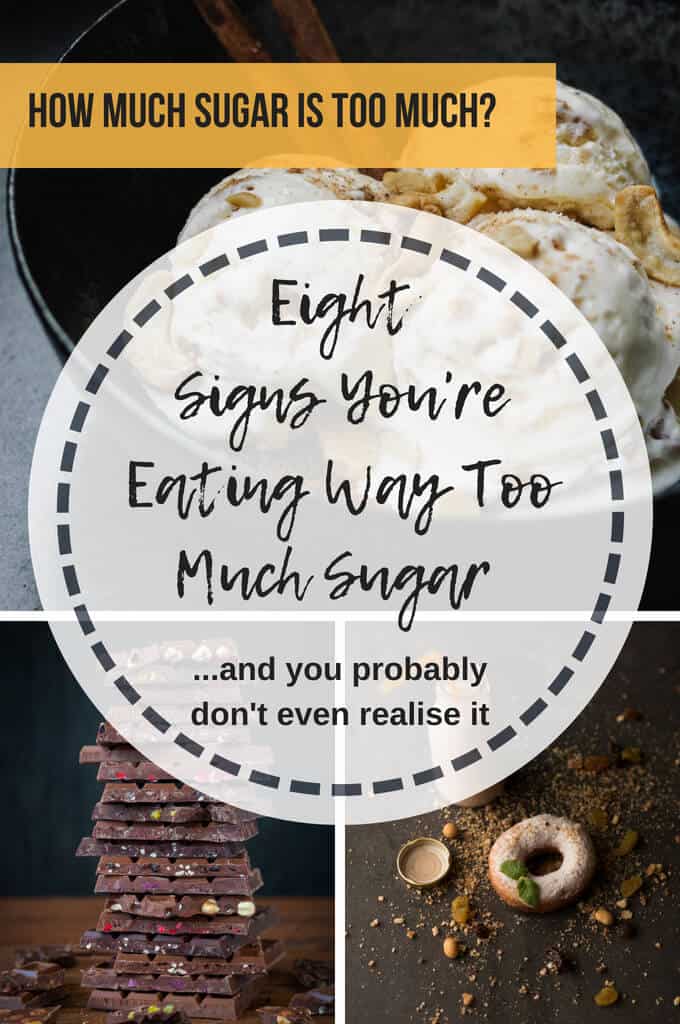 But getting your sugar habit under control is hard. Am I right? And I'm betting you've tried all sorts of things to help you manage cravings. But have you ever really stopped to think about how much processed sugar you actually eat on a daily basis?
Well it's not that easy to work out because it's hidden in so many things you wouldn't even think from pasta sauces, to BBQ sauces, to breakfast cereals to supposedly healthy muesli bars. If you need any more need convincing, just check out this article from Choice Magazine on added sugars in many of the products currently on our supermarket shelves.
But whilst it can be tricky to definitively work out how much sugar you're consuming there are absolutely some tell-tale signs that you've been eating too much of it.
But first. How much is too much sugar?
The simple answer is there is no standard. There are different groups who say different things about how much sugar you should eat. But at the end of the day, there are far more obvious signs than a set of standards that will tell you if you've been eating too much sugar and processed food.
Some of the easiest ways to tell are right here. You be the judge and determine for yourself if you see yourself in any or even all of these 8 situations below.
[irp posts="1787" name="The Beginners Guide To Cutting Out Refined Sugars"]
I'll be up front and say that at various times in my life I've seen myself in all of them, but no so much these days since I've become more aware of how what I eat affects everything else I do.
How To Tell If You're Eating Too Much Sugar
You're Not Sleeping Well: restless nights, waking up 20 times in the middle of the night and never getting to that "Deep Sleep" state can be a sign that something's not right with your diet. In actual fact, you can't remember the last time you slept through the night uninterrupted.
Your complexion is dull and lifeless: sugar is literally sucking the life out of you and when you look in the mirror you see blotchy skin, breakouts, oiliness and a distinct lack of glow. You look older than what you really are.
You're constantly tired and lacking energy: its hard to have energy when you're body is constantly spiking like a yo-yo with sugar hits sending it up and down. Sugar takes away your ability to feel consistently energized so everything you so feels like an uphill battle, walking through mud.
No matter how much you eat you're always hungry: You think you eat fairly healthy, you've even tried counting calories but nothing fixes your cravings. This is because sugar prevents the "hungry" switch in your brain from turning off. Because the switch is always on, you're always hungry, always eating and the cycle repeats. Sugar wants more sugar.
You're moody, you forget things and have trouble concentrating: sugar will no sooner lift you up and then it will bring you down. Sugar hates consistency and will do everything it can to wreak havoc in your body. Sugar doesn't want you to come to your senses. It wants to keep you all messed up so it can control you.
You get every flu bug that's going around: Sugar will break down your immune system and open the doors to invite all its nasty friends in. It's a social creature and will host the worst party you've ever been to.
Your jeans are tighter than they used to be: Sugar goes down like liquid gold, but boy is it hard to get out. Sugar is not a visitor. It likes to take up permanent residence and it wants to stay.
You can't go a single day without a sugary treat: too much time away from the white stuff and you are not a happy camper. You have your stashes everywhere so you're ready as soon as a craving hits. And if your stash is low, you'll just hit up the vending machine.

What To Do After Eating Too Much Sugar?
Focus on drinking more water in small amounts over the course of the day
Focus on eating more lean protein at Lunch and Dinner to stabilize your blood sugar levels – yes this means grilled chicken, fish or salmon
Snack on almonds, good quality cheese, full fat yoghurt or a banana with peanut butter
Try going to a yoga class to destress and find your calm
[irp posts="3446" name="7 Life Changing Tips To Stop Sweet Cravings After Dinner"]
The Wrap Up: If you find you can eat sugary stuff and processed food until the cows come home and feel fairly unaffected by it, then I challenge you to take a day off from sugar and see how you feel. This my friend will give you just a taster (pardon the pun) as to how sugar really effects you.
If you feel like you can barely get out of bed on the second day, sugar has a hold on you.
If you feel jittery, you're counting down the hours and unpleasant to be around, sugar has a hold on you.
If you feel like you'd rather eat cardboard than face a plate of grilled chicken and salad, sugar has a hold on you.
Time to let the beast go and get back in control.
Sugar should not be the boss of you.
Further Reading: