Self care strategies for coping with stress are one of the best things you can do to avoid burnout and overwhelm. So often we're caught up being busy, sometimes with things that aren't even that important, but we can't stop. Busyness can easily suck you in, overwhelm you and burn you out when you don't have a strategy for self care in place.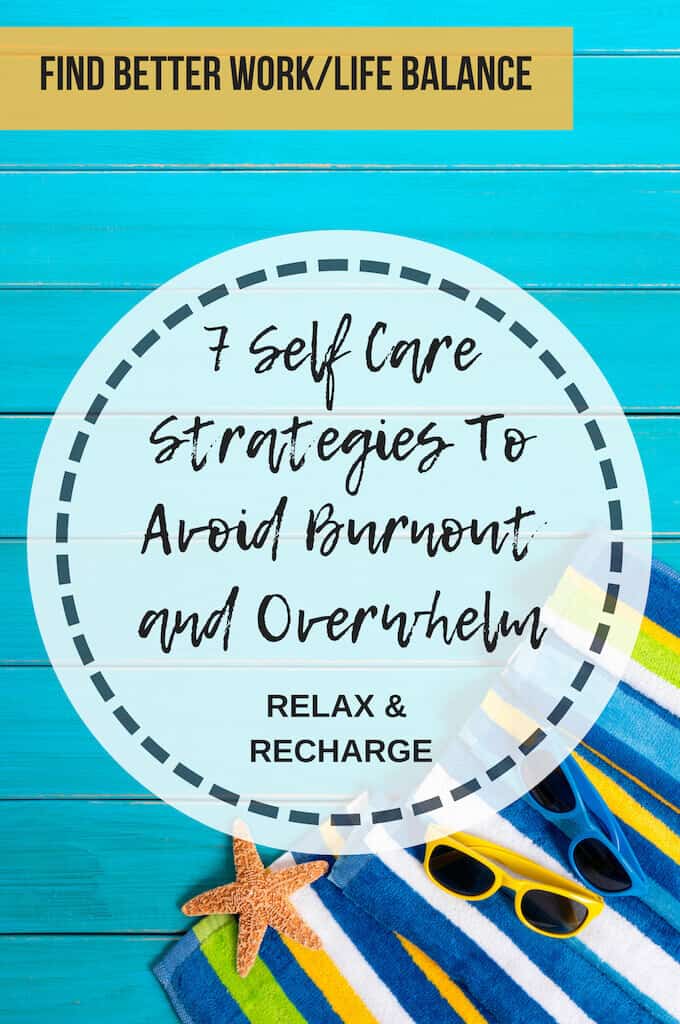 Improving your self care skills requires a deliberate effort. Taking the time to put yourself first and actively incorporate self care strategies into your life will have big pay offs. You'll become very clear on what's important to you and what's not, what your deal breakers are, and where your boundaries are.
This then makes it abundantly more easier to say no to things that are going to empty your tank. Your ultimate aim should be to spend your days with things that fill your tank as much as possible and having self care strategies in place not only helps you to do that, it makes you a much more happier and productive person.
7 Simple Self Care Strategies For Coping With Stress
Strategy 1: Clarify Your Values
Clarifying your values is the foundation of knowing what is important to you and what's not. For me, it also helps to define my boundaries and what I will and won't tolerate, both on a personal and professional level. Clarifying your values sets the guideposts for how you operate and make decisions. Its like you own personal modus operandi. If something isn't in alignment with your values, then it's probably not a good fit for you.
Try and define your top 3 values and dig deep to understand why they're important to you. The stronger your attachment to your top 3 values the easier it will be wok out your priorities and make decisions.
Strategy 2: Make Yourself A Priority
Making yourself a priority means making time for yourself so that you can recharge your batteries and refill your tank. Making yourself a priority is taking time out to pamper yourself, to do something you enjoy, or to do nothing at all. You have to be your biggest advocate for stopping what you're doing, taking a breath and pressing pause on the busyness to reconnect with yourself.
Making yourself a priority is about making a commitment to yourself and acknowledging that you matter. That you are important and you're putting yourself first. When you know without question that you matter, that you are prioritising your health and happiness with everything else you have on your plate, your confidence will also shift because you hold the power over just how happy you can be.

Strategy 3: Treat Yourself With Respect and Compassion
This is so simple but something that can be a challenge, especially if you're a people pleaser or an over achiever like me. Instead of taking on way too much, loading yourself up and saying yes to everything, be gentle with yourself. Before saying yes, make sure you've fully considered if "the thing" is in alignment with your values, and its something that can fit in with the time you've put aside to focus on your self care.
If you tend to have high expectations of yourself and what you should be doing or getting done, cut yourself some slack. Getting stuff done, making stuff happen, and being everywhere at once just isn't as important as your wellbeing. Treating yourself with respect is listening to what your body needs, as much as acknowledging how you're feeling mentally and emotionally. Having compassion for yourself during times when you feel less than 100% is OK and is totally a smart self care strategy.
Strategy 4: Let Go Of Perfection
I like to be in control. But I'm not a control freak. I bet you've heard that before. The truth is we can't do it all, as much as we like to think we can. I think though I am a bit of a control freak, something to do with the over achiever in me. What I'm realising though is that it's exhausting trying to be in control all of the time, and its just about impossible anyway.
Give yourself permission to take your foot off the pedal a little, be ok with getting a little messy, and make yourself a priority instead. I have and I feel so much better for it. Being a perfectionist and trying to be in control of everything all the time will burn you out. The truth is, if you take things down a few notches, probably no-one will even notice, but you will feel the difference, and that counts.
Strategy 5: Leave Room For Spontaneity
Being spontaneous is something we can easily loose as we get older. I've noticed it as I've got into my forties. Once upon a time, carefree, anywhere anytime, fly by the seat of your pants didn't phase me, but somewhere along the way, I've become used to my routines. And I must admit I like them. BUT, a little spontaneity is a good thing. Not everything needs to be planned, otherwise it can be hard to tap into the gaps of time we happen upon in the day that are the perfect opportunity for some well needed self care, even if its just a few minutes.
Whenever you have a few spare moments, make a choice and do something just for you.
Unexpected gaps can be used to listen to a podcast, go for a walk, make a cake, talk to your mum, do a yoga class, or just sip a cup of coffee in your favourite cafe.
Strategy 6: MakeYour Own Self-Care Regime
Whatever thing you settle on for your self care activity, it's important that you make it your own. Don't do something because it's cool, or because everyone else is doing it. Do it because it genuinely makes you feel better mentally and physically. For me, self care is a gym session after work, a long hot shower in the evenings, and reading before bed. This is my thing, but it might not be your thing.
You are the person best placed to identify your self care needs, and this may take some self reflection, but it is time well spent.
You might even need to try a few things out to see which really work for you. The ones to keep are those that make you feel restored and refreshed.
If you need to, make an appointment with yourself. Find something that you love and dedicate time to indulge in it, whether it's knitting, drawing, reading, or having a massage. It doesn't matter what it is, as long as it brings you happiness. Make sure those around you know that its your time and that nothing should be scheduled around this appointment, it's yours.
Having something of your own that you enjoy and look forward to, will help you to relieve stress, and ease some of the emotional tension you may not even realise you're holding. Try and find time for yourself every day, even if its just 10 minutes, but hey, an hour would be so much better.
Strategy 7: Make Self Care a Habit
The most effective way to stop overwhelm and burnout is to make self care a habit. Doing something for yourself, every single day is where you start to form these habits. Commit to doing some type of self-care activity each day, for 5 minutes, 10 minutes, half and hour, or an hour – what ever sliver of time you're able to carve off, mark it as yours. With consistent practice, this self care ritual will become an automatic habit and one you look forward to each day.
With just a little bit of attention to your own self-care, you will form habits that pay off in big amounts. You will feel more whole mentally and emotionally, and stronger physically, all of which will make your life balanced and happier.
For me, my most important self care habit is exercise. It looks a little bit different each day, but I make sure I fit it in each day. Some days it's a group fitness cycle or HIIT class, other days is a yoga class, and sometimes it's a walk along the beach or taking the dog on a walk. Even when I'm working an 8 hour day in a corporate job, have a 90 minute commute, have to make dinner, tidy the house, write a blog post, edit the photos for my latest recipe, spend time with my husband and dog and call my sick mum, I still make sure I fit in my exercise.
How about you? What's your most important self care habit?
The Wrap Up: Implementing self care strategies into your life is all about taking smart action to prevent yourself falling off the wagon into overwhelm, stress and burnout. Its about knowing what your values are, making yourself a priority and not apologising for it, treating yourself with respect and compassion, loving yourself, leaving room for spontaneity, making your self care routine your own and doing it consistently so it becomes a habit. Self care really is the doorway to happiness and once you've opened that door, you'll never want to close it!
What's one thing you will do this week to take better care of yourself? Id love to hear what you plan on doing and if this post resonated with you.
Further Reading
How To Get Started With Simple Self Care When You Are Time Poor