If you're like most people, you rarely wake up refreshed. It seems almost a curse of today's ridiculously fast paced never ending list of things to do world we live in. In truth, you've probably had more than a few nights where you toddle off to bed hoping you'll nod off in 5 to 10 minutes, sleep deeply and restfully through the night and bounce out of bed, energized, refreshed and ready to tackle to day.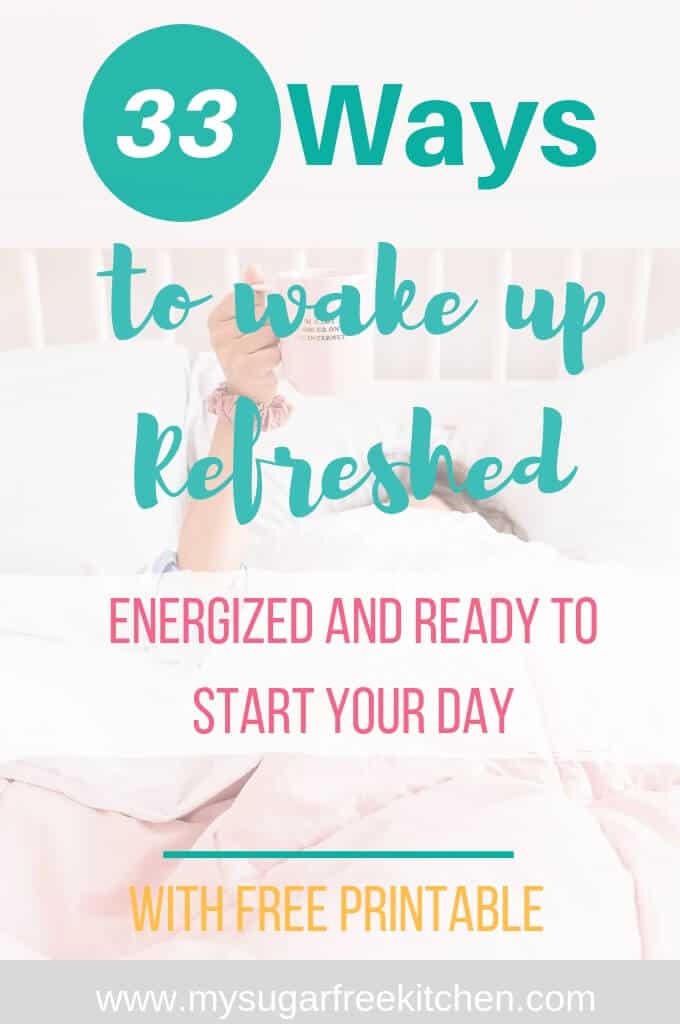 But it hardly ever happens that way, and if it does, you're in the minority.
It's more likely the busy thoughts of the day continue to buzz around inside your head, preventing you from relaxing and getting onto the (sleeping) task at hand. Then, before you know it, that annoying alarm starts pinging, telling you it's time to get up.
If you've experienced poor, restless sleep and then had to get up the next day even though you feel like you've just spent 8 hours in the washing machine on spin cycle, you're not alone. Starting the day tired, exhausted and groggy is not fun, and it's not something you have to continue to put up with.
I know because I went from hitting the snooze button multiple times at 6am, feeling tired, rundown, groggy and like I'd just run a 10K, to getting rid of my alarm and waking naturally at 5am, alert, clear headed and looking forward to starting my day.
Keep reading to discover how you can ditch tiredness, moodiness and crankiness to start your day better and let me show you the small yet highly effective tweaks you can make to your day, night and morning that will allow you to wake up refreshed, energized and excited about the day ahead.
And yes. For the record, I do all these things. If not daily, at least every few days and it makes all the difference.
How To Wake Up Refreshed and Ready to Start The Day In A Good Mood
During the Day
1. Drink more water than you think you need
Going to bed even just a bit dehydrated can really affect how well we sleep. Not drinking enough water throughout the day can make you feel tired, sluggish and irritable. Try to avoid guzzling a litre of water directly before bed, and instead spread your water intake out over the course of the day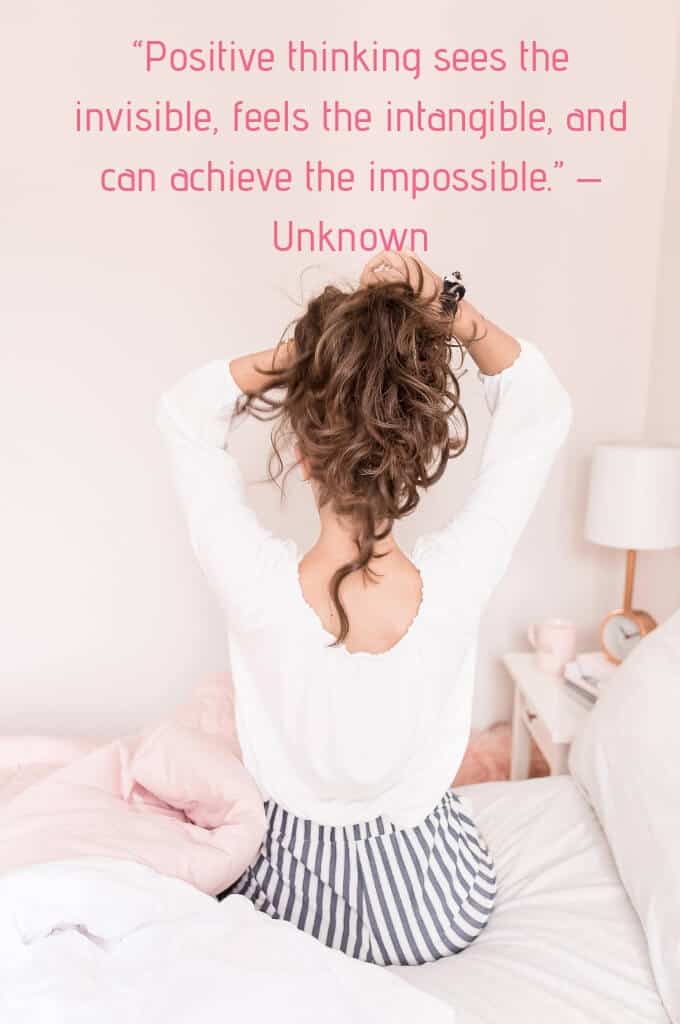 In the Evening
2. Avoid eating dinner within 1 hour of going to bed
When you lie down, it is harder for your body to digest what you've eaten. Going to bed on a full stomach an exacerbate things like reflux and heartburn. Rule of thumb is to have around 2 hours between dinner and when you go to bed.
3. Cut out the sugary drinks and sugary snacks
Sugar is a stimulant and gives you a temporary high which is the opposite of what you need when you're preparing for bed. Best to avoid all things sugary and to snack on a piece of cheese, nuts, or a piece of fruit so you can wake up feeling refreshed and avoid that awful foggy head.
4. Avoid Coffee and Caffinated Teas before bed
For the same reason as sugar, caffine will keep you wired when what you should be doing a relaxing and preparing yourself for sleep. Caffine can mess with your body clock and prevent you from falling asleep when you otherwise naturally would.
5. Read for a bit before bed
Reading can help to relax your mind, ease away the stress and tension of the day and refocus your thoughts on something else. There has even been a study done that found reading as little as 6 minutes before bedtime, can wash away the stresses of the day and help you to sleep better.
6. Some Deep Breaths and Silence
A quick 2 or 3 minute silence sitting on the floor beside your bed with your eyes closed focusing on your breathing is great for clearing the head. Taking a moment to sit completely still and quiet can be helpful in sweeping out some of the stresses of the day.
7. Start a Daily Gratitude Journal
Focusing on what you're grateful for on any given day, makes us more forgiving and compassionate, and it helps us to look for the opportunity and good. It also helps to get negative thoughts and worries out of our head so we don't take them to bed with us.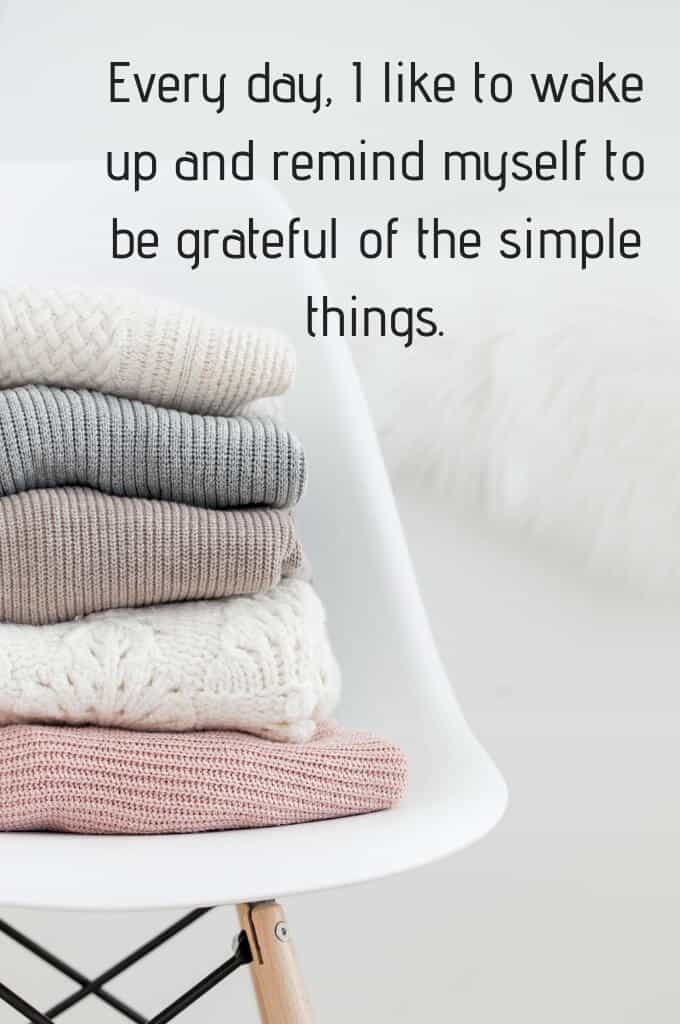 Before Bed
8. Cool Your Room
No-one likes sleeping in a sweaty bed with stinky sheets. It makes it hard and uncomfortable to get to sleep. Work out where your ideal room temperature is for a better and more frequent chance of waking up feeling refreshed every day.
9. Move Your Alarm To the Other Side of Room
Make it impossible to press the snooze button. Make it so you will physically have to get out of bed, put your feet on the floor and go find that darn thing to press snooze, or hopefully you'll just turn it off and get on with the rest of your morning routine. (I got rid of my alarm, and this is partly how I did it)
10. Limit Alcohol
The more alcohol you have the more dehydrated you become. Dehydration means it's harder to get to sleep, and harder to stay asleep. Of course it's also easier to avoid foggy head in the morning when you haven't over-indulged the night before.
11. Drink a herbal tea.
Chamomile, Peppermint and Rooibos are all on my list of sleep helpers. I've been drinking Rooibos tea in the evenings for 20 years. It's calming, relaxing and sets the tone for a good nights rest.
12. Leave Mobile Devices in the Kitchen
Mobile devices, like coffee and sugar are a stimulant and make you more alert not more relaxed. It's hard to feel relaxed in bed when you're looking at a bright screen/blueish light. Leave devices out of the bedroom, so that crazy light can't mess with your body's natural sleep cycles. If you use your phone for your alarm, either get another cheap alarm so you can keep you phone out of the bedroom, or turn off your wifi when you go to bed.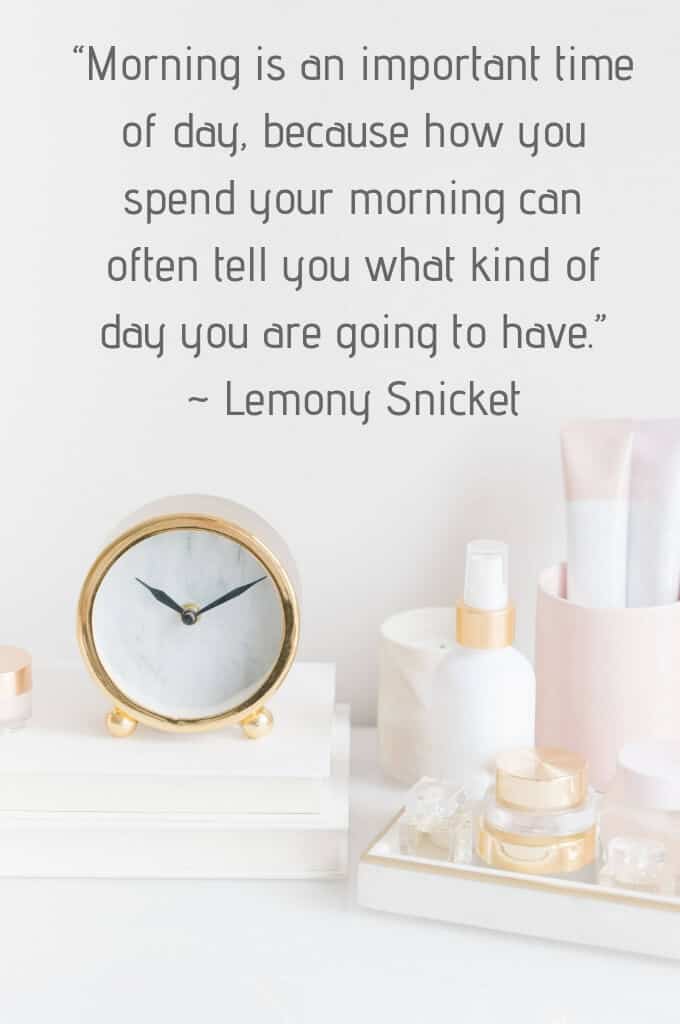 13. Put on Your Aromatherapy Diffuser
Aromatherapy diffuser with lavender scented essential oil? Yes please. Not only is the quiet sound of water relaxing, the subtle scent of lavender is calming, and relaxing – a perfect prelude to good relaxing and restful sleep. I have one both in my bedroom and in the living room.
14. Have a Hot Shower
Having a hot shower before bed adjusts your body's temperature and helps you to wind down. It can also make you feel super relaxed and leaves you feeling refreshed. Going from a hot shower into a cool room also just makes you feel like snuggling right into those blankets and nodding off.
15. Get Into Your Pajamas
Have a dedicated sleeping outfit that tells your body it's time for relaxing and getting ready for bed. Choose something that feels good and comfortable. Ideally you want to choose something that will help to regulate your body temperature during the night so that you get a better sleep. Cotton is always a good choice.
16. Organise Your Clothes For The Morning
Take 5 minutes to make your morning routine get off to a good start. Being prepared and organised for tomorrow can also help to set your mind at rest because it's one less thing to do.
17. Put your Doggo in his (or her) own bed
Ok, so this is really only a problem if your dog a) hogs the covers, b) tries to push you out of bed c) wants to sleep on your head or d) is a persistent snorer or farter. Otherwise, all good.
When you wake up
18. Do not hit the Snooze button EVER.
The word for hitting the snooze button too many times in a row is called 'drockling'. Fancy there being a word for it. Probably because we do it so much. But really, hitting the snooze button just confuses your body and makes you feel worse when it comes to crunch time and you have to get up. Avoid the grogginess and feeling cranky and get up on the first alarm and take the first step to get your morning off to a good start.
19. Have a Moments Stillness
Sit in stillness for one minute, call it a mini meditation if you like. It might be the only time you can be quiet and still for the entire day. It can set a tone of calm, give you a boost of energy, help you to focus and create a sense of wellbeing. I've been doing 3 minutes of silent stillness meditation every morning for 6 months sense of calm and clarity I have found are amazing.
20. Rehydrate Your Body
Sleep dehydrates your body. As soon as you wake, have a glass of water, even before you reach for the coffee. If you want to hear yourself saying the words "I wake up refreshed from my sleep every day", proper hydration before and after sleep is a must.
21. Don't Look At Your Phone First Thing
Don't make your phone your priority. Make you your priority with you own personal morning routine that nourishes your wellbeing. Until you walk out that door to go to work, no emails, no Facebook, no Instagram or social media of any kind.
22. Get Your Morning Stretches In
Including some stretches into your morning routine can help to boost your energy and motivation for the day. I personally do a 12 to 15 minute gentle yoga workout via the DownDog app with lots of stretching and any back and hips.
23. Get Your Heat Rate Up Even if For Just a Minute
Feel alive instantly with 30 squats, 30 pushups, 50 starjumps or step ups. Anything to get your body moving will give you more energy, you'll get the feel good rush of endorphins and feel better as the day wears on.
24. Have a 1 minute Cold Shower
More energizing than Coffee! Increase your alertness, improve your circulation , and get your mind into action pronto. If the idea of jumping into a cold shower freaks you out, get your body used to it by starting out with warm water and gradually decreasing it to cold.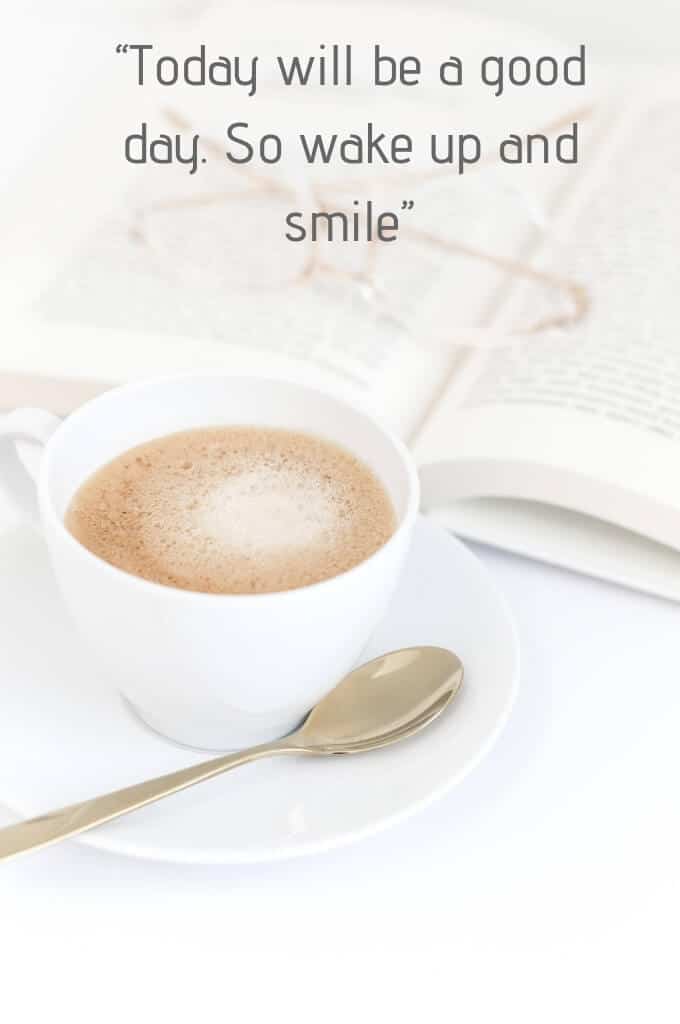 25. Read Your Affirmations Aloud
Whether you're using your own personally crafted affirmations, or you've borrowed them from somewhere else, affirmations allow you to choose a new, more positive thought pattern for how you want to live your life. It's retraining the brain for how you want your life to look.
26. Set Your Intention For The Day
Take a minute to think about how you want to feel today. Do you want to feel Calm? Happy? Energized? Motivated? Organised? How do you want to be today. How do you want to show up to work, to your next meeting, to your friends coffee catch up, to do your grocery shopping.
27. Put On Some Tunes
There's nothing like an uplifting song early in the morning to get us feeling happy, motivated and in the groove. It can easily put you in a good mood and give you a shot of energy without the caffine.
28. Make Your Bed
Make your bed as soon as you get up so you can't lay there wallowing endlessly. Tidy up, put clutter away and feel some of your stress ease at the tidy space you've created. Yes, you have control over some things. This is one of them.
Generally
29. Get the TV out of the bedroom
Not only is a TV in the bedroom is a terrible distraction to sleep generally, it can also be a serious disruptor to your body's natural sleep cycles. Getting rid of the TV from your bedroom will go along way to better quality sleep, allowing you to be more rested and in a better mood when you wake.
30. Upgrade your mattress
According to the Better Sleep Foundation, it's a good idea to assess your mattress periodically every seven years. Sleeping on a 20 year old mattress isn't going to do you any favours with waking up refreshed. Believe me, I speak from experience. A 20 year old mattress gave me no end of restless nights and back issues. A new mattress on the other hand, made those two problems go away practically overnight.
31. Get a better pillow
An uncomfortable and unsupportive pillow does not make for a good and restful sleep. How many times have you woken up refreshed after sleeping on an uncomfortable pillow or mattress? Probably zero I'm guessing. It might just be time to upgrade your pillow if it's been a while.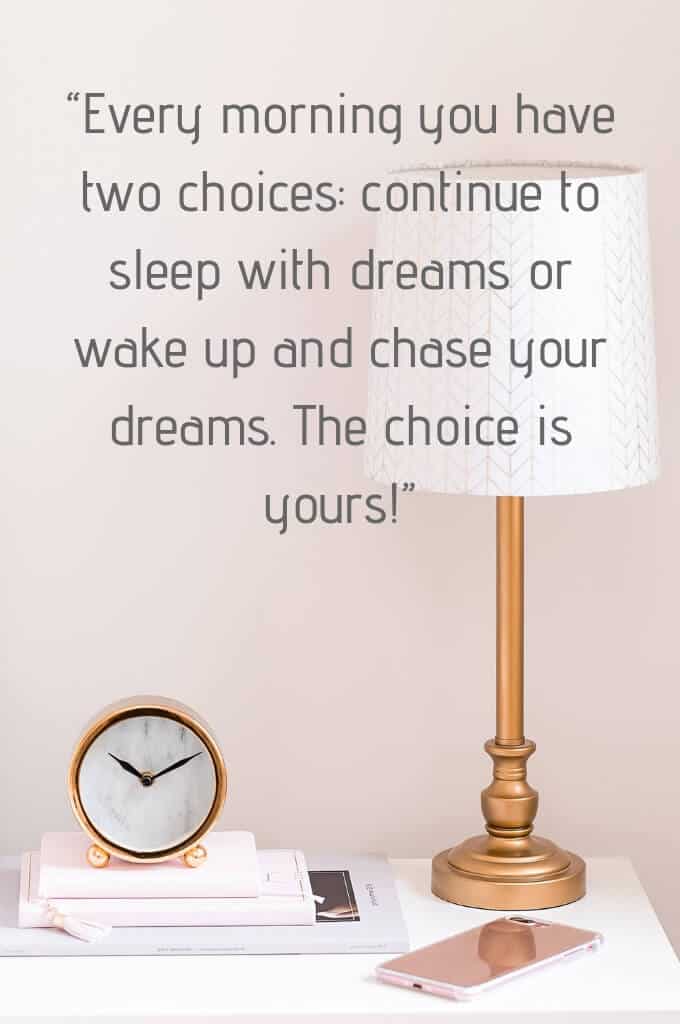 32. Invest in Quality Linen and Bedding
I've slept in hostel grade bed linen and super high end bed linen, and I have no hesitation in saying where I had the better sleep. Better quality linens, blankets and bedding in my book equals better quality of sleep and waking up refreshed.
33. Keep Your Bedroom Tidy
I find it almost impossible to sleep well in a cluttered, untidy and messy space. Probably because I get to thinking about tidying it all up when I should be sleeping. Get rid of clutter, pick things up off the floor, get rid of the lingering dust and freshen up your room for a fresher sleep.
The Wrap Up
The bottom line is that to wake up feeling refreshed, you need to develop habits and routines that work together to help you get a better nights sleep.
This list may seem like a lot of things but there are things that take just one minute or less.
Essentially each one is a tiny little habit. The more you do the better. The more consistent you are the better. But if this all feels a little too much, start with just one and don't ever again hit the snooze button on your alarm because every time you do, it will make you feel worse.
Instead, let your alarm go off, throw the covers off, put your feet on the ground and hydrate your body with a bog glass of water.
To get these tips for how to wake up refreshed ready to take on the day with energy and gusto, and of course in a great mood, get the PDF Checklist here.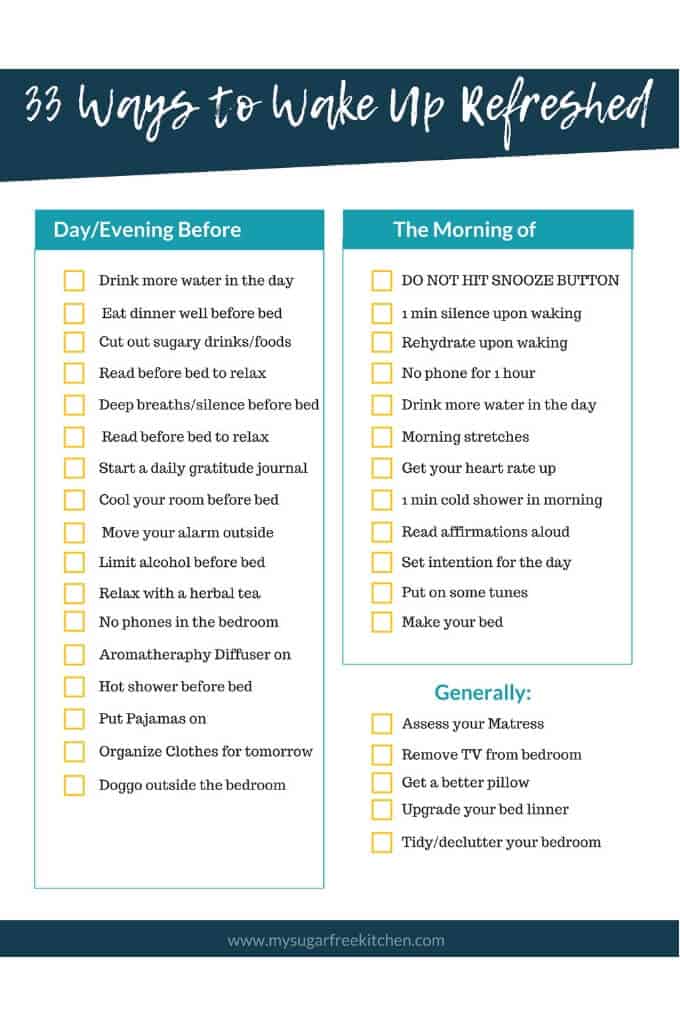 Get the PDF Checklist here.
Further Reading